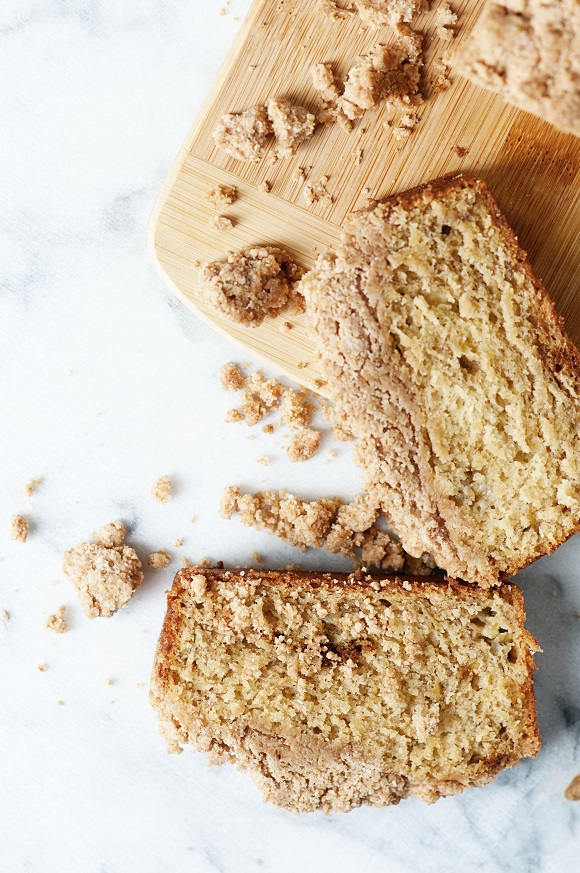 First off yes, I made Banana Fosters, then put it in banana bread, and THEN topped it with NY Crumb Topping…you're welcome.
Second, totally not related to banana bread is my current brain occupation. 😀
I love Last Week Tonight with John Oliver. I really love his section called How Is This Still a Thing? A few weeks back the topic of How Is This Still a Thing was Sport Illustrated Swimsuit Edition (NSFW) and I couldn't agree more with the points they make.
I think we can all agree when they stopped using my body photo-shopped over the models that in general the quality of the magazine has gone down. 😛
We can also agree that they women are wearing less and less each year. I didn't know this until I Google searched the last few years and have to laugh at Last Week Tonight when they pointed out the only thing left to show was the V-jay-jay and just give them time and they will.
The clip brought up the fact that you can indeed just Google naked ladies and see the same thing, but for free and so I set out to find out why it is still a thing. How? I just randomly asked hockey guys I know. They all had the same answer. While they enjoy looking at naked woman that having it in Sports Illustrated made them feel less like a pervert. So there you go…it still exist for men to feel slightly less pervy. 😀
For those not interested in swimsuit season I give you this banana bread. I've made a banana fosters banana bread before (actually I think it was cake) and several other bloggers have too. But I think what separates mine from theirs is that I actually make banana fosters…and then put it into the bread, whereas most just put rum in the batter and call it good or put rum glaze on it. Which I'm sure is tasty but in my head is not banana fosters. There is a tremendous amount of crumb on this cake…I like it like that. That's how NY Crumb cake should be…more crumb than cake.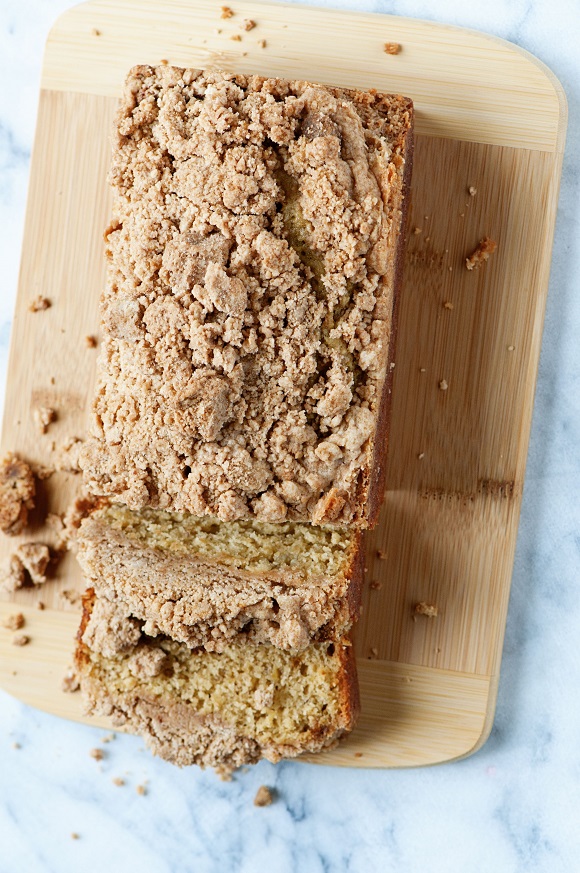 NY Crumb Topped Banana Fosters Banana Bread
For the Crumb Top:
2/3 cup granulated sugar
2/3 cup brown sugar, packed
½ tsp. salt
1 ½ tsp. cinnamon
16 TBSP unsalted butter melted and then slightly cooled
3 ½ cups cake flour
For the Bananas Fosters:
2 TBSP unsalted butter
1/2 cup brown sugar
2 TBSP dark rum
3 large bananas, smashed slightly
For the Bread Batter:
2 ¼ cups all-purpose flour
2 tsp baking powder
½ tsp baking soda
¼ tsp salt
¼ tsp. freshly grated nutmeg
1/2 cup granulated sugar
6 TBSP unsalted butter, at room temperature
2 eggs
1 tsp. pure vanilla extract
½ cup buttermilk
banana fosters recipe
For the Crumb Topping:
In a medium sized bowl, put sugars, salt, and cinnamon and stir until combined.
Add the melted butter and then cake flour and mix (hands work best for this). Set aside.
Banana Fosters:
Combine the butter and sugar in a skillet.
Place the pan over low heat on top of the stove, and cook, stirring, until the sugar dissolves.
Add bananas to the pan.
When bananas begin to brown, carefully add the rum. (if not using rum, simply take bananas out at this time)
Continue to cook the sauce until the rum is hot, then tip the pan slightly to ignite the rum.
When the flames subside, lift the bananas out of the pan and place aside to cool until needed.
To make the bread batter:
Prepare two standard size loaf pans with baking spray. Set aside.
Preheat oven to 325F.
Whisk together the flour, baking powder, baking soda, salt, and nutmeg.
Add the butter and, with the paddle or whisk attachment, or with a hand mixer, beat the sugar with the butter at medium speed until light, about 3 minutes.
Add the eggs one by one, beat for about 1 minute after each addition, then beat in the vanilla extract. Don't be concerned if the batter looks curdled-it will soon smooth out.
Reduce the mixer speed to low and add the flour mixture and the buttermilk alternately, the flour in 3 parts and the buttermilk in 2(begin with the dry ingredients).
You will have a thick, cream batter.
Add the banana fosters mixture and mix on medium speed for about 30 seconds. You don't really want chunks of bananas, you want them integrated like you would in banana bread.
Scrape the batter and divided evenly among the prepared loaf pans and smooth the top gently with the spatula.
Pull the crumb mix from the refrigerator and, with your fingertips, break it into pieces. There's no need to try to get even pieces-these are crumbs, they're supposed to be lumpy and bumpy and every shape and size.
Evenly divide and scatter the crumbs over the batter, pressing them down ever so slightly.
Bake for 55 to 65 minutes, or until the crumbs are golden and thin knife inserted into the center of the cake comes out clean. Transfer the cake to a rack and cool just until it is warm or until it reaches room temperature.