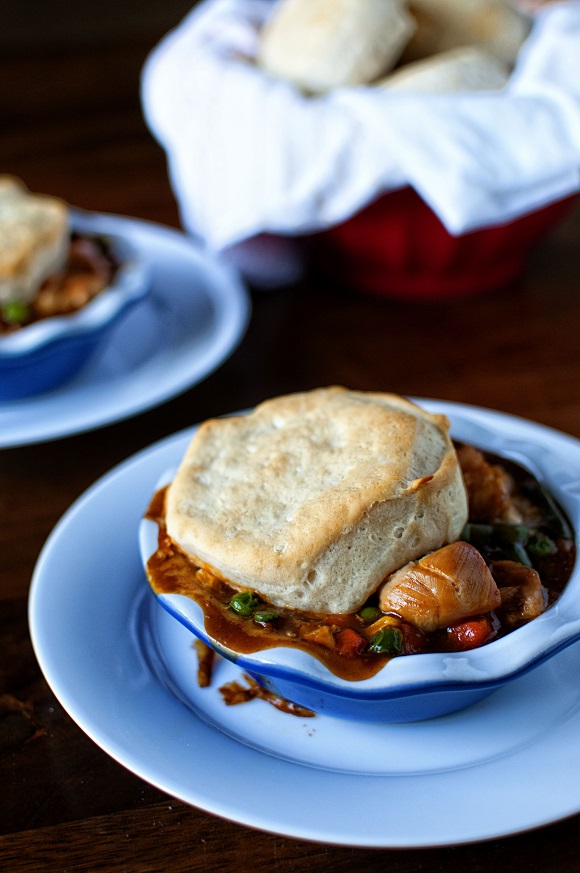 Nowadays it seems like life is just a giant puzzle of time and you try and make it all fit in. That includes weeknight meals, which, when you have kids in multiple activities, can often be a hard thing to do. Staring at the weekly calendar can sometimes cause heart palpitations. Sounds of "where are my cleats" or "I'm not sure where practice is tonight, I thought you knew" fill the house. Throw in homework and getting a good meal in them is even harder. So on weeknights I need something easy with few ingredients that I can throw together in a relatively quick time. Real life. Real dinner. Enter
Campbell's Oven Sauces
.In less than 45 minutes I was able to make these quick and easy and more importantly yummy Biscuit Chicken Pot Pies with only four ingredients. Now that's what I'm talking about. Some chicken breast (which we always have in the fridge), some frozen veggies (which we always have in the freezer), Campbell's Oven Sauce in Classic Roasted Chicken flavor, and some refrigerator biscuits and you've got a weeknight meal that is hearty and can fit in our hectic schedule.
Campbell's Oven Sauces
launched in September of this year and comes in Classic Roasted Chicken, Chicken Pot Pie, Creamy Garlic Butter Chicken, and Sweet Teriyaki Chicken. I really wanted to try the Sweet Teriyaki but sadly they were out at my store so we tried the Classic Roasted Chicken. The instructions just say to add chicken, potatoes, and some veggies but I was kind of craving pot pies. If you want to make this an even quicker dish you can skip putting the filling into individual pie pans and just add the biscuits right to the dish you were baking the chicken and veggies in. I chose to make them into individual servings as the kids think its fun to get their own little pot pie.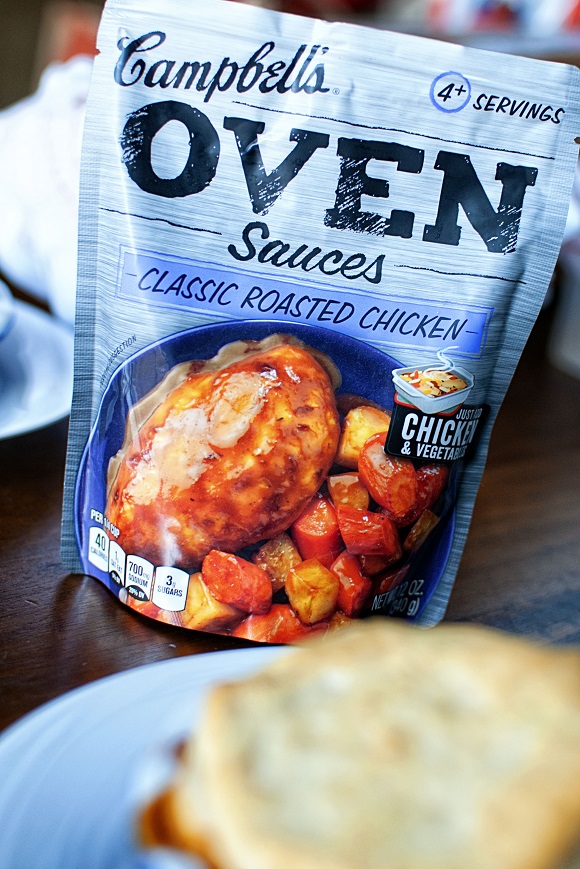 These were super easy to make and more importantly I was told that these could be added to the "rotation." I'm sure anyone who has a family knows that a meal making in into the rotation is a big thing as we can only eat sloppy joes and tacos so many times. 🙂 Interested in trying one of these new sauces? Well, one of my readers has a chance to win a $100 Target Gift Card to go shopping and pick up the sauces for their next dinner. Why $100? Because it's Target so let's face it, you'll go in to buy the sauce and come out spending $100. 😀 To enter for a chance to win, simply answer this question in the comments below:
How will you use these sauces to make a wonderful family dinner?
You can also visit Campbell's on Facebook, Pinterest, Twitter and YouTube.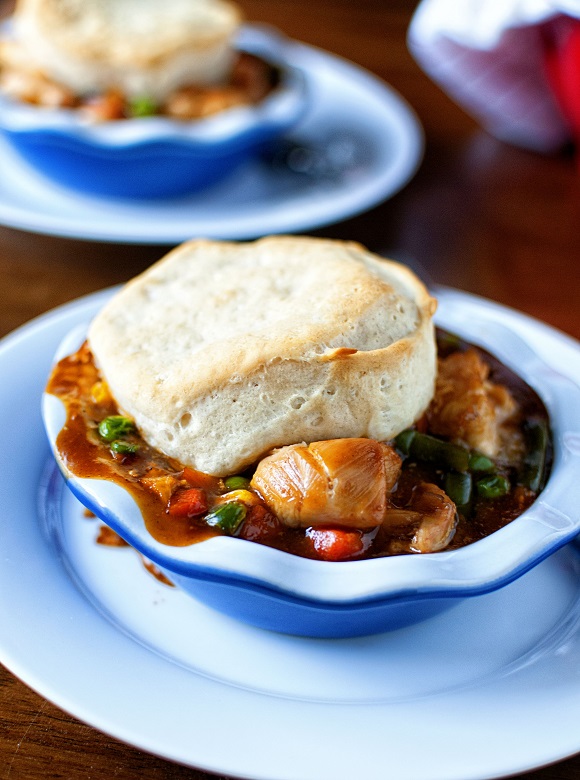 Easy Biscuit Chicken Pot Pie
4 boneless uncooked chicken breast (about 1 ½ pounds)
2 (12 oz.) packages frozen veggies (I used a medley of green beans, peas, corn, and carrots)
1 packet Campbell's Oven Sauces (Classic Roasted or Pot Pie)
1 package refrigerator biscuits (with 8 total biscuits)
Preheat oven to 400F.
Open Campbell's Oven Sauce and coat the bottom of a 9-x-13-inch pan with about ¼ cup of sauce. This will help prevent the food from sticking to the bottom. Cut the chicken into bite size pieces.
Add the chicken pieces and the frozen veggies to the pan.
Pour the remaining sauce over the chicken and veggies.
Cover with aluminum foil and cook for 35 minutes.
After 35 minutes, reduce the temperature to 350F.
Remove from oven and stir the ingredients.
If you are going to make individual pies then distribute the chicken, sauce, and veggies evenly among 4 mini pie pans.
If you are making one large dish, leave alone for now.
Top each individual pie with one biscuit.
You will have 4 biscuits left over. Bake the extra once with the pot pies as your family will surely want extras.
If you are not doing the individual pies, simply top the 9-x-13-inch pan with the 8 biscuits, making sure to evenly distribute them on top of the chicken and veggies.
Place back into the 350F oven and bake for another 15-18 minutes.
When your biscuits are brown then you dish is ready.
Let cool slightly before serving.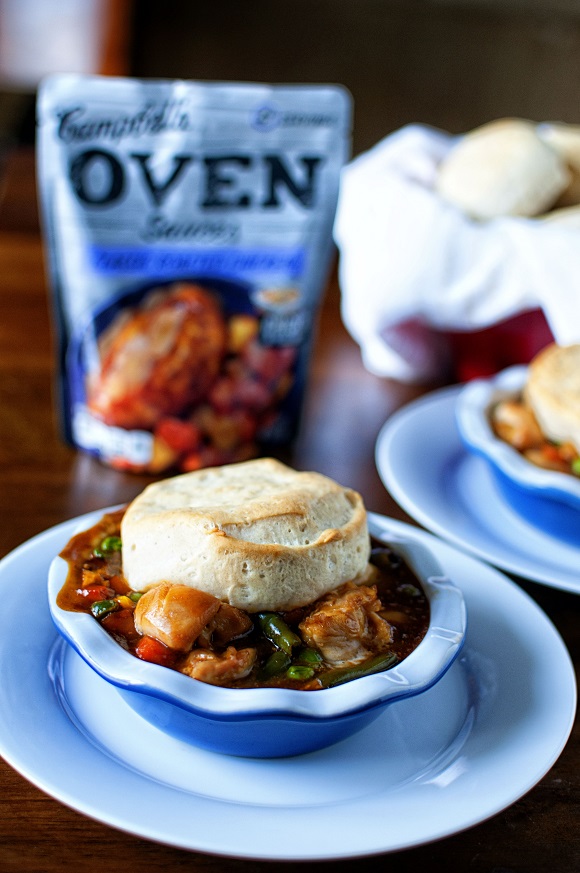 Sweepstakes Rules:
No duplicate comments.
You may receive (2) total entries by selecting from the following entry methods:
1. Leave a comment in response to the sweepstakes prompt on this post
2. Tweet (public message) about this promotion; including exactly the following unique term in your tweet message: "#SweepstakesEntry"; and leave the URL to that tweet in a comment on this post
3. Blog about this promotion, including a disclosure that you are receiving a sweepstakes entry in exchange for writing the blog post, and leave the URL to that post in a comment on this post
4. For those with no Twitter or blog, read the official rules to learn about an alternate form of entry.
This giveaway is open to US Residents age 18 or older. Winners will be selected via random draw, and will be notified by e-mail. The notification email will come directly from BlogHer via the sweeps@blogher email address. You will have 72 hours to respond; otherwise a new winner will be selected.
The Official Rules are available here.
This sweepstakes runs from 1/12/2015 – 2/27/2015.
Be sure to visit the Campbell's brand page on BlogHer.com where you can read other bloggers' posts!