This Apricot Cherry Buckle is an adaptation of my families basic buckle recipe that we ate each summer growing up as kids.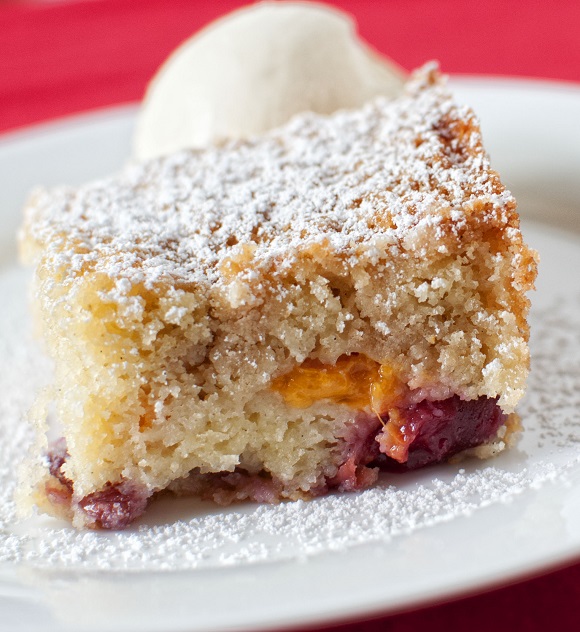 My summers were often spent as a kid going to my grandmother (on my mom's side) house in Michigan.
My grandparents as well as my aunt and uncle all lived in a super small town about 60 miles northeast of Detroit.
And when I mean super small, I mean it.
The only stoplight was one in the middle of town and it was a blinking light.
My grandfather owned what they called a Party Store but most people know it as a drug store.
We went swimming in the mayor's pool (mostly because he was the only person in town with a pool and it sort of became the community pool).
When the Tasty Freeze would open for the day that was your highlight.
It was not my favorite.
Our days were filled with getting in the car and my grandfather driving for what seemed like forever.
We would end up at some third cousin's house that my mom would swear I know and give me the evil death stare when I dared to say that I had no idea who this person was.
I would get "of course you know 2nd cousin Jan I talk about her all the time" and my sarcastic "must be in your sleep" got the I will probably break your arm later when no one is watching glance.
Then I'd play along and go OH that cousin Jan. Then we would eat.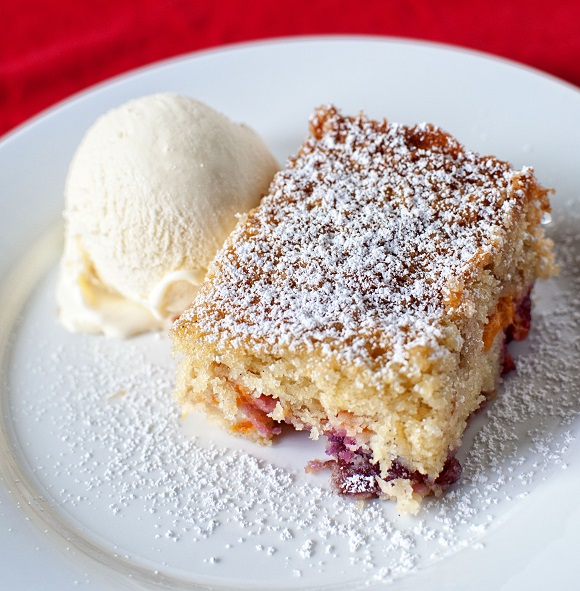 The best things I remember about those trips to all the random people I'm somehow related to was the food.
Simple.
Not pretty (the era of food blogs it was not).
But very tasty.
It's the first place I ever had a buckle, and not the kind on your belt.
A buckle for those that don't know are a fruit based cake where the fruit sinks to the bottom while you cook it and the cake on top well…buckles.
The first one I ever had was raspberry.
Often as a cruel joke they would send me (the girl allergic to bees) to go with the cousins to pick berries.
This was more like a survival game to me since pretty much every berry had a freaking bee in it.
But I won that game never being stung once…also not collecting many berries though.
On an impulse buy at the Farmers Market on Sunday I decided that apricots were what I needed.
Not totally sure why as other than apricot jam I'm don't really sit around and eat them.
Which I was reminded of when staring at a large bowl of them.
So then it hit me…buckle.
I also threw in some of the Strawberry Rainier Cherries that I used in my cocktail.
The only problem is the one recipe I have from a relative is well vague.
So I had to figure out how to make it in measurements that you readers could actually understand since "a good handful" leaves a lot of room for interpretation.
This Apricot Cherry Buckle is not a pretty cake but a wonderful cake to use fresh fruit with.
Add some ice cream or whipped cream and you have yourself a real winner.
P.S. It's a great day to buy my cookbook Holy Sweet!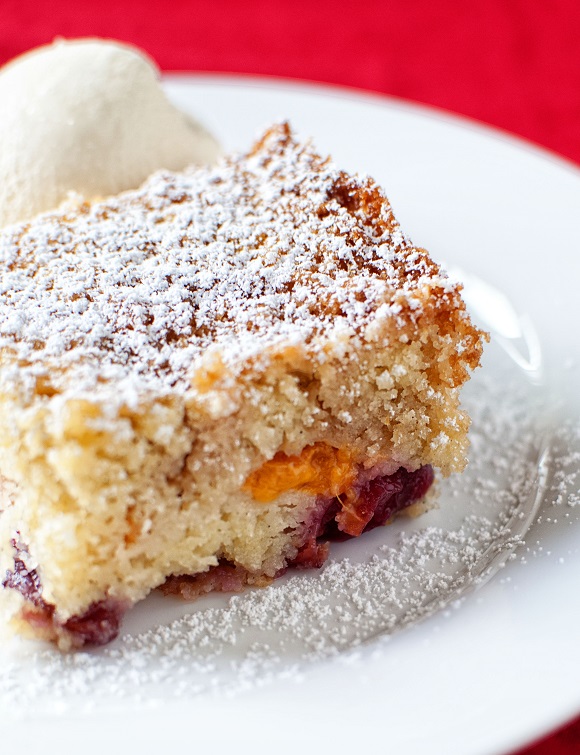 Want More Cake Recipes?
Bourbon Brown Butter Chocolate Chip Cake
Strawberry Lemonade Bundt Cake
Whiskey Glazed Apple Buttermilk Pound Cake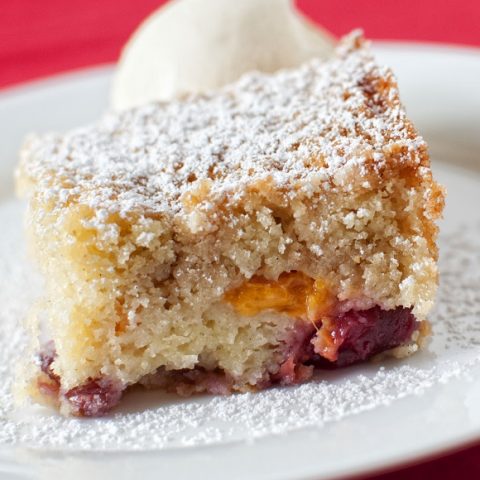 Apricot Cherry Buckle
Ingredients
For the Cake:
1 1/4 cup self-rising flour
3/4 cup unsalted butter, at room temperature
¼ tsp. salt
3/4 cup granulated sugar
3 large eggs
2 tsp. vanilla extract
1 cup fresh cherries, washed and pitted (pat dry for any extra moisture)
1 ½ cups fresh apricots (I removed the skin)
For the top:
4 TBSP self-rising flour
50 g unsalted butter, at room temperature
4 TBSP brown sugar
1 TBSP cinnamon
Instructions
For the top:
In a small bowl mix together the ingredients and rub between your fingers until you get very damp crumbs.
For the cake:
Preheat oven to 325F.
Grease and flour an 8-x-8-inch baking dish.
Using a stand mixer with the paddle attachment, cream together the butter and sugar until light and fluffy, about 3 minutes.
Add eggs one at a time, scraping down the sides and bottom of bowl after each addition.
Add vanilla and beat for 30 seconds.
With the mixer on low add the self-rising flour and salt and mix until just coming together.
Remove bowl from mixer and fold in half the fruit.