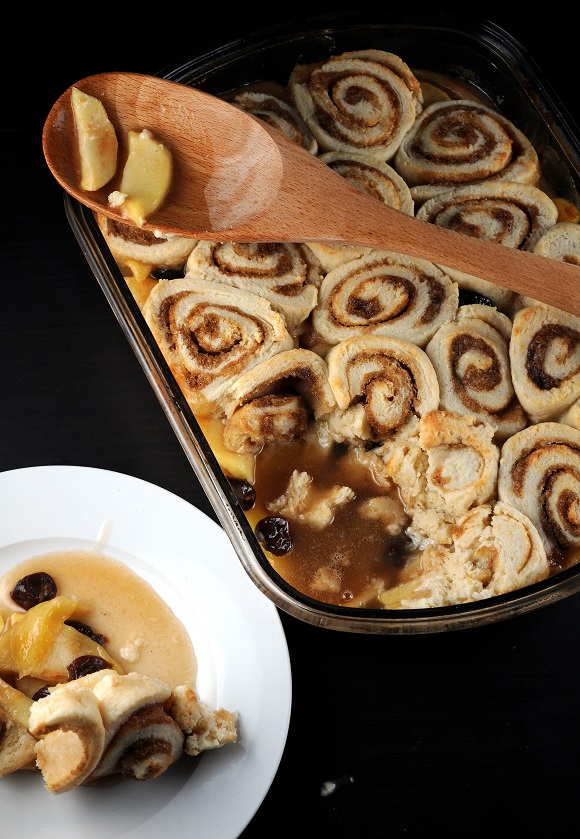 You would think with me living in Washington State that there would be more apple desserts on this blog, it only makes sense. But there are not. Do I not like apples? Ha! Just the opposite in fact! I have a small problem with eating whatever apple dessert I make in about a 24 hour period. I end up eating it for breakfast, lunch, and dinner.
So when Opal Apples and Kitchen Play asked if I wanted to create a dessert using Opal Apples I said sure without really knowing what kind of apple it was. 🙂 The first thing you notice about the apple is its color…bright yellow, which is pretty hard to miss. While the outside color is interesting, the lack of color on the inside is even more interesting (they don't brown and just naturally resist oxidation!). Gone are the days of coating your apple slices in lemon juice to make them not brown. These non-GMO apples are grown exclusively grown at Broetje Orchards located along the Snake River in Prescott, WA (go WA state!) which is just a few hours from me. Perhaps the coolest thing (well, at least for me) is that a portion of Opal's proceeds are delivered to nonprofits through its Youth Make a Difference Initiative, which funds $75,000 in grants, for U.S.-based, youth-focused programs centered around food security and politics, nutrition or agriculture. Right now, Opal is accepting grant applications through February 28 at www.opalapples.com. From December through April, a limited supply of these unique Washington-grown apples will be available in select local grocery stores nationwide, including Costco.
Ah but what to make with them? They are both tart and sweet so I figured they would go great in a pie or cobbler, and I was right. MDP's teens are here this week so I knew it wouldn't just be me and the cobbler alone, if I made it, which is a good thing because well…look at it…it's really good. It also looks really fun, I'm a sucker for a spiral. I have made cobbler many a time with the fruit rolled into the cinnamon roll like crust but I went a little different this time having a biscuit- like crust on top.
This is actually really simple to create despite how it looks. I went for many smaller biscuits, but you could roll out the dough so that you had larger biscuit rounds (I always opt for smaller as I trick myself into thinking I didn't eat half an apple cobbler). I added dried cherries but you could add raisins, berries, you name it…or you could do all apple.
So the next time you are at the store, look for the bright yellow apple and give it a try…preferably in cobbler form.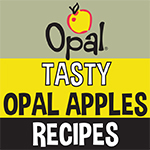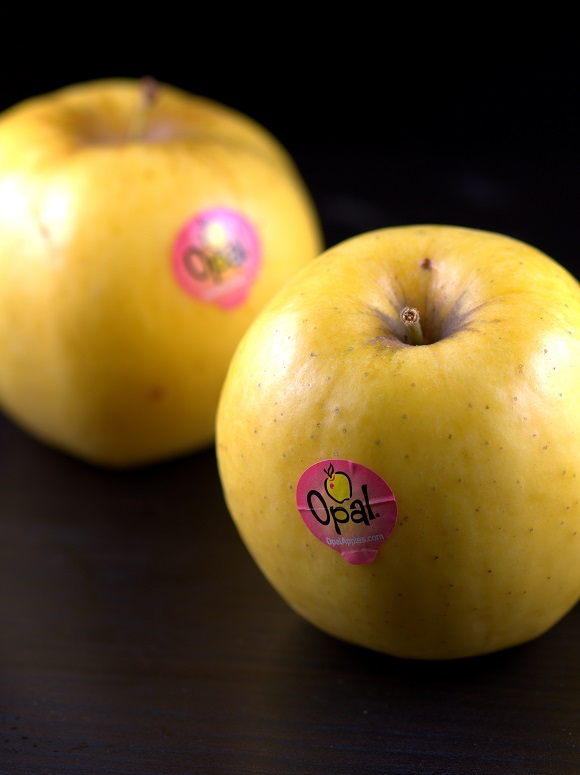 Ready to try Opal Apples for yourself? Join us for an #OpalApples Twitter Party where you could win one of five prize packs, including a shipment of these tasty apples. For more information, guidelines, and to register for a chance to win, visit http://kitchen-play.com/opalapples. Then join in on January 21, 2014 at 9:00 PM ET (6:00 PM PT), using hashtag #OpalApples. Here's a clue to help you win: Chop Chop Magazine for Kids is an Opal partner for 2014
*This post has been sponsored by Opal Apples and Kitchen PLAY. All opinions are my own.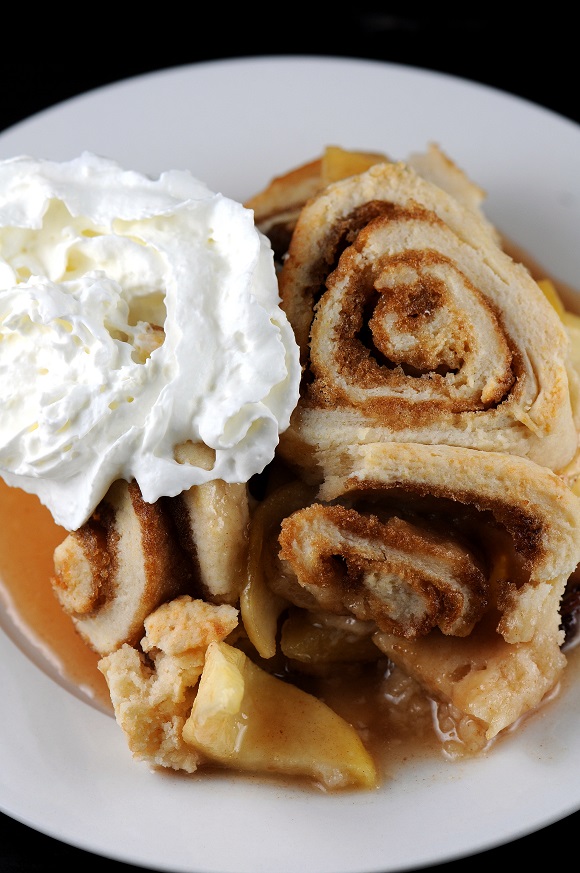 Opal Apple Brown Sugar Spiral Biscuit Cobbler
Ingredients
For the filling:
8 Opal apples, peeled and cut into thin slices
2 cups granulated sugar
1/4 cup all-purpose flour
1/4 cup unsalted butter
1 cup dried cherries, soaked in hot water for 20 minutes, then drained
1 tsp. ground cinnamon
For the biscuits:
2 1/4 cups all-purpose flour
1/4 cup granulated sugar
2 1/4 tsp. baking powder
3/4 tsp. salt
3/4 cup cold butter, cut into pieces
2/3 cup whole milk
2/3 cup firmly packed light brown sugar
2 TBSP butter, melted
Butter or baking spray for greasing pan
Instructions
For the filling:
In a large skillet over medium heat, melt ¼ cup unsalted butter.
Once butter has melted add apples, sugar, and flour and mix together.
Cook down apples for 25-30 minutes until apples are soft and the syrup thickens up a bit.
Add the dried cherries and cinnamon and mix until fully incorporated.
Pour filling into a 3-qt baking dish that has been greased with butter or baking spray.
For the biscuits:
Preheat oven to 425F.
Using a food processor add the 2 1/4 cups flour, sugar, baking powder, and salt. Pulse a few times to incorporate the ingredients.
Add the cold butter pieces into flour mixture and pulse until crumbly.
Add milk and pulse until it just starts to become dough.
Turn dough out onto a lightly floured surface, knead just until it forms a ball.
Roll dough into a 12-18 inch square…the larger the size the smaller the biscuit slices will be.
Brush the dough with the 2 TBSP of melted butter. Sprinkle the brown sugar over the buttered dough.
Roll up, jelly-roll fashion; pinch seams and ends to seal.
Cut roll into 12 -20 slices (depending on how you rolled it out).
Place slices in a single layer on top of apple mixture.
Bake for 15 to 17 minutes or until biscuits are golden.
https://www.sweetrecipeas.com/2014/01/06/opal-apple-brown-sugar-spiral-biscuit-cobbler/