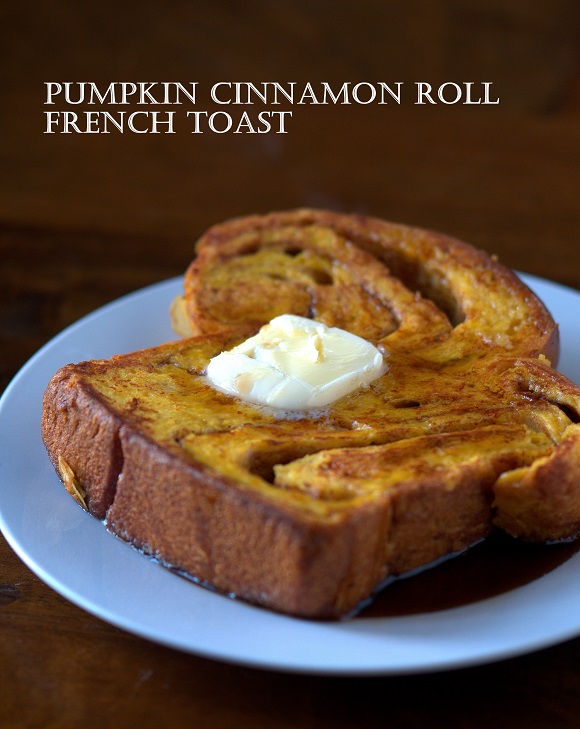 So hopefully you made the Pumpkin Spice-Cinnamon Roll Brioche Loaf by now. I gave you a few days to do it. If you are afraid of yeast…don't. Go find some of the Red Star Platinum Yeast and give this a try. Brioche to me is the most forgiving of the breads. I mean it does half its rising in the cold darn it all!
One thing MDP and I love to cook is breakfast; especially for the kids (feeding for a crowd is so much more fun and they are so appreciative). In fact I think MDP secretly (sometimes not so secretly) dreams of opening a breakfast place…I am anti this just for the fact that I only want to serve breakfast at 10 am or later. 😛 He is so more a morning person than me.
He of course loves to make his home fries (the kids always want those) but we tend to change things up (they are great about trying whatever we throw at them). So when I made that bread I knew we needed to turn it into French toast. When I did a test run and to photograph I had a little left over, even cold MDP could not get over how fantastic it was. This truly is a labor of love as far as you really, really need to make the brioche for this to work…but OMG this might be added to my list of things to eat on my last day on Earth kind of thing. The kids said we can make this again. 🙂
This would make a spectacular Thanksgiving or Christmas weekend brunch dish if you really want to show the relatives how much they mean to you…then again some of you might not want your relatives to come back. 😛 So instead make it for people you like. 😀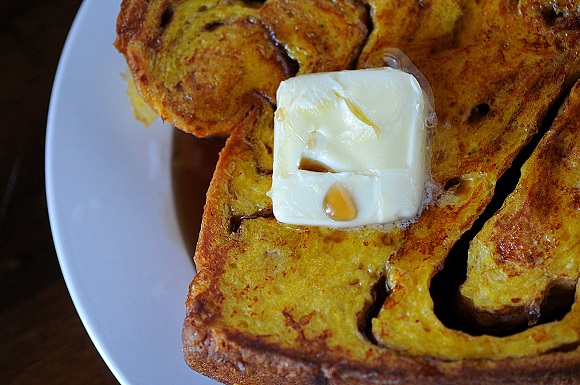 Pumpkin Cinnamon Roll French Toast
Ingredients
¼ cup pumpkin puree
¼ cup granulated sugar
1/3 cup half and half
2 eggs
1 tsp. vanilla bean paste (or extract)
6 slices Pumpkin Spice-Cinnamon Roll Brioche Loaf (you can use other bread but really this bread is what makes the French toast)
Instructions
Whisk the eggs, sugar, half and half, pumpkin puree, and vanilla in a shallow bowl. Make sure all the ingredients are fully incorporated together.
Place the bread into the egg mixture and let sit for 30 seconds then flip and let sit. Do this with all of the toast.
While soaking, heat up a large saucepan. Melt some butter.
Cook the French toast on each side until golden brown and none of the egg mixture is still wet.
Serve warm with butter and maple syrup. Or you can make some cream cheese frosting and drizzle on there as well.
https://www.sweetrecipeas.com/2013/10/20/pumpkin-cinnamon-roll-french-toast/