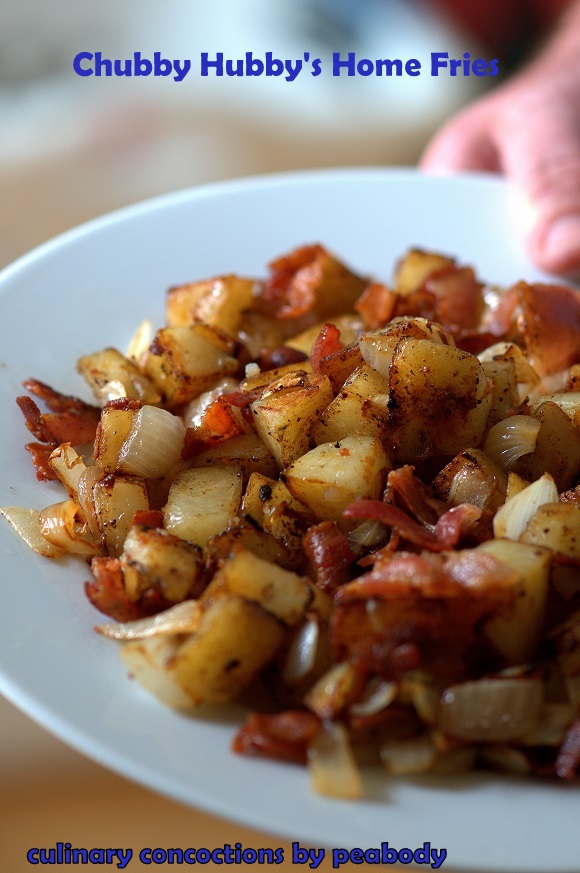 I got a bunch, and I mean a bunch of request for MDP (for those newer to the blog that stands for My Defense Partner…aka my man) to give his recipe for his home fries that he makes pretty much every weekend. When I told him this he made a face and said you are going to make me do this aren't you and I smiled.
The team jokes and calls him my Chubby Hubby (which I thought had a nice ring with the home fries so I went with it…I don't find MDP chubby at all) though they all admit they are not sure how he lives with me and doesn't weigh 500 pounds. 🙂 MDP really cooks about as much as I do when it comes to actual meals…it's pretty nice to not feel like cooking because you were baking all day and have a man come fix you some chicken, corn, and roasted garlic mashed potatoes.
The big problem with giving the recipe is that there isn't one. I mean we have the same ingredients usually (except when his kids come over he melts cheese on top) but how much really just depends.
The first thing you do is wake up with a cocker spaniel on you. 😀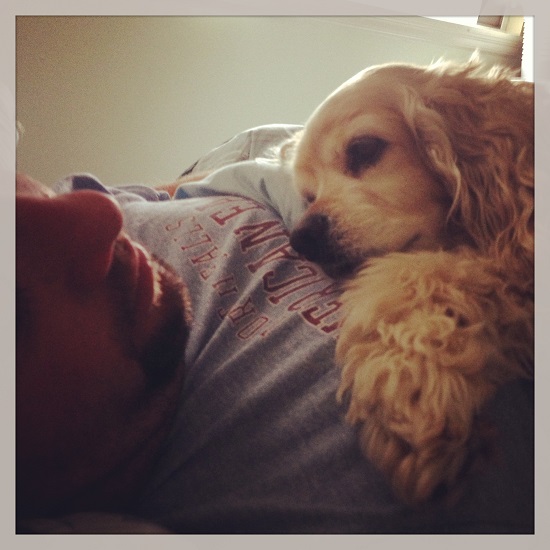 You dice some potatoes up. How much is kind of how many we have and how many people are eating them. We like to use Yukon Gold Potatoes but go with what you got. Also dice up an onion. We like to use Walla Walla Onions which are local to WA State and are in the sweet onion family.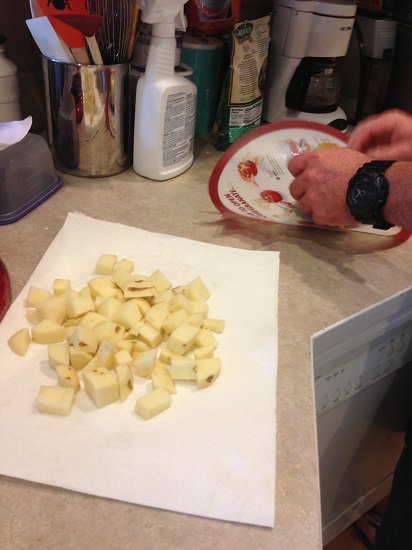 Then he fries up some bacon. We fry up a full pound as we like to snack on it as well as use some of it for the potatoes.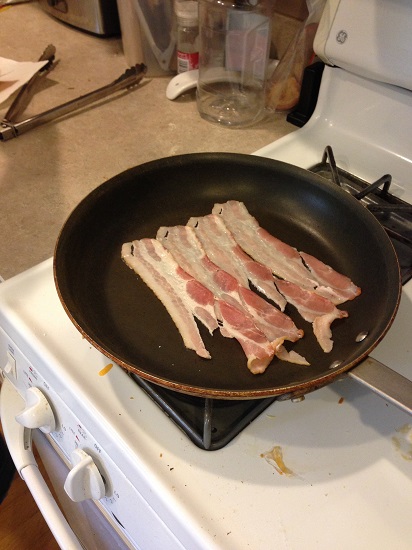 Then you find your kitchen helper to help try and trip you while you cook. 😛 Deep down I really think she thinks she is helping. Anyway you put the potatoes into the bacon grease and about 5 minutes later you add the onions. You can use oil if you are one of the non-bacon eaters that we talked about in the last post.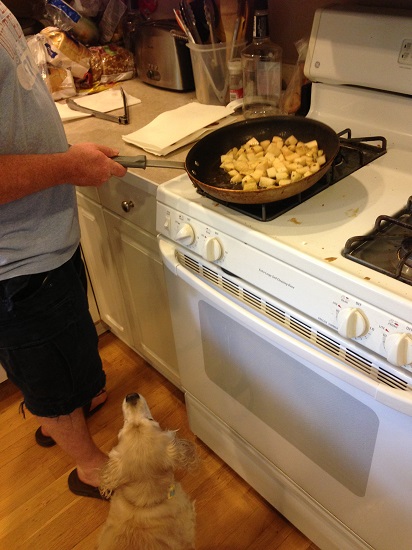 From watching too much Triple D…MDP started to cover up the potatoes with my Le Creuset pot lid. He does this to help get the potatoes tender as well as a nice crisp on the taters.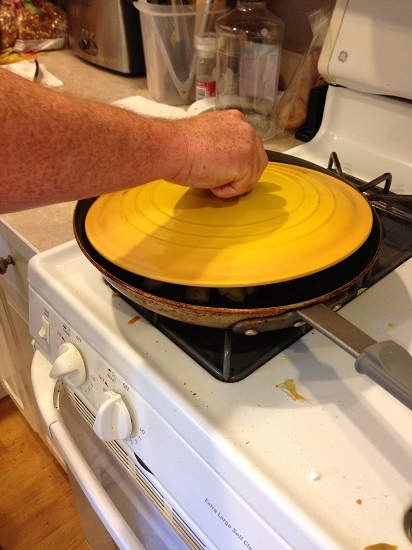 He adds some crumbled bacon and continues to cook them with the lid off until the potatoes and onions are tender. Salt and pepper and there you go.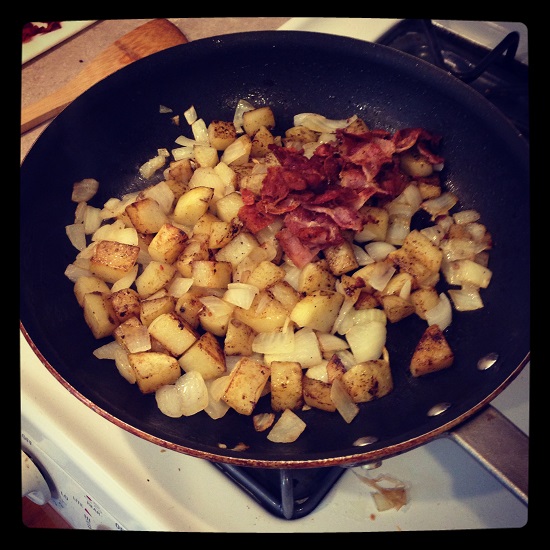 Chubby Hubby's Home Fries
1 pound of Yukon Gold Potatoes (this is a rough estimate), peeled and diced
1 pound bacon (we usually use center cut), then crumble about half…eat the other half
1 medium sweet onion, diced (MDP's tend to be very rough cut…but try to go for a little more uniform)
salt and pepper to taste
Fry up some (1 pound) bacon in a large skillet pan. Remove the bacon from skillet and place on a paper towel. Leave the bacon grease in the pan.
After all the bacon is fried up and removed from pan add the potatoes first for about 5 minutes. Then add the onions.
Place a lid on top while the onions and potatoes "fry" in the bacon grease. Do this until the potatoes become tender.
Once tender add the bacon back (however much you want) to the pan and continue to cook until potatoes are at desired texture.
Salt and pepper to taste.
If you would like you can melt some cheddar cheese on top which is what MDP does when his kids are here.