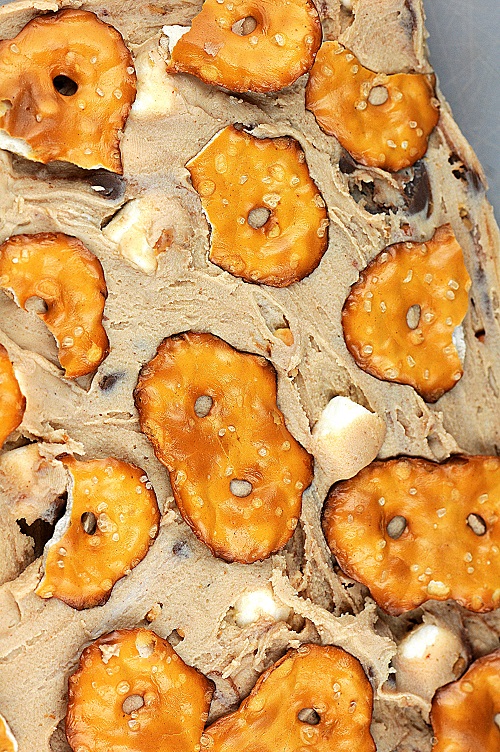 I could possibly rip a small child's right out of its arm socket if they were holding an ice cream cone or really any food. I told you all that I had to give up dairy but the "reset" type diet (for my allergies) they have me on for 10 days pretty much took away any and all fun foods: sugar, caffeine, booze, bacon, eggs, peanut butter, wheat, most fruits. I'm basically sharing the same diet as my rabbits…which when you are allergic almost half the stuff on the can eat list you get pretty tired of your foods quickly. I'm on day three…but who's counting?
The hardest part other than the glaring obvious is that I have to continue to make stuff for the blog, people, Tablespoon…and not taste it. It's a little too warm to turn the oven on as of late and making ice cream would have made me a sad panda. Not that making fudge was really any easier it turns out.
This is beyond easy to make. This would be fun to make with your kids. This uses the ever growing popular frosting fudge. It's popular because it's tasty and it's so easy.
Have a good weekend…stay cool and really enjoy your food! 🙂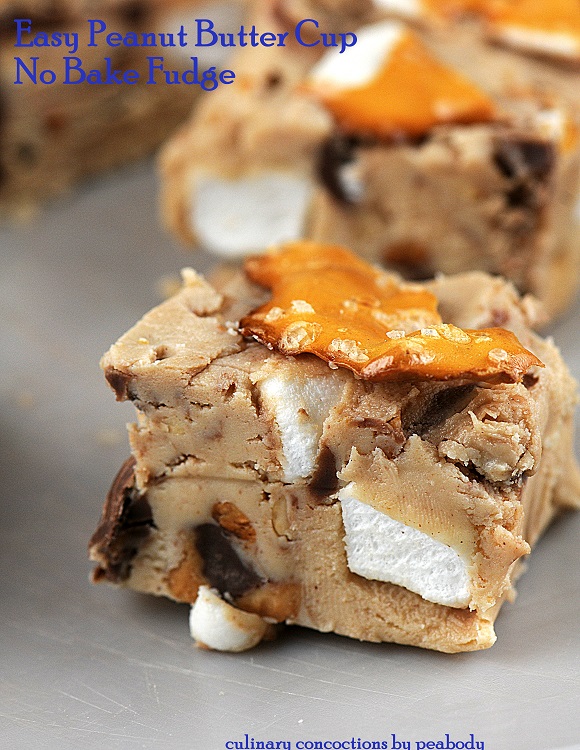 Easy Peanut Butter Cup No Bake Fudge
Ingredients
1 can vanilla frosting (I used Pillsbury)
1 cup peanut butter
3/4 cups peanut butter chips
1 cup chopped peanut butter cups
1 cup marshmallows
handful of pretzel chips for garnish
Instructions
Prepare a 8x8 inch pan with baking spray.
In a medium saucepan, melt the peanut butter chips.
Add the frosting and peanut butter and stir until fudge is smooth.
Fold in the marshmallow and peanut butter cups.
Pour into prepared pan.
Top with pretzel pieces if desired.
Place in fridge for an hour to firm up. Cut into pieces. Serve cold or room temperature but store in an airtight container in fridge.
https://www.sweetrecipeas.com/2013/07/26/easy-peanut-butter-cup-no-bake-fudge/