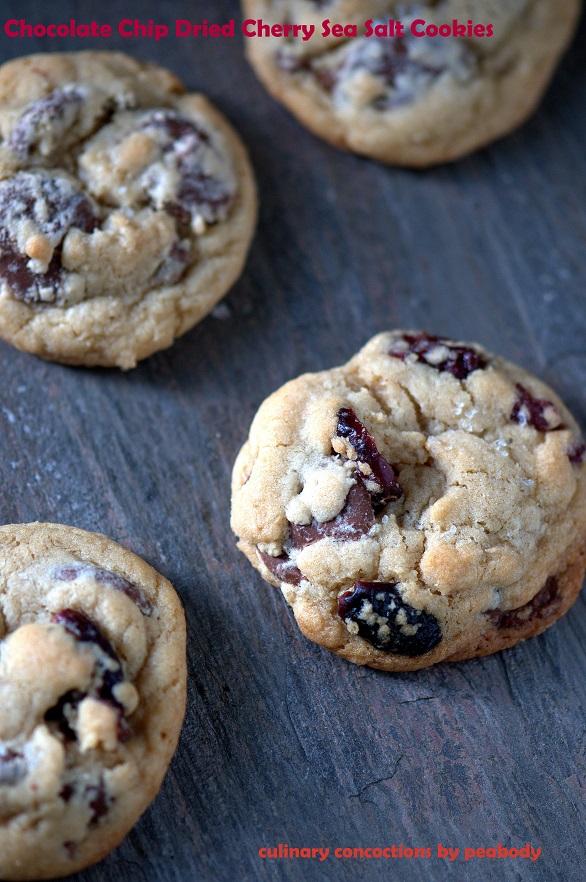 So you know how you can tell if you would be friends with someone by looking at their Pinterest board? Well at least I can. 🙂 Well that's how I felt the first time I saw How Sweet It Is. I knew Jessica and I should be neighbors. We would become really large, really drunk neighbors but neighbors nonetheless. Her love of sprinkles, bacon, avocado, and bourbon alone make us kindred spirits. Oh and her love of make-up which I share except she actually wears hers I collect mine as if I am opening up some sort of make-up museum later on in life.
It got me thinking about what I look for and DON'T look for in a friend. So without further ado people I doubt I could be friends with (with a few exceptions based on the person's overall awesomeness).
1. People who tell me they never wear sweatpants not even around the house. Here, let me toss you to the curb because I can…because I am wearing my comfy sweatpants that I don't worry about getting messy. 😛
2. People who say they can't imagine spending that much for a handbag. If the person has the money and wants the handbag just let them have the handbag darn it all. Or the shoes.
3. People who don't think Milk Duds are a complete meal. Chocolate (dairy), Corn (aka vegetable) Syrup, Vegetable Oil (again MORE vegetables), plus the box says it has 1 gram of protein and 28 grams of carbs. That is a complete meal in a box right there.
4. I am suspect of women who like to sleep in their bras (like ALL the women on Sex and the City did). I try and figure out how to wear them the least amount of time not 24/7.
5. Non-bacon eaters. Now I have a few and their other qualities shine out but know that they are on the fence at any given moment.
6. People who take two bites and say oh I'm so full. Which in a way these people can be my friends I just take their extra food.
7. People who have never eaten peanut butter or Nutella out of the jar…usually with a spoon but sometimes you have to improvise.
8. People who think fat free cream cheese is normal. My dog won't eat it. My dog will eat her own poop, vomit, and snot filled tissue…but will not eat Fat Free Cream Cheese…that ladies and gents says all I need to know about Fat Free Cream Cheese.
I would like to add to the list people who cook/eat that are skinny but sadly I know too many skinny chefs that I actually like. Case in point Ashley over at Not Without Salt. The first time I tasted one of her creations was at a local get together for Helen who was in town. Ashley had made cookies that MDP were so in love with words cannot describe. I asked her to put the recipe up on her blog immediately. She made a face that I know so well. It was the well I just sort of threw stuff in there and out came cookies face. She told me that she used the base of her Chocolate Chip Cookies and just started adding.
So I went and made what she called The Last Chocolate Chip Cookie. Okay. Whatever it's a cookie. I'm the person who can usually pass on a chocolate chip cookie no problem. I'm a snickerdoodle gal as most of my blog readers know. But these…OMG these. These are some chocolate chip cookies. I used to make my own caramelized sugar to use in cookies and people would laugh at me but then loved how the cookies tasted. They taste similar to these but these are better. It does help that I used TCHO chocolate which is amazing stuff. My friend was nice enough (be sure to see the card and how she was originally going to send me 25 pounds of sprinkles) to send me a large bag for my upcoming real birthday (not blog birthday).
So find some of the best chocolate you can and make these cookies. Pronto.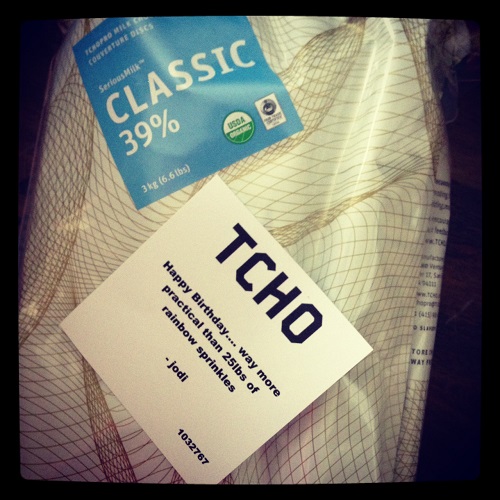 Yes, the chocolate was more practical than 25 pounds of sprinkles but oh the fun one could have with 25 pounds of sprinkles. 😀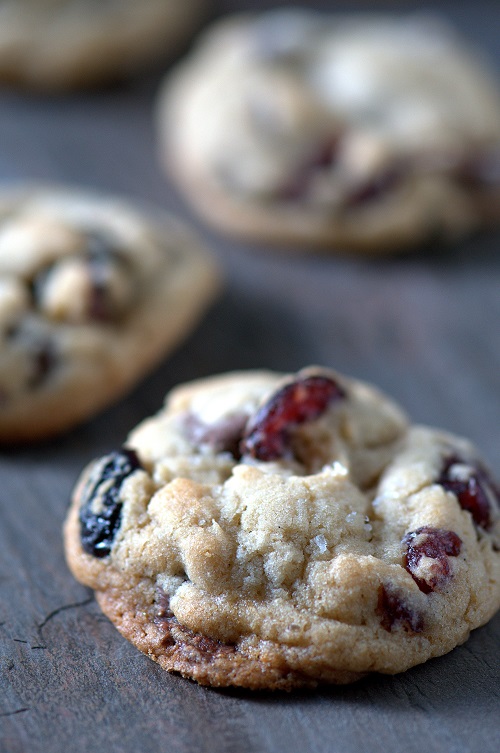 Chocolate Chip Dried Cherry Sea Salt Cookie
8 oz. unsalted butter, at room temperature
1/4 cup granulated sugar
1/4 cup Turbinado sugar
1 3/4 cup light brown sugar, packed
2 eggs
2 tsp. vanilla bean paste (or extract)
3 1/2 cup All Purpose flour
1 1/2 tsp. Baking soda
3/4 tsp. salt
12 oz. milk chocolate (I used TCHO 39% baking discs and kept them whole but use the best quality chocolate you can afford.)
6 oz. dried cherries
1/2 teaspoon good quality salt, for sprinkling on top before baking
Using a stand mixer with the paddle attachment cream together the butter and the sugars until very light and fluffy, about 3 minutes on medium high.
Scrape down the side of the bowl. Continue mixing while adding the eggs one at time. Make sure each egg is incorporated before adding the next.
Add the vanilla bean paste and scrape down the bowl with a spatula.
In a small bowl combine the flour, soda and salt and mix to combine.
With the machine on low, slowly add the flour. Mix until just combined, taking care not to over mix. With a spatula fold in the chocolate and dried cherries.
Sprinkle a very fine dusting of good quality sea salt. If you are not a fan of sea salt in your baked goods then feel free to skip.
Bake at 360* for 12 minutes. They should be lightly golden on the outside but still look gooey on the inside.
*Please note that yes that reads 360 and not 350. If you oven does not go to that I would stay with 350 and bake an extra minute.
Adapted from Not Without Salt