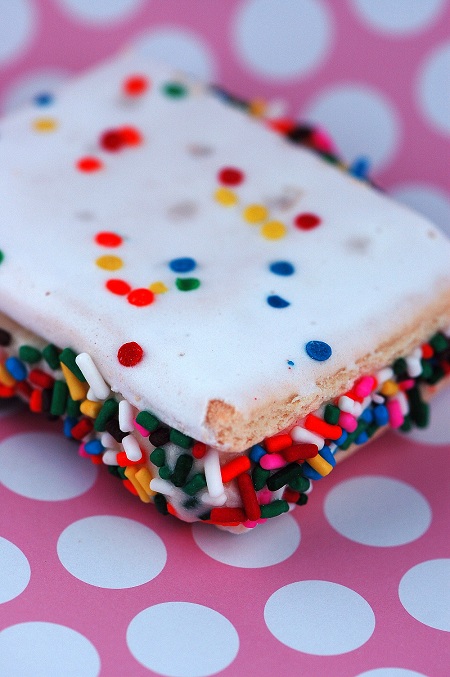 So most of you know my buddy Jessie from Cakespy, but you might not know she came out with a whimsical and fun cookbook as well! It's just quirky and magical, just like her. I was asked to join her Tour de Sweet and jumped at the chance!
Jessie and I think a lot alike and without every discussing what the other one is making we literally will have often made almost the same thing…great minds. 🙂 Minus the fact that she can also draw and well…I make some really lovely blobs and squiggles that I call drawings. Just like most artist, my art won't be appreciated until I'm dead, or so I keep telling myself.
If you love Jessie you will love her book. If you don't know Jessie, head over to her blog and take a look. Her book is of course somewhat like her blog…but a little more unicorn action (not that action) and who can't use that?
I decided I would interview her for my portion of the blog tour she is doing. My interviews are usually less than traditional and I think you will get quite a kick out of it. So without further ado, here is Jessie:
Where does your obsession with unicorns originate? I blame my parents, who had rules against me and my two sisters doing all of the best things from the late 1980s: watching Full House, eating Cool Ranch Doritos, and buying Lisa Frank Trapper Keepers. Basically, I am making up for lost time now. And yes, I am watching Full House and typing with one hand as the other is in a bag of Doritos as I type.
Why did you choose the name CakeSpy? I chose the name because I liked the idea of myself as a sweets sleuth, finding all of the best sweet stuff and presenting my "findings" to the world. Kind of like your own private detective, but for high-fat sugary deliciousness.
In an ultimate death match between the Keebler Elf and the Pillsbury Dough Boy, who wins and why? The Elf, no question. That Dough Boy is just begging to be poked too hard one of these days.
Which of the baked goods in your cookbook are the most aerodynamic for a food fight? I believe that the cakes baked in orange shells would fly through the air beautifully and offer a most supremely satisfying smack as they hit their intended target.
Are you genetically blessed? I know you eat as I saw you inhale quite a few cupcakes at your birthday party one year, yet you are the size of my leg. If you are genetically blessed, do I have your permission to secretly loathe that about you? Oh, you can loathe me for a variety of reasons, but not for not-eating. My two "secrets" I guess are that first off, if I want a dessert, I don't deny myself, because that always seems to end up with me eating an entire bag of Oreos and then feeling bad about myself. Better to just let yourself have some of the good stuff because it satisfies your mind as well as your cravings. Second, I walk everywhere. Like, everywhere. I once clocked how much I walk in an average day and it's usually 6 or so miles.
What do you think is the most overrated dessert trend right now? The new wave of tart frozen yogurt shops leaves me deeply unsatisfied and underwhelmed.
Which dessert do you think gets overlooked the most? Nanaimo Bars. I consider myself a Nanaimo Bar ambassador: too few people know what they are, and I want the world to know about this treat.
Chocolate chip cookies….nuts, no nuts? I love nuts.
Other than the obvious choice of me, who is your blog idol? There is no other you, Peabody. Three other sites I love are Joy the Baker, Cookie Madness, and Baking Bites. I'm only saying three because there are so many others, and if I listed them all you'd get bored reading all the words.
If someone were to build you a shrine and it couldn't be made out of cupcakes, what other sweet/dessert would you want it to be made out of? Example…I want mine made out of Swedish Fish. Crumb cake, the east coast style with fat brown sugar crumbs on top of a buttery cake, which is possibly the world's most perfect food. Second choice, Magic Cookie Bars.
Who is your celebrity chef crush? Dorie Greenspan and Paula Deen are high on my list. Very different, but both so reverent about butter.
Best dessert you ever ate that was homemade? That was from a restaurant? Homemade: my mom's birthday cake. From a restaurant: I freaking love the Hummingbird cake at Kingfish Cafe in Seattle.
If you got stuck singing at Karaoke, what song would you choose to sing and why? Total Eclipse of the Heart, because I'm so soulful and romantic.
Let's get morbid; what do you want your tombstone to read? Butter made it better.
Favorite kind of donut? Vanilla Kreme from Dunkin' Donuts. So bad, but so good.
Favorite cupcake flavor of all time (we are talking last meal cupcake here)? Vanilla cake with pink frosting. Vanilla flavor, but it MUST be pink frosting. It tastes better because you have a prettier visual, I think. So yes, I am telling you my last meal cupcake would be to eat my own cupcake character.
I love your idea in the cookbook of the Pop Tart Ice Cream Sandwiches…what is your favorite flavor of Pop Tarts? Tie between Frosted Strawberry (don't even waste my time with unfrosted) and Chocolate Frosted. Although I am intrigued by their recent addition of Funfetti Pop-Tarts to the line.
What's next on the horizon for Cakespy? My amazing book tour, and then I believe a biopic should be made about my life. Do you hear me, Hollywood?
I decided in honor of Jessie's desire to try the Confetti Cake (think Funfetti) Pop Tarts that I would make her ice cream sandwiches from the book using them! Yay!!! Great book Jessie, so happy for you!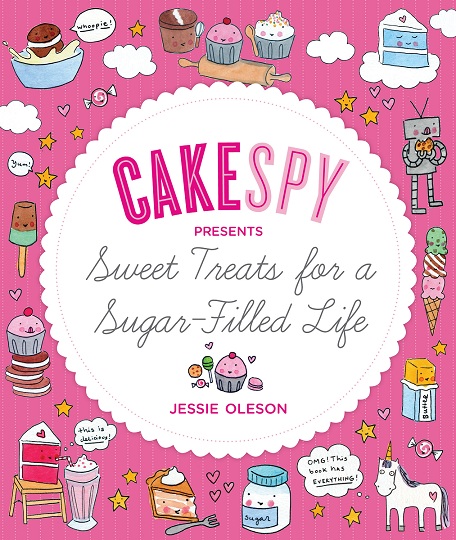 Confetti Cake Pop Tart Ice Cream Sandwiches
4 toaster pastries, homemade or store bought, I used the new Confetti Cake Pop Tart
4 large scoops of ice cream, softened (I used vanilla)
Multi colored sprinkles
Cut each toaster pastry in half, horizontally, so that you have two smaller rectangles.
Place a generous spoonful of ice cream on the inside of four pastry halves. Top them with the remaining pastry pieces, frosting side up. Lightly press together then gently smooth the ice cream on the sides for an even, finished look.
Place the sprinkles in the shallow dish. Roll the edges of each sandwich in sprinkles. Wrap individually in waxed paper or plastic wrap; freeze for about 2 hours or until firm.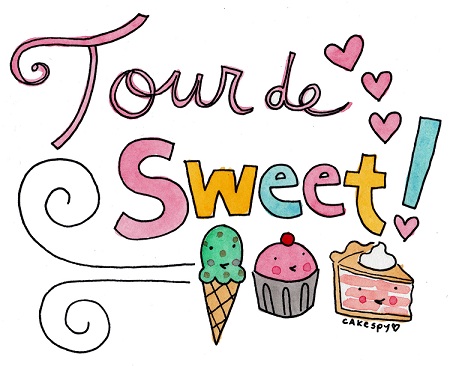 Go and see the rest of the Tour de Sweet for Jessie!