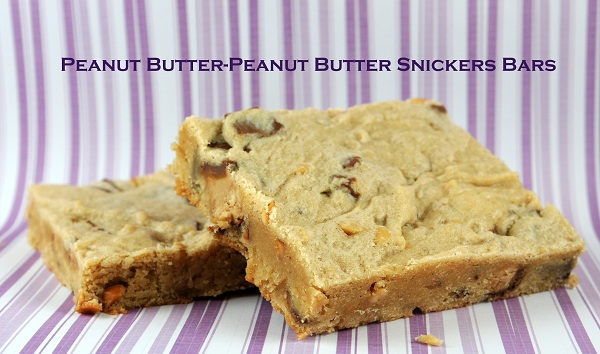 The Seahawks lost. I only care because my friend M cares otherwise it's football. Anyway so no Seahawk Super Bowl for us. For some bizarre reason I equate the Super Bowl with Snickers. Odd yes I know. I think when I was a little kid Snickers must have had good commercial or something.
Now on to the important sport…hockey. It's back. Some of you didn't even know it was gone. But it was. It starts back on Saturday for those who are interested (raises hand).
Figured out what to do for MDP's birthday…it's a good one.
This week I have more things than time. AHHHHHHHHHHHHHHHHHHHHHHHHHHH!!!!
Hangs head in shame…the fun sized Peanut Butter Snickers used in these are from Halloween. They are still fresh. I'm mostly just ashamed that I have Halloween candy left…normally that never happens. I'm slipping in my old age. 🙂


Peanut Butter-Peanut Butter Snickers Bars
1 1/2 cups unsalted butter, at room temperature
1 1/2 cups crunchy peanut butter (I used Crunch Time by Peanut Butter and Company)
2 1/2 cups granulated sugar
3 large eggs, at room temperature
1 TBSP vanilla extract
3 cups self-rising flour
12 fun sized Peanut Butter Snickers (each one divided into 6ths)
Preheat oven to 325F.
Spray a 12×18-inch baking pan with baking spray.
Using a stand mixer with the paddle attachment cream together the butter and peanut butter until fluffy, about 3 minutes.
Add the sugar and beat until smooth.
Add the eggs and vanilla and mix well.
Add the flour and beat until well incorporated.
Fold in the Peanut Butter Snickers pieces.
Spread the batter evenly into pan. Bake 25-30 minutes or until cake tester comes out moist with crumbs attached.
Cool to room temperature and slice and serve.
How many bars you get depends on how big you cut them. Makes about 24 bars.
Adapted from Magnolia Bakery