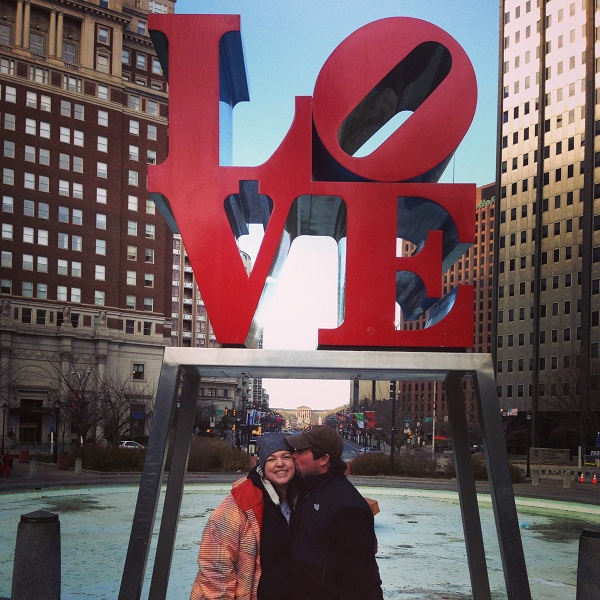 On Tuesdays and Thursdays we usually take MDP's daughter to soccer practice. It's an hour and a half long and so we have time to kill. Tuesdays is our date night and after dropping her off we go to happy hour to take advantage of the cheap eats.
We have a blended family counselor to mostly help with transitions and the difficulties that come with those transitions but we also work on our own relationship. One of the exercises the counselor has us do on our date night is to ask 5 questions. Sometimes we have to make them up and sometimes they are given prompts. One of our prompt questions quite a while back was if you could go anywhere in the US for vacation where would you go and why? His answer surprised me. For normally MDP automatically says he doesn't know and then thinks about it and comes up with an answer. But this time he answered right away. He wanted to fly to Philly to see a Flyers game. I immediately came home and started a Philly Trip budget.
I had planned to do this for his upcoming 40th birthday but then the NHL decided to have a lock out and we cancelled. But a week and a half before the original trip the NHL came to an agreement. Rather impulsively (and not at all like me) I looked up how much it would cost. Philadelphia is not a sought out destination in January (though they had warmer weather than Seattle!) and so it was more than affordable. And being last minute led to even more discounts. And before I knew it I had booked what we are calling the Pre-Honeymoon (since we doubt we can afford one and a wedding)/Birthday Extravaganza Trip. And what a trip it was!
The highlight of the trip of course was seeing the game opener with the Flyers vs the Penguins (even though they lost). But I also got to meet up with Kita of Pass the Sushi and Jessie of Cakespy. So without further ado…My Pre-Honeymoon/Birthday Extravaganza Philly Trip Part One.
We got in late Thursday afternoon and picked up our adopt a fish Lola for the weekend so that I wouldn't miss the dog as much and headed to our room.
I had found a place on line called Khyber Pass Pub that served Bacon Grease Popcorn and was down the street from our hotel so I thought we would give it a shot. This would turn out to be our go to place for the weekend. The popcorn was epic and life changing but all of their food was wonderful. If ever I was to open a place…it would be like Khyber Pass Pub.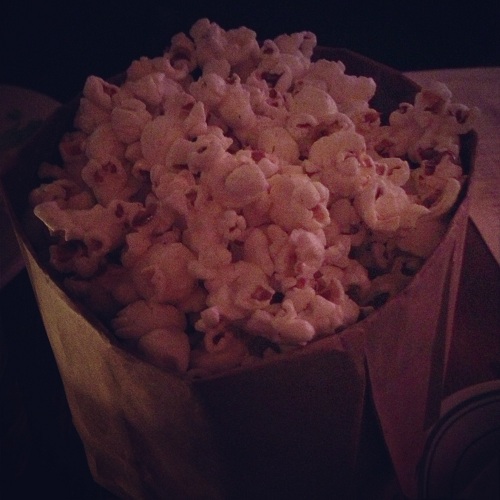 Friday we had what I am calling our Amish/Chocolate day. The Reading Terminal Market (also not too far from our hotel…I made MDP walk a lot of places) is very popular and we discovered that the Amish had some of the best food. Unfortunately they are only there Wednesday through Saturday and so Friday was our only day to try. So we went to the Dutch Eating Place. We experienced Scrapple (a pork and corn mush slice that is deep fried) and the best pancakes I have ever eaten. The half a pound of butter they served with it didn't hurt either.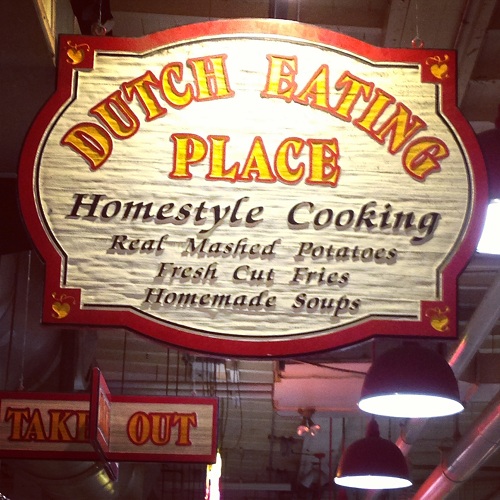 Ever since I saw it on Cakespy I knew I had to go to Miller's Twist for the Butter Brickle Ice Cream in a Pretzel Cone. A Pretzel CONE!!! OMFG! There are no words people. None. WE also bought soft pretzels for our drive to Hershey, PA..and again…OMFG best soft pretzel I ever put in my mouth. Ever.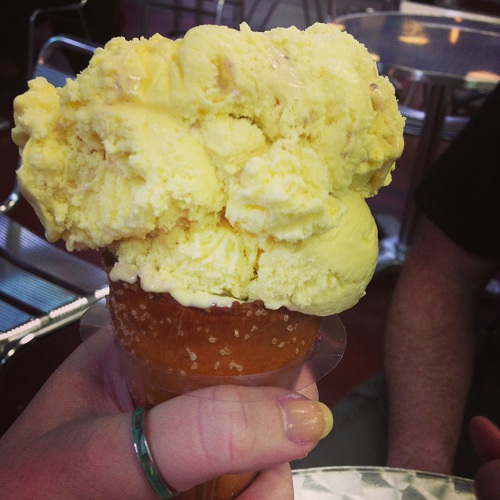 I also picked up a Snickerdoodle Whoopie Pie from Bieler's Bakery (also amish) and that was insanely good as well. I'm telling you their butter is like crack.
We headed to Hershey PA to go to the Chocolate Factory and zoo. In January the zoo is discounted on Fridays (gee I wonder why), it was a small zoo but I really liked the bobcats. The bad thing is we came out to someone filling out an incident report to security for dinging our rental car. Still dealing with that fun. But the car was drivable and we headed to Chocolate World.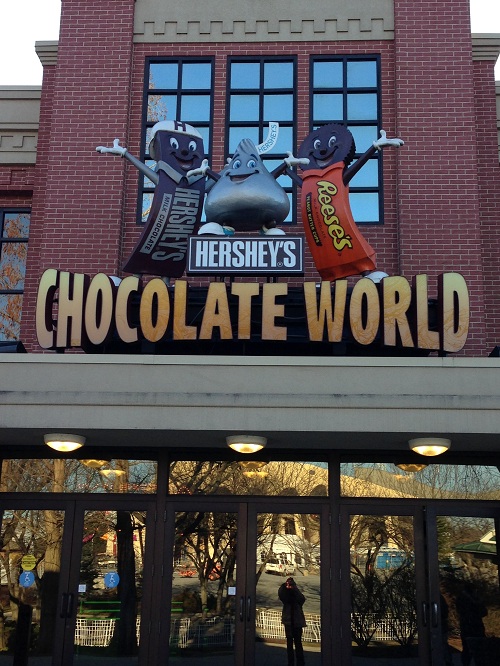 I was really impressed with all that Milton Hershey has done. I had no idea. The town is cute and they have a theme park as well but it was the off season so it was closed. All the street lights have Hershey kisses on them…too cute. MDP and I made our own candy bars. Mine had pretzels, toffee, and almonds and his had toffee and butterscotch chips…both were topped with sprinkles.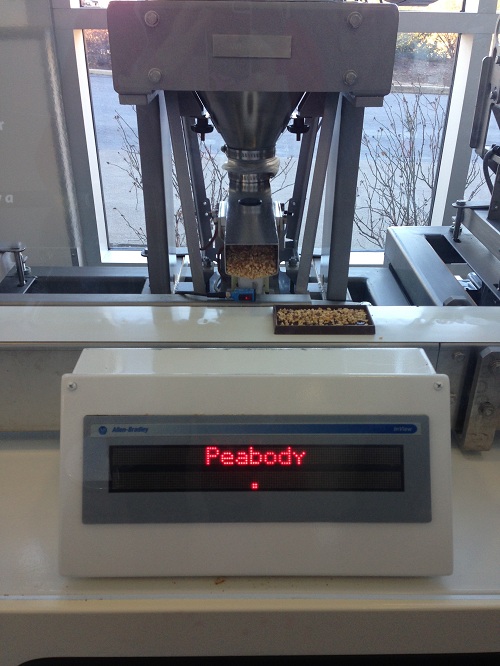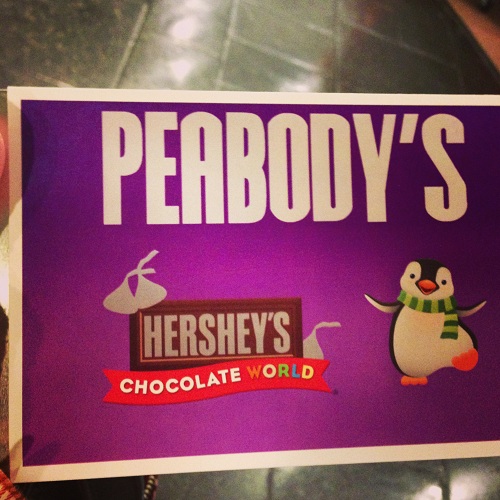 We had a lackluster dinner (not bad just not wow) and headed to the Hershey Bears (American Hockey League) game. The team and arena are also owned by the Hershey corp. Great arena.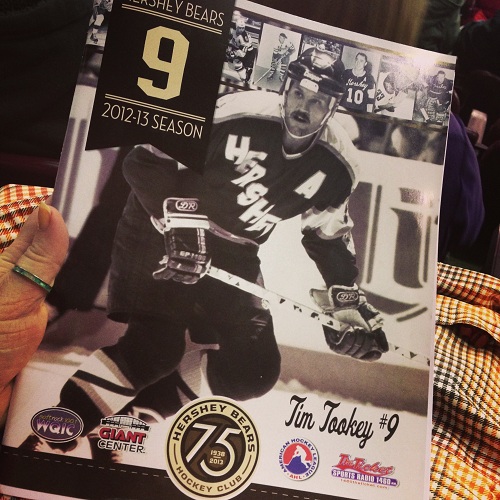 We got home late and MDP felt that we needed cheesesteaks at 1am. They were so-so but the bellman told us we went to the wrong place so we would try again later.
And just in case you want to make bacon grease popcorn at home….
Bacon Grease Popcorn

6 TBSP bacon grease, divided
1/2 cup unpopped popcorn kernels
salt to taste
In a large pot (at least 6 qt) let 3 TBSP of bacon grease heat up on high heat. Test a couple kernels to see if grease is hot enough. When it is add the rest of the popcorn and cover with a lid.
Just like Jiffy Pop…keep shaking and moving the pan (lid on) to keep the unpopped kernels moving around. When the popping starts to slow down remove from heat and let the rest of the kernels pop off of the burner.
Pour into a bowl and add 1-3 extra TBSP of melted bacon grease and add salt to taste. Pour into a paper bag to help absorb some of the grease.