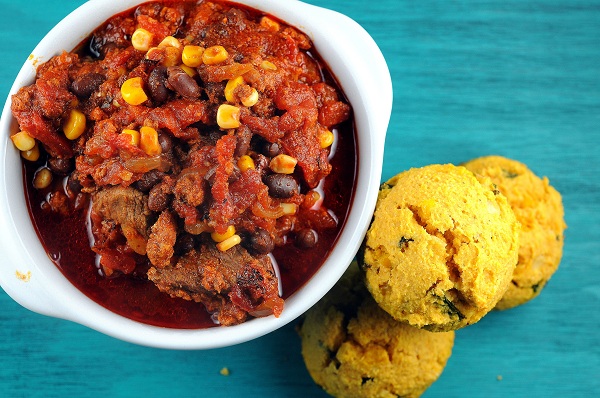 I never thought I wanted a slow cooker as that was the lazy cooks way out (ha!) but one day my mother asked me if I wanted one. I said okay I guess picturing myself using it to heat meatballs and little Smokies for parties. Little did I know I would make about half my meals in one now!
So back in August when I went to the International Food Bloggers Conference in Portland they had this luncheon that was sponsored by Ninja. I wasn't even really going to go until I caught wind that they were going to give away a Ninja Cooking System (they said like a slow cooker). So I figured go see what it was about and watched in awe at all the things they said it could do. What can it do?
Slow Cooking. You can use this like a regular slow cooker with low, medium and high options and a digital timer.
Stove Top. Use the Ninja like a regular stove top with a low, medium or high setting. Great option for searing meats before slow cooking them. Which is what I did for this recipe!!!
Oven. Use the Ninja to bake.. yes, BAKE! The baked goods turn out moist and yummy. Use the knob for adjustable heat.
Steam Oven. Steaming items like Salmon is super easy and keeps food moist with less fat. Use the included rack so that fat drips away.
One Pot Meals. Because of all of the options you can literally create all you need in one pot! This is probably my favorite feature of the Ninja Cooking System. What a time saver on so many levels.
Triple Fusion Heat. You have the benefit of direct heat from the bottom, contact heat from the sides as well as the heat from the steam. Because the heat does such a great job, meals are generally done quicker than using conventional methods.
And then at the end of the luncheon they tell us that we are all getting one! At first I had visions of me lugging it on the train and was slightly horrified but then they said they would be shipping them to us. Ahhh, smart people.
So it came. And I made all my usual crock pot stuff like pulled pork and Bolognese sauce. But then I was like let's open this baby up and see what she can do. I absolutely LOVED the fact that to make this chili I only needed the Ninja. No extra pans for browning the meat…because that is already in there. So so awesome.
While I got this free I can't say I was really compensated as they didn't say hey go write about this and we will give you one…they just gave us one. So I don't know what category falls into. All I know if you are into slow cooking you need one of these Ninja 3-in-1 Cooking System MC703 Professional 1200 Watt Programmable Slow Cooker
.
And speaking of needs, if you love chili and you love chorizo then this is the recipe for you. It's one of MDP's favorites and a two time chili contest winner (local).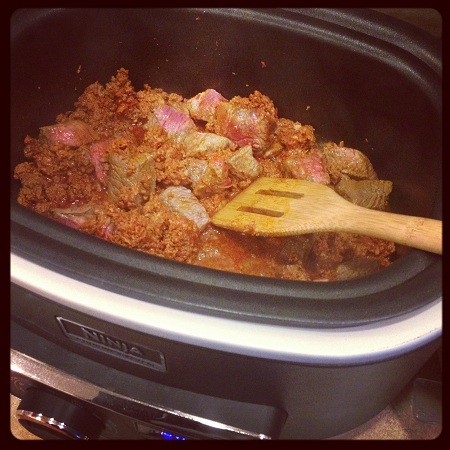 Chipotle Chorizo Chili
1 lb. beef stew meat
1 tsp. vegetable oil
Salt & Pepper
1 Can (28oz) fire roasted diced tomatoes
1 can black beans, drained &
10 oz. chorizo
1 cup chopped onion
1 cup thawed frozen corn
2 TBSP minced garlic
2 TBSP chili powder
1-2 minced chipotle chile pepper in adobo sauce (we side on the spicy side so even more for us)
1 TBSP cumin
¼ cup masa harina
Season stew meat with salt & pepper, brown meat in oil in a skillet over medium high heat for 5 minutes. (If you owned a Ninja 3-in-1 Cooking System MC703 Professional 1200 Watt Programmable Slow Cooker
you could do it all in one pot!)
Add & cook chorizo with the stew meat.
Combine all ingredients except for the masa harina which goes in toward the end.
Cook until beef is tender in crockpot on low setting 7-8 hrs. 20 minutes before it is done, add the ¼ cup of masa harina.
Serve with the Pumpkin Pasilla Pepper Muffins they go really well together.
Adapted slightly from Cuisine at Home Slow Cooker Meals