This Apple Cider Caramel Glazed Pound Cake is a spiced apple cider pound cake all topped with a rich and gooey caramel glaze. Perfect for a fall day.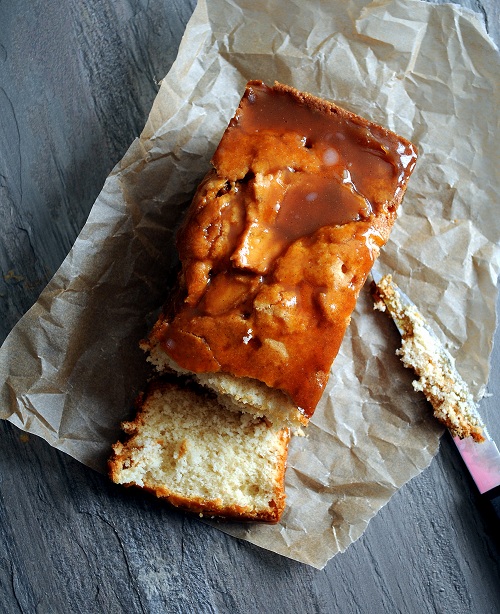 We sure did do a quick turnaround in temperature around these parts (in the upper 50's for a high)…my hands are freezing as I type this.
But I'll take it!
It was so chilly today that I busted out the hot apple cider…which meant once opened I needed to do something with the cider.
Enter this Apple Cider Caramel Glazed Pound Cake.
Our weather has been exceptional lately…which isn't a common phrase used in the Seattle area much. 🙂
The kind where the sun is out but it's still cool enough to do whatever activity you see fit.
And of course that great autumn chill in the morning that just awakens my soul.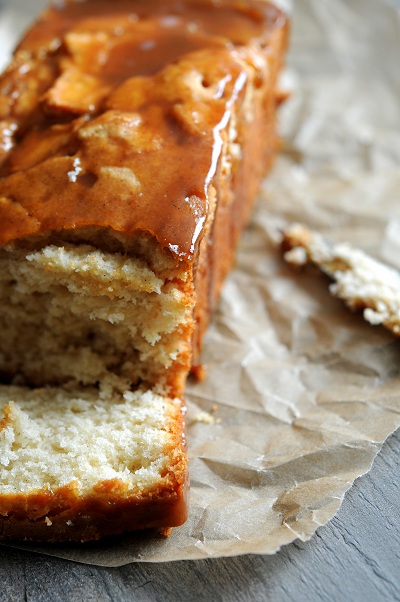 Since I live in Washington State there is no shortage of apple products.
I am lucky that a local orchard makes its own Honey Crisp Cider that I have down right become addicted to.
Which is hard because it sells out quickly and unlike candy you can hide a gallon of cider in a drawer.
Well I guess you could try but that just screams trouble.
It resulted in a quite yummy pound cake with a sticky but equally yummy caramel glaze.
I would not skip the glaze because by definition skipping caramel in anything should be outlawed.
Not an overpowering apple taste but I wasn't going for that.
And last but not least, it's a great day to order my cookbook.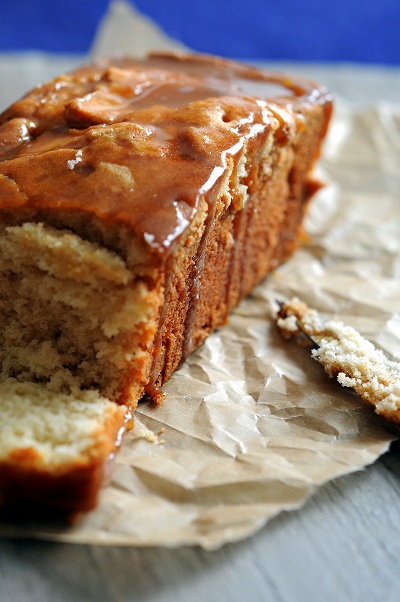 Want More Apple Recipes?
Salted Caramel Apple Fritter Bread
Caramel Apple White Chocolate Fudge
Salted Caramel Apple Sweet Rolls
Mini Caramel-Glazed Honey Crisp Apple Bread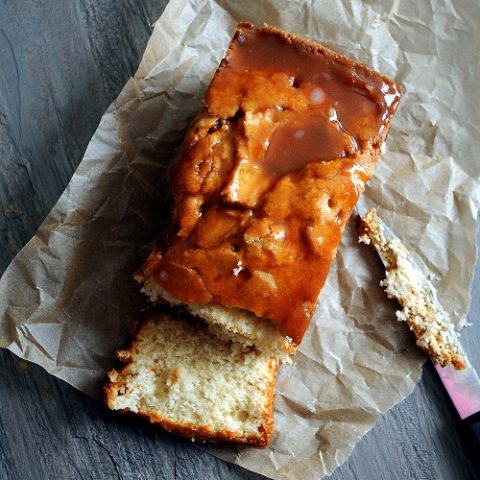 Apple Cider Caramel Glazed Pound Cake
Ingredients
For the Pound Cake:
1 cup unsalted butter, at room temperature
1 cup shortening
3 cups granulated sugar
6 large eggs
3 cups all-purpose flour
1/2 tsp. salt
1/2 tsp. baking powder
3/4 tsp. cinnamon
1/2 tsp. nutmeg
1 cup apple cider
1 tsp. vanilla bean paste
For the Caramel Glaze:
1/4 cup unsalted butter
1/2 granulated cup sugar
1/2 tsp. baking soda
1/4 cup milk
1 tsp. vanilla bean paste
1/4 cup Lyle's Golden Syrup (dark corn syrup can be used)
Instructions
Preheat oven to 325F. You can use a large tube pan or I made 5 small loaves. Grease whatever pan you are using with baking spray.
Using a stand mixer with a paddle attachment cream together the shortening and butter.
Add sugar ¼ of a cup at a time. When all sugar is incorporated beat on medium-high speed for about 5 minutes.
Add eggs one at a time, scraping down the bowl after every addition.
Add the vanilla and beat another 30 seconds.
Combine the flour, baking powder, salt, and spices in a medium bowl.
Starting with the flour mixture alternate adding the flour, then the cider, than flour, cider, and end with flour.
Beat until all the ingredients are well combined.
Tube pan bake for 90 minutes. Small loaves took about 70 minutes. Just watch your oven to make sure a knife inserted in middle of cake comes out clean.
For the Glaze:
Combine all ingredients in a medium saucepan and bring to a boil. Boil for 10 minutes.
Drizzle over cake while cake is still warm.