These Malted Pumpkin Nutella Whoopie Pies have a soft and moist pumpkin cake like cookie filled with a malted Nutella filling.

September is in full swing now and there is no looking back.
While our weather is pushing for a little Indian Summer action it can't fool me, I know that Fall is on its way.
This is the time of year when my soul awakens and comes alive.
Leaves will rustle under my feet.
All my cute coats get pulled out of the closet.
The chill in the air in the morning.
The trips to the pumpkin patch.
Hot chocolate.
And hot cider.
And hot tea.
Warm blankets.
Snuggly fiancé's and pups.
All good, all good.
And of course all the Fall baking.
I've worked out a little system of sorts in order to get to bake and while it takes three times as long right now I'm not doing a whole lot.
There isn't much on day time or night time TV for the matter.
I've watched way too many movies.
Including such winners as the North Shore (which ran at like 3am) and Road House (which I couldn't make it through).
I've watched Tombstone four times now because they keep showing it. 🙂
I tried doing Twitter for a while, which apparently the key to having time for Twitter is being injure and have nothing to do.
Though Tweeting while on Vicodin gets me thinking (and therefore Tweeting) things like do conjoined twins both feel when they are having sex.
Which for the record no one wrote me back on that.
And I kind of still wonder that but live in fear of what a Google search of that would bring up. 😉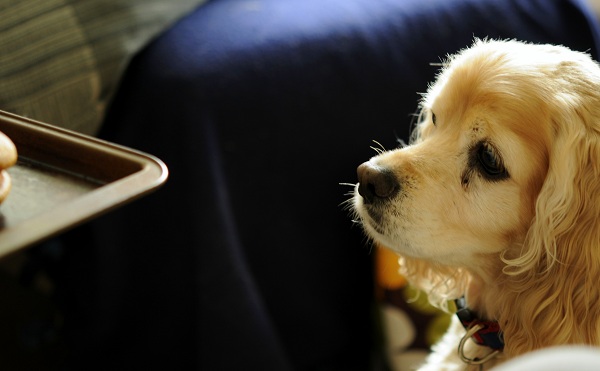 Yesterday was the kiddos first day back at school around these parts.
In good news all of my fiance's kids happily reported that the first day of school was pretty good.
Which is a miracle unto itself.
Since it was our day to have the kids I wanted to make sure they had a back to school treat.
You would think PB and J treat but since I had a half a can of pumpkin sitting in the fridge pumpkin it was again.
This is a spin on the Pumpkin Whoopie Pies I made awhile back from the original Baked book Baked: New Frontiers in Baking
.
Those were originally made with a maple cream cheese filling.
But if you want to try them with a little malted Nutella filling then this Malted Pumpkin Nutella Whoopie Pies is the recipe you want to go with.
If that sounds more yummy than these go here.
Did the kids like them?
They asked to take them home and inhaled a few while they were here.
P.S. It's a great day to order my cookbook.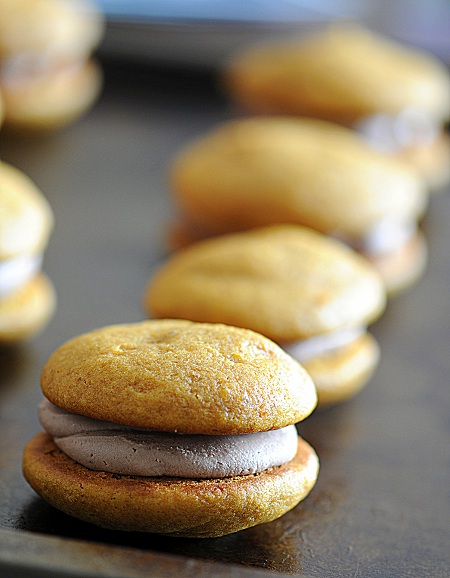 Want More Pumpkin Recipes?
Pumpkin Chocolate Chip Whoopie Pies
Brown Butter Pumpkin Pie Layer Cake
Salted Caramel Frosted Pumpkin Cupcakes
Apple Cider Whiskey Glazed Pumpkin Pull Apart Bread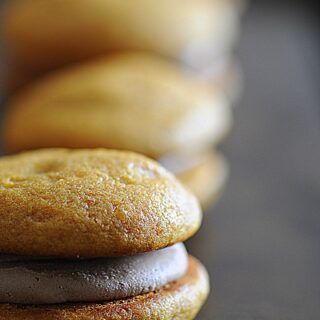 Malted Pumpkin Nutella Whoopie Pies
Ingredients
For the Malted Pumpkin Whoopie Cookies:
3 cups all-purpose flour
1 tsp salt
1 tsp baking soda
1 tsp baking powder
1/3 cup malted milk powder
2 TBSP cinnamon
1 tsp ground ginger
½ tsp ground fresh nutmeg
2 cups dark brown sugar, firmly packed
1 cup vegetable oil
3 cups chilled pumpkin puree
2 large eggs
1 tsp vanilla bean paste
For the Malted Nutella Filling:
1 cup Nutella spread
1/2 cup shortening (makes it a little more Oreo filling like than butter)
2 1/2-3 cups powdered sugar
4 TBSP malted milk powder
1 tsp. vanilla bean paste
milk to thin
Instructions
For the Malted Pumpkin Whoopie Cookies:
Preheat oven to 350F. Prepare to baking sheets lined with parchment paper.
In a large bowl, whisk together the flour, malted milk powder, salt, baking soda, baking powder, and spices. Set aside.
In a separate bowl, whisk to sugars and oil together. Add the pumpkin puree and whisk to combine thoroughly. Add the eggs and vanilla and whisk until combined.
Sprinkle the flour mixture over the pumpkin mixture and whisk until completely combined.
Use a small ice cream scoop with a release mechanism to drop healing TBSP of the dough onto the prepared baking sheets, about 1 inch apart.
Bake for 10-12 minutes, until the cookies are just starting to crack on top and a toothpick inserted into the center of a cookie comes out clean.
Remove from the oven and let the cookies cool completely on the pan while you make the filling. They will look more like mini cakes then cookies, so don't panic about that.
For the Malted Nutella Filling:
Beat together the shortening, malted milk, and Nutella using a stand mixer or a bowl and electric mixer. Beat until fully combined.
Add in vanilla bean paste and 1 cup powdered sugar.
Beat until incorporated.
Continue to add powdered sugar until you reached desired consistency. You want to make sure it's soft enough to spread or to pipe onto cookie.
To make cookies: Match up cookies as best you can by shape. Don't worry if one is bigger than the other a little or one is more rounder. No one is perfect. 🙂
You should get about 22-24 pies…so 44-48 cookies total depending on how big you make them.
Lay out half of the cookies you have and fill them with the filling.
Then place the non-filled cookie on top forming the whoopie pie.