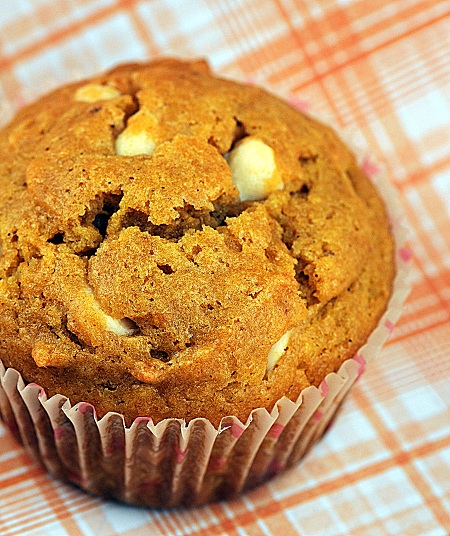 We all know that I love Pinterest. I still to this day thank/curse Kristen(Dine and Dish)for introducing it to me. While it might be a time suck it is a constant source of inspiration of all things not just baking/cooking. I almost (and I use that term loosely) want to clean and organize after I am on Pinterest…almost. 😛 I also love it of course because it brings people to my site and I always love gaining new readers!
One thing I am always interested in on Pinterest is what things do I bake/make are popular on Pinterest and it usually surprises me…big time. One thing were these muffins. Now these are not like a Way Back Wednesday, these are like a redo Tuesday. 🙂 So many people had been pinning them that I decided to remake them…as these bad boys were originally posted six years ago…yep…SIX! They say that they average blog reader only stays with a blog about a year and a half. I know that I have some long time readers but I have to remember that the majority of you are someone new to me and that they have missed out on some great recipes over the years. And if you are new to me feel free to comment and say so…Joy (Joy the Baker) wrote a great post the other day about comments. I feel the same way that she does.
After making these (with help) I can see why they are so popular. I forgot how yummy they are. You don't have to use white chocolate chips, I have actually made them with milk chocolate as well, but there is just something about the white chips with this particular recipe that make it work.
So whether you are a new reader (welcome), long time reader (thank you), or a really, really long time reader (double thank you with a cherry on top) you should probably give these a try. And if you already did give them a try you might want to again. I can't believe I haven't made these for so long! The one curse of running a blog, always trying to come up with something new you forget how awesome some of the old was. 😀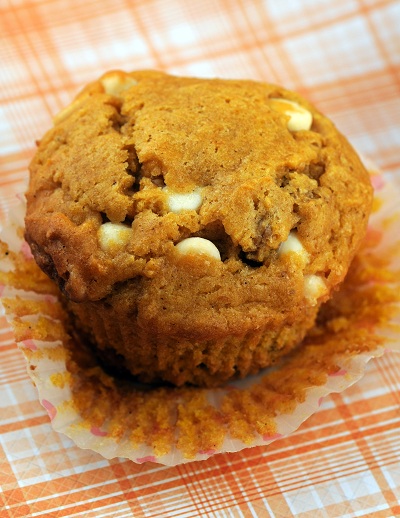 Pumpkin White Chocolate Chip Muffins
1/2 cup of walnuts, chopped
1 2/3 cup all-purpose flour
1 cup granulated sugar
1 tsp ground cinnamon
1/2 tsp ground ginger
1/2 tsp ground cloves
1 tsp ground nutmeg
1 tsp baking soda
1/4 tsp baking powder
1/4 tsp salt
2 eggs
1 cup pumpkin
1 tsp. vanilla bean paste
4 oz unsalted butter, melted
6 oz white chocolate chips
1. Preheat oven to 350F.
2. In a large bowl, mix the flour, sugar, spices, baking soda, baking powder and salt.
3. In another bowl, mix together the eggs, vanilla bean paste, pumpkin, and unsalted butter. Add in the chocolate chips and nuts.
4. Combine the wet and dry ingredients and mix until the dry ingredients are moistened. Do not over mix.
5. Scoop batter into greased or paper cup lined muffin cups. Bake for about 20-22 minutes or until puffed and springy to the touch. Cool then remove from cups. Makes 12 muffins.