These Giant Butterscotch Cinnamon Rolls are filled with cinnamon sugar and are baked in a yummy butterscotch sauce.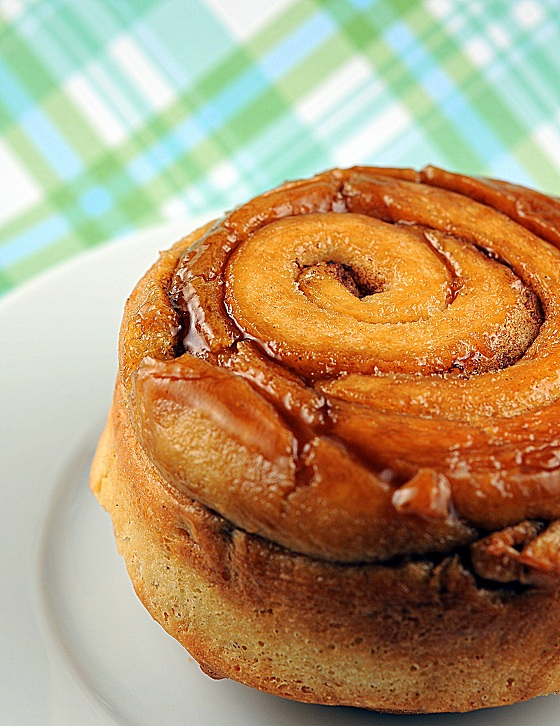 In moving I have discovered that I am the worst at purging.
Good thing I'm going up in space and not down.
Going down in space would really suck right about now.
The biggest issue I have of course is cookbooks.
I thumb through one to decide if I should keep it or donate it.
Only to waste 10 minutes reading through it.
Only to decide to keep it.
I mean how can you get rid of The Confederate Cookbook?
You laugh but it has great southern recipes…see I am doomed. 😀
In other moving news the dog is a wreck.
Crazy Cocker Spaniel is literally afraid of boxes.
So you can imagine how upset she is.
She has run into more stuff in the last couple of days then she ever has before.
And she is in complete panic mode.
I wish they made doggie vodka to take the chill off for her. 😛
She already takes puppy Prozac (for real) but that helps with her everyday stuff not the new apartment maze of boxes.
I found stamps.
Lots of them.
Which is good because I was just about to go buy stamps as I thought I didn't have any.
I do this with Ketchup and Peanut Butter as well.
I either never think I have any and I buy some only to find 5 containers of it.
Or I think I have it and I don't buy it and I am completely out.
I have found every cell phone I have ever owned.
My first one was SOOO heavy.
I have found a lot of random jelly beans.
Most of which I didn't eat when I found.
Most.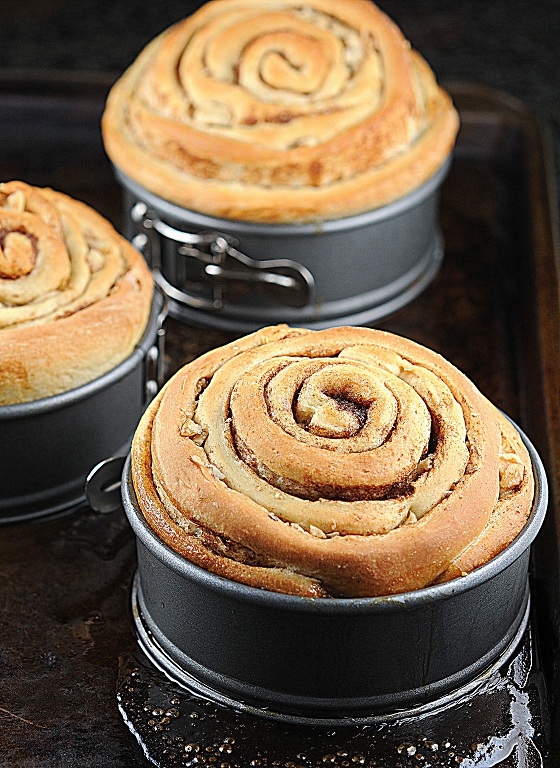 I found cards I bought for people and forgot where they are. 🙂
Not once but twice I have gone out in public later to find packing tape stuck to me.
It's all a bit chaotic and it seems when life is like that I turn to baking bread of some sort.
My fiance was raising his eyebrow at me when he figured out I was making yeast dough.
Giant Butterscotch Cinnamon Rolls to be exact.
You are doing that right now?
He doesn't really get the zen of baking bread especially if you knead by hand.
Some people get it from gardening, running, hiking in the forest, whatever your zen may be.
I get it from baking with yeast.
It helps me clear my head, make lists of things, and in general just think about things.
Mostly to recognize that regardless of the fact that I am freaking the dog out and the QFC deli guy gets to see packing tape on my butt life is pretty amazing.
The move is a positive.
I feel it will bring even more positive things to light.
And speaking of positive.
Holy Yum on these.
Seriously. I usually like me a brioche dough for cinnamon buns but this is a great dough.
It shouldn't surprise me though as the original recipe comes from one of my favorite cookbooks Baking for All Occasions
.
If you don't own it you probably should.
Last but not least…it's a great time to buy my cookbook.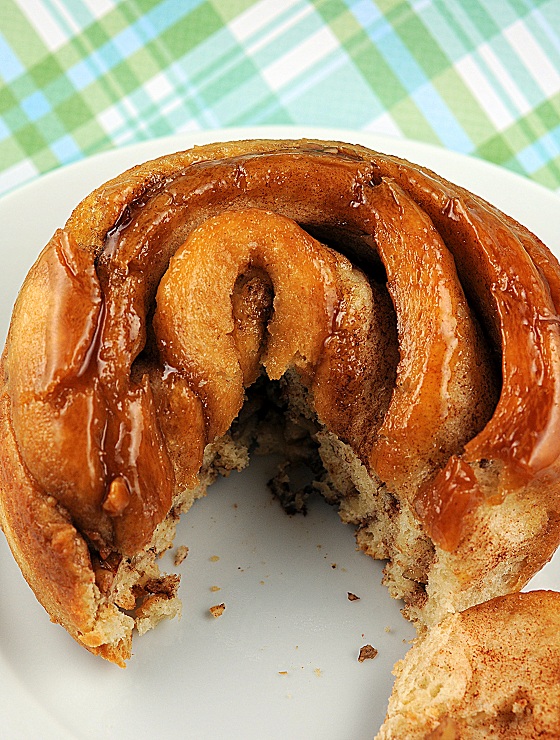 Want More Roll Recipes?
Chocolate Clementine Sweet Rolls
Pineapple Upside Down Sticky Buns
Bourbon Butterscotch Sweet Rolls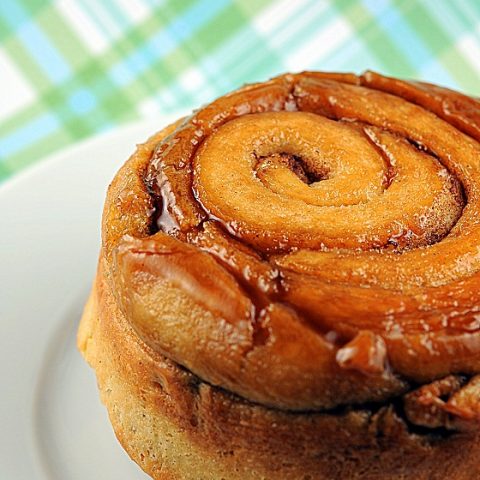 Giant Butterscotch Cinnamon Rolls
Yield:
Makes 3 (4 1/2 –inch diameter) Buns
Ingredients
For the Dough:
2 1/2 to 2 3/4 cup unbleached all-purpose flour
1/4 cup granulated sugar
2 1/4 teaspoons instant yeast
1/2 teaspoon kosher salt
1/4 teaspoon freshly grated nutmeg
1/8 teaspoon ground cinnamon
1/3 cup whole milk
1/4 cup (2-ounces) unsalted butter
1/4 cup water
2 large eggs
1 teaspoon pure vanilla extract
For the Butterscotch Glaze:
1/2 cup firmly packed dark brown sugar
1/4 cup (2-ounces) unsalted butter
2 Tablespoons light corn syrup
2 teaspoon Scotch whisky
For the Cinnamon-Butter Filling:
1/2 teaspoon ground cinnamon
1 TBSP granulated sugar
2 Tablespoons (1-ounce) unsalted butter, melted
Instructions
For the Dough:
In the bowl of a stand mixer fitted with the paddle attachment, combine the 2 cups of flour, sugar, yeast, salt, nutmeg, and cinnamon.
In a small saucepan over low heat, heat the milk and butter just until the butter melts. Add the water and set aside until warm (120º F-130º F), about 1 minute.
Pour the milk mixture over the flour mixture and mix on low speed until combined.
Add the eggs one at a time, beating well after addition.
Add the vanilla.
Add 1/2 cup more flour and continue to mix on low speed until smooth, about 30-45 seconds.
Add 2 tablespoons of additional flour and mix on medium speed until the dough is smooth, but slightly sticky.
Sprinkle the works surface with 1 tablespoon of flour, and center the dough on the flour.
Knead the dough gently until it is smooth and no longer sticky, adding an additional 1 to 2 tablespoons of flour if needed. Place the dough in a large bowl and cover with plastic wrap. Let the dough rise in a warm, draft free place until it has doubled in bulk, about 45-60 minutes.
For the Butterscotch Glaze:
Meanwhile, lightly coat three 4 ½ x 2-inch round cake pan with non-stick spray.
In a small saucepan over low heat, combine the sugar, butter, and corn syrup and heat until the butter is completely melted. Remove from the heat and stir in the Scotch whisky.
Pour the mixture into the prepared pans and tilt the pans to cover the bottom evenly; set aside.
For the Cinnamon-Butter Filling:
In a small bowl, stir together the butter, sugar, and cinnamon.
Center a rack in the oven and preheat to 350º F. Gently de-gas the dough by pressing lightly.
On a lightly floured work surface, roll the dough into a 16 x 12-inch rectangle.
Using a pastry brush, spread the cinnamon-butter evenly over the dough.
Cut the dough into 9 1 ½ -inch wide strips.
Loosely (so the dough has some give as it expands in the oven) roll up one strip. Then wrap another strip around that. And then a third one around that and place it in the center of the prepared pan on top of the glaze. Do this with all three pans.
Loosely cover the pan with plastic wrap and let rise in a warm place until it is almost doubled in size, about 30 minutes.
Bake the cake until the top is deep golden brown, about 30 minutes. Check after 15 minutes to make sure the top is not browning too fast. If so, cover the top loosely with a sheet of aluminum foil for the last 10-15 minutes to prevent over browning. Transfer to a wire rack (remove the foil if used) and let cool for 10 minutes.
Gently tilt the pan and tap the side on a counter to release the sides of the bun. Invert a serving platter on top of the buns, then invert the pan and the plate.
Leave the pan on the cake for 1 minute so the glaze transfers to the cake, then gently lift off the pan. Using a rubber spatula, scrape out any glaze remaining in the pan and spread it over the warm surface of the buns.
Serve the buns warm or at room temperature cut into wedges using a serrated knife.
Although best eaten the day it is baked, the buns can be made the night before, left to cool completely in the pan and covered tightly with plastic wrap.
To reheat, remove the plastic wrap and reheat in the oven to liquefy the glaze again.