These S'mores Graham Cracker Blondies have Biscoff Cookie Spread, crushed Graham crackers, chocolate chips, and marshmallows for a unique take on S'mores.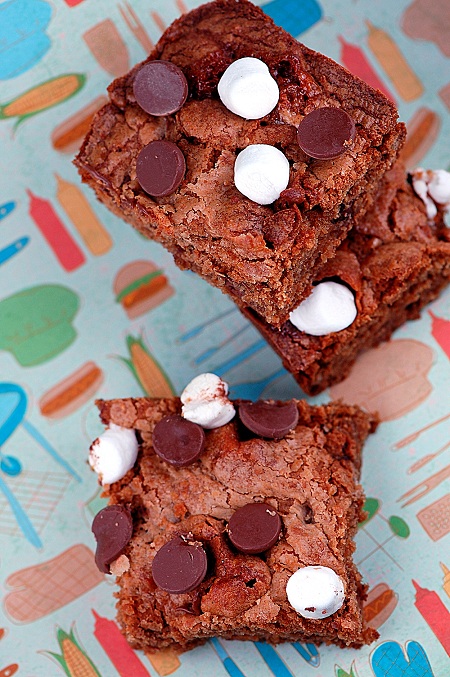 If you watch Seinfeld did you ever see the episode where George tries to break up with a girl and she told him no?
In my mid-twenties I had the same thing happened.
I was dating a nice enough boy but after a few months I knew he wasn't the one or even close to the one and so I broke up with him.
He told me no.
What?
I had been sick at the time and he told me that I must have a fever and I was delusional from the fever and we were too good to break up.
And he left.
Umm.
So then I called him later to tell him no, we were indeed not together anymore.
And again I got that I was sick and not thinking clearly and that we were still together.
He would call as if everything was normal and I would remind him that we were broken up and he would tell me we were not.
I finally broke down and called the largest, meanest friend I knew to go tell him that we were no longer together and to leave me the heck alone.
Fortunately he was signed up to go into the military right after college graduation (that's right I was robbing the cradle…deal with it: D ) and so he was not going to be around anymore.
He stopped calling for a little while thanks to his talking to by my friend.
Don't worry he wasn't beat up…just merely suggested that might happen.
But he would get drunk and call.
Finally he went off to the military.
He wrote me letter after letter and would call from boot camp and I would just not answer.
I've never experienced something like that again.
When people say no they usually mean it.
And if they say yes they simply say it because they get worn down.
I don't wear down easily.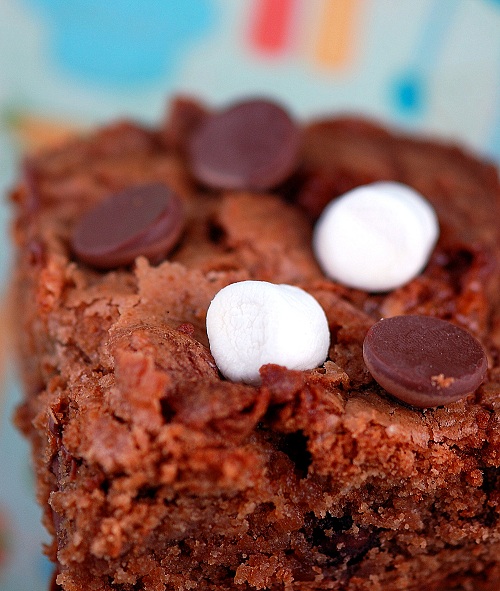 Something people can hardly say no to is S'mores.
Summer is coming and to many that means camping and S'mores.
If you don't like camping you can skip that part and make your S'mores in blondie form instead. 🙂
S'mores Graham Cracker Blondies to be exact.
These call for Biscoff Spread which is a cookie spread.
You can find at Trader Joe's, Target, Walmart, and most grocery stores.
It's ground up cookies with a touch of gingerbread flavor.
I like it but some people don't.
You could always switch to peanut butter and have a peanut butter S'mores thing going on.
And oh yeah, it's a great day to buy my cookbook.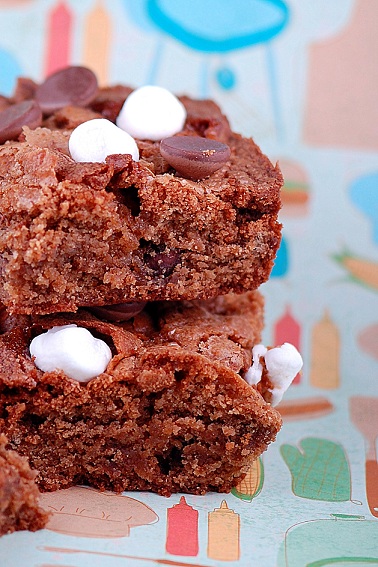 Want More Bar Recipes?
Birthday Cake Batter Cereal Blondies
Chocolate Chunk Churro Cookie Bars
Dried Cherry-Chocolate-Cashew Blondies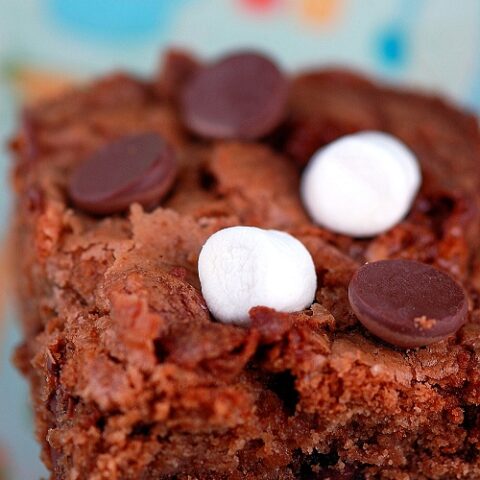 S'mores Graham Cracker Blondies
Ingredients
1/2 cup unsalted butter, at room temperature
1 cup brown sugar
1/2 cup Biscoff spread
2 large eggs
1 tsp. vanilla extract
1 tsp. baking soda
1/2 tsp. salt
1 cup graham cracker crumbs
1 cup all-purpose flour
1 1/2 cups mini marshmallows
3/4 cup milk chocolate chips
Instructions
Heat oven to 350 degrees F.
Line an 8×8-inch baking dish with foil; coat foil with cooking spray.
Using a stand mixer with a paddle attachment on medium speed cream together the butter and brown sugar until well combined – about 2 minutes.
Add Biscoff and vanilla and beat for one minute.
Add eggs, one at a time, scraping down after each addition.
Reduce mixer speed to low and beat in graham crackers, flour, salt, and baking soda until just combined.
Stir in 1 cup marshmallows and chocolate chips until combined.
Spread batter into prepared pan; gently press additional 1/2 cup marshmallows into blondies.
Sprinkle some additional chocolate chips or chopped milk chocolate on top.
Bake 30-35 minutes, or until golden brown, blondies pull away from edges of pan, and a toothpick inserted comes out with moist crumbs attached.
Cut into 9 pieces and enjoy.