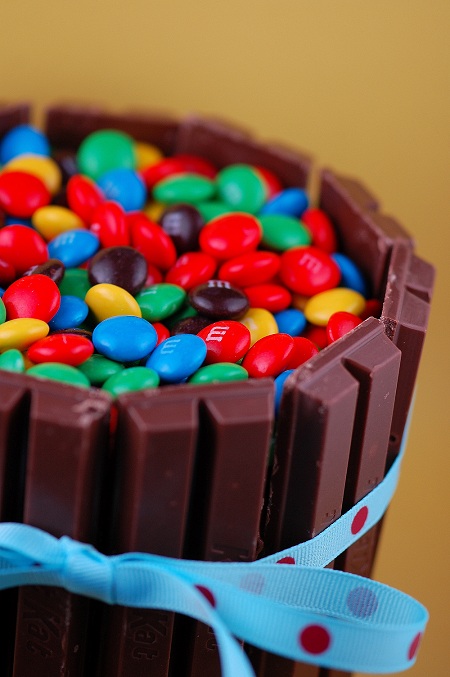 Fourteen came a knocking this week. It's one of the lesser exciting birthdays for you are already a teenager and can get into PG-13 movies, but the next two birthdays are just waiting time until you get to drive. But all birthdays should be celebrated of course (though some disagree…but I prefer it to the alternative). Their actual birthday was on a school night and so homework and regular activities took over so we decided to wait until this weekend to celebrate it in a proper way.
We went to a place where they pour your food onto a table and you beat it with a mallet. While some other places would have been better food (the food was good though), we were going more for the experience…which we certainly had. Then we came home to this beauty.
I actually saw the cake years ago with a Christmas Kit Kat Cake (just red and green M & M's) at someone's holiday party. I saw it again on Pinterest and decided to give it a go. You can use any cake recipe you like but I HIGHLY encourage you to make the fudge frosting to go with it. I love this frosting; it makes me so very happy. 🙂
This recipe makes for three mini cakes but I only made one of them a Kit Kat Party Cake. For while it is fun to look at it is a little over the top….though no one had any problems getting it down. 😛 This would work just as well with Twix Bars as well for those thinking they don't really like Kit Kat bars.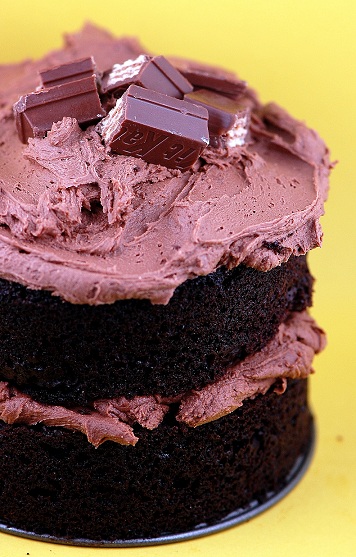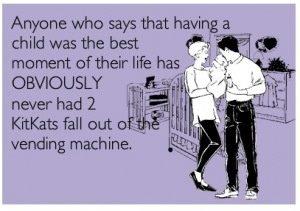 Kit Kat Party Cake
Chocolate Cake recipe of your choice (baked using six 4 ½-inch-diameter spring form pans)
1 recipe Ultimate Fudge Frosting
5 ½ Kit Kats for each cake (I only made one, the rest were just frosted but if doing all three you will need 17 Kit Kats)
1 pound bag of M & M's
Ultimate Fudge Frosting
2 cups unsalted butter, at room temperature
12 ounces semisweet chocolate, melted, slightly cool
4 cups powdered sugar
2 TBSP unsweetened cocoa powder
Using a stand mixer with the paddle attachment, cream butter and 2 cups sugar until fully combined.
Add melted chocolate and cocoa powder, and beat on low speed until fully incorporated.
Add the remaining two cups of sugar. You might need to thin it out, I never had.
This is a fantastic frosting and I don't even really like chocolate that much…yeah I know, but you could seriously bath in this.
To see how to put it together head over to Recipe Girl.