These Meyer Lemon Love Muffins have a lemon muffin based, sprinkled with sugar, and are topped off with a strawberry heart.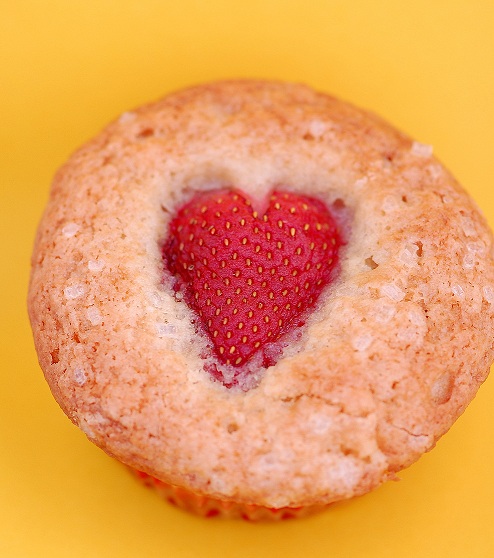 I was in a rare cleaning frenzy on Friday.
Like dig stuff out from the back of the closet kind of cleaning.
It resulted in my finding a few things.
I purse I forgot I owned, always a fun find.
Six dollars and seventeen cents US dollars and $5 Canadian dollars.
A bag of gummy bears that were a little stale…but still edible (don't judge).
And a crumpled up wedding veil.
Now I didn't wear a wedding veil at my wedding.
I actually wore it to go bowling the night before.
See, I didn't have a rehearsal dinner, we went bowling instead…cheaper and more fun.
Anyway the veil was just a cheapy one, the kind that if you had a bachelorette party of something along those lines you might buy.
Anyway I was being goofy and put it on and decided I would put on a little Madonna's like a Virgin and dance around. 🙂
When the song was done I remembered to turn off the iPod but kept the veil on (it was a short one so it wasn't really in the way).
I got to cleaning and cleaning and the next thing you know there is a knock at the door.
So I go open the door and it's my UPS guy.
We have the same one (well actually two…there's a morning guy and an afternoon guy).
I give my morning guy treats (shhh, don't tell the afternoon guy).
He looks up and is trying not to laugh and says to me "I'm not really looking for a commitment right now" and then we both started laughing as I realized I still had the veil on.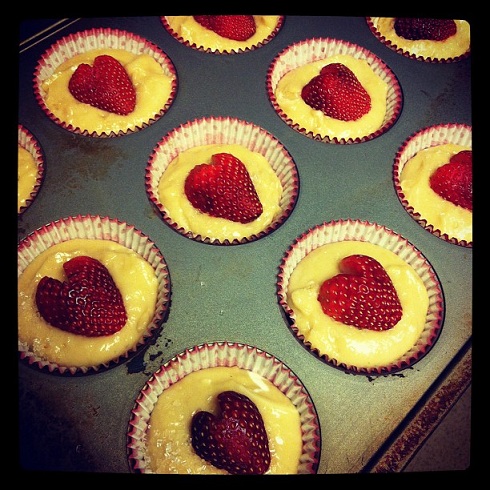 Before he left I gave him some leftover cupcakes and joked "see if you like this flavor for our cake".
To which he laughed again and said fine but that his groom's cake should be German chocolate. 🙂
FYI- his wife reads my blog so it's all in good fun…he knows I'm only slightly crazy. 😛
I figured I best throw out (it's not in good shape to donate) the veil before I scare off another UPS man. 🙂
I have a knack for having interesting incidents with UPS men.
Three times I have flashed them thanks to the dog jumping up on me and pulling down what were baggy shorts/pants.
So the men in brown love me. 😉
That's how we will tie these Meyer Lemon Love Muffins in and say the little strawberry heart is for all the love the UPS men have for me. Ha!
If you don't have Meyer lemons you can use regular lemons though I would add another 1/3 cup of sugar though.
The strawberries aren't really necessary either but considering the fact that Arizona Statehood Day is coming up (you know it as Valentine's Day) I would try and be festive.
Some of the batter eats the strawberries as they bake up and some survive…I guess like relationships (wow, I'm deep 😛 )
P.S. It's a great day to buy my cookbook Holy Sweet!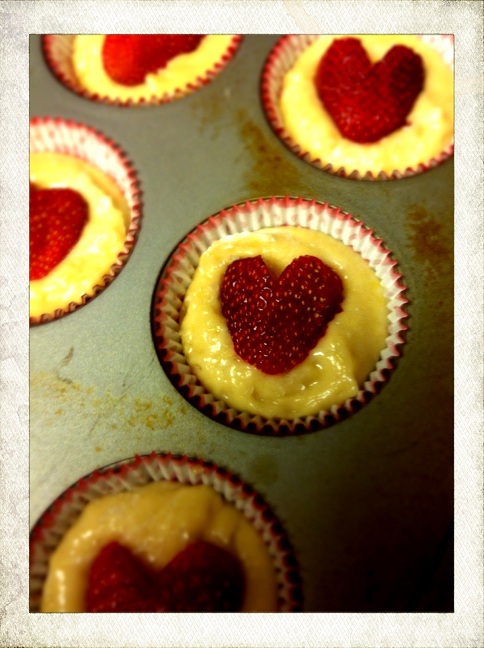 Want More Muffin Recipes?
Clementine Chocolate Chip Muffin
Cider Glazed Apple Fritter Muffins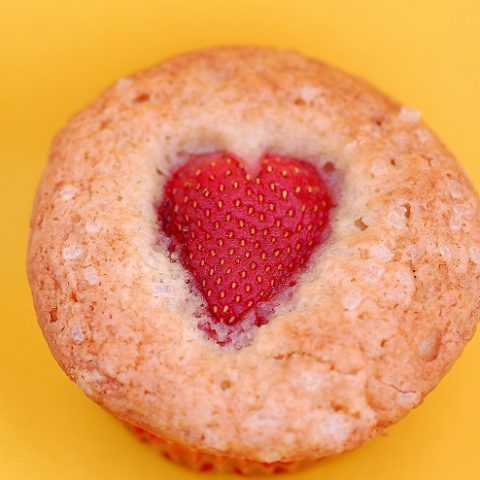 Meyer Lemon Love Muffin
Ingredients
1 cup vegetable oil
1 cup granulated sugar
Zest of one Meyer lemon
Juice of 3 Meyer lemons
1 tsp. vanilla
2 eggs
2 and ¼ cups all-purpose flour
¾ tsp. baking soda
¾ tsp. baking powder
Pinch of salt
1 and ¼ cup sour cream
Decorative sugar
12 strawberries, hulled, and cut in half and then in the shape of a heart
Instructions
Mix together the oil and sugar on medium speed for three minutes.
Add in the lemon juice, zest, and vanilla.
Add in the eggs one at a time and mix until each is incorporated.
In a separate, mix together the flour, baking soda, and baking powder.
Add the flour mixture and the sour cream alternately to the egg-oil mixture in the additions. Start with the flour and end with the flour. Scrape the bowl occasionally. Mix until just all the ingredients are together but try not to over mix.
Portion the muffin batter into greased tins (I use an ice cream scoop). Depending on the size of your tins, you should get about 12 muffins.
Sprinkle with decorative sugar and place strawberry heart into middle of muffin, don't press too hard they will sink during baking.
Bake them for approx. 22-24 minutes at 350F. Let cool on wire rack.