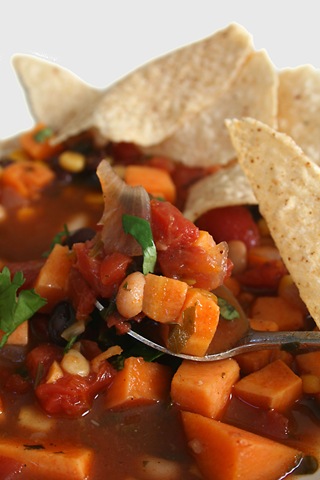 Hi All…. Susan and I of She's Becoming Doughmesstic decided to do a blog post swap for Super Bowl. If you want to see what I made head over to her site.
Hello everyone! I'm thrilled to be here, guest posting for Miss Peabody, Queen of Sweet. Me? I'm Susan, and I have my own blog – She's Becoming Doughmesstic. Over there you'll find lots of sugary goodness, a few dinner worthy concoctions, breads, breakfasts…you name it. But like Peabody, I LOVE desserts, so you'll find no lack of them there!
When the two of us put this plan in motion, I had every intention of making you all something sweet. Cupcakes, brownies, cookies. But P probably has you covered there, so I opted to go a little savory, and present you with this incredible Sweet Potato Chili.
After having survived a long and brutal winter, filled with lots of football and the foods that go along with it, I thought it was time to change the snacking line-up for this year's Super Bowl. Sure, you need the staples when watching the big game: Chicken Wings, Meatballs, Chips & Dip. But why not add in a little sweetness? A little heat with those chips? How about Sweet Potato Chili?
Thick enough to use as a nice dip for some Tortilla Chips, but just as good on its own as a meal, this chili offers a nice kick along with it's refreshing cilantro and orange zing to keep it fresh. And the sweet potatoes? Well, they are the icing on the cake…and I know you LOVE cake.
Three Bean & Sweet Potato Chili
Makes 10 servings
• 4 Tablespoons Salted Butter
• 1 Teaspoon Minced Wet Garlic
• 1 Sweet Onion, chopped
• 1 Tablespoon Chili Powder
• 2 cups Vegetable Stock
• 1 1/2 pounds Sweet Potatoes, cut into cubes
• 2 – 15oz. cans Mild Green Chili Diced Tomatoes, not drained
• 1 can Rotel Diced Tomatoes with Lime & Cilantro, drained
• 1 – 15oz can Black Eyed Peas, drained
• 1 – 15oz. can Black Beans, drained
• 1 – 19oz can Cannellini Beans, drained
• 1 can Sweet Corn, drained
o 1 Tablespoon Orange Juice
• 1/2 cup fresh chopped cilantro
• 1 Tablespoon Orange Zest
• 1/2 Tablespoons Lime Zest
Melt butter in large dutch oven or pot. Add onions and cook over medium high heat for 2 minutes. Add chili power and stir, cooking for another minute.
Add vegetable stock and sweet potatoes, and cook on medium/low for about 10 minutes. Add tomatoes and beans, then simmer for roughly 10 more minutes. Add corn and orange juice and cook 5 additional minutes. When ready, add zest and cilantro. Serve with tortilla chips if desired, and enjoy!
Thanks for having me today, Peabody! It's been fun!