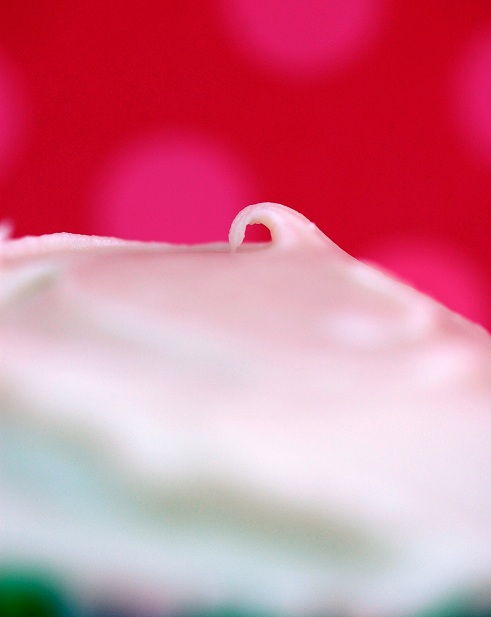 I think my mom would probably freak out if she knew all the random people I meet up with from the Internet. But really it's no different than meeting anyone. Anyone could be an axe murderer. Maybe I am? If I am, I'm a lousy one as I don't think I can even swing an axe, but you never know.
For years I have been back and forth with the woman who runs Melinda's Kitchen Diary. Yesterday I got to meet her. And what a lovely person she is. Warm and vibrant and a fellow lover of food. She brought me an adorable pink bag from Harrods that is covered in sweets and was filled with all things British. The Demarquette Fine Chocolates were immediately hidden from any one that might find them other than me. 🙂
I had decided to make something American. I tried to think if they had root beer in the UK. She said that they did not. I had seen a recipe for root beer float brownies and decided that that said America. But I wanted them to be cupcakes. So I messed with the recipe a little and got a very dense, brownie in cupcake shape. Sadly I could not find root beer extract to save my life so I didn't put any in. I wish I had found it as without it there is not a strong root beer flavor. But they were good all the same.
The original person to make these brownies did not make them with frosting. Make them with frosting. If I had more time I would have swirled the frosting to make it look more like a foamy float top. But I was frosting these to be shoved into a container to take to someone…so no pretty frosting here. Taste all the same. 🙂
So if you ever do get to meet me in person and you are an axe murderer could you please hold out and not kill me. I could give you the names of a few people to axe off if it's really that important to you. If you don't kill me you could end up with a brownie. 😛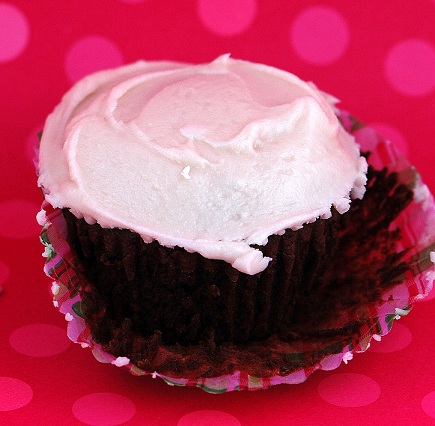 Root Beer Float Brownie Cupcakes
1 cup flour
1/2 cup cocoa powder
6 oz chopped semi sweet chocolate
3 oz white chocolate
6 Tbsp. butter
3 large eggs
1 cup granulated sugar
6 oz. root beer
1 tsp. vanilla
1/2 tsp. salt
Preheat oven to 375°F.
Line a muffin pan with cupcake liners.
Sift flour, cocoa powder and salt in a bowl and set aside.
Over a double boiler (or in microwave) melt the butter, semi-sweet and white chocolates together.
Remove from heat when just melted and allow to cool for 5 minutes.
Using your mixer mix the eggs, sugar, and vanilla together.
Slowly add in the cooled chocolate mixture.
Now add half the flour and half the root beer. Mix on low, scraping the sides.
Repeat with the remaining flour and root beer until just combined. Batter will be on the thin side.
Fill almost all the way to the top in each liner, these are not going to rise. Bake for 20-23 minutes. Let cool completely before frosting.
Float Frosting:
1/2 cup unsalted butter at room temperature
1/3 cup root beer, no foam
5 cups powdered sugar
1/2 tsp. root beer extract (optional)
Beat butter on medium speed until smooth.
Slowly add in your powdered sugar and mix in.
Now add your root beer and extract, if desired.
Beat on medium until smooth and all ingredients are incorporated.
The root beer extract is optional. It will give the frosting more of a distinct root beer flavor. Always add more or less powdered sugar until the consistency you desire is reached.
adapted from Baking Bites and cookies and cups