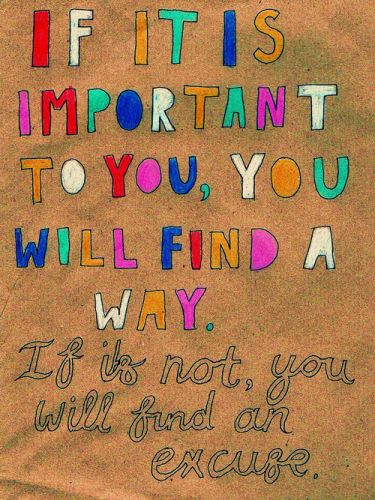 This pretty much says it all. Back when I was really into the gym nothing would stop me. If something came up that day I would set my alarm and go at 4:30am when they opened. It was important to me back then. Right now sleep is more important. 😛
I bring this up since some people were commenting that they weren't stay at home moms and were in great shape (I know a lot of out of shape stay at home moms too). Yes, I totally know this. And you don't need a trainer or even a gym. Though it was a lot easier when I did have all that! I don't have the drive right now because other things whether I wanted them to or not have had to move to the top of the list. Because working out is a privilege not a right. 🙂
I have two kids (though not kids…in their early 20's) that I used to skate with. They both wanted to skate again this season but neither had a job. One kid went and got two jobs. Not glamor jobs at all. One is even fast food. The other kid is holding out for the right job. The right job? One that pays money is the right job. When I asked the one kid about his jobs he seemed a little embarrassed but followed up with "hey, I've got bills so I have to make money". Why yes, what a concept. If the other kid spent half the effort that he does coming up with reasons why he doesn't have a job on actually finding a job, he would have a job. Heck, we have people all over the hockey community that could offer jobs. I asked for him. Did he thank me? No, he freaked out. Um, I thought you wanted a job dude? In order to get a job you have to actually go look for one. But since he lives at home and has no rent and mom and dad are helping out right now he is in no rush is my guess.
On days when I say I don't have time to do things (like clean) I find it interesting that I somehow had time to be on Facebook or Twitter. 😛 Same with other people. We find time to do the things we want and we make excuses for what we don't actually want to do.
The only time I have a valid excuse for not baking is when it's too warm. Which the weather can't seem to make up its mind what it wants to do. I think Mother Nature is having mood swings and should consider a little lithium to help her out with that. 😛 It's going to be 80F. Which doesn't sound that hot to people but it's muggy too, so it just seems so much warmer. Which means no baking. Which means all you get is this post and a random photo of the bunny since it is fur baby Friday. It's of Little Fuzzy Bunny last winter when it was a little too cold for his liking. Caught him snuggling under his t-shirt.