This Cherry Cinnamon Roll Cake has all the flavors of a cinnamon roll in cake form with tart cherries to cut the sweetness.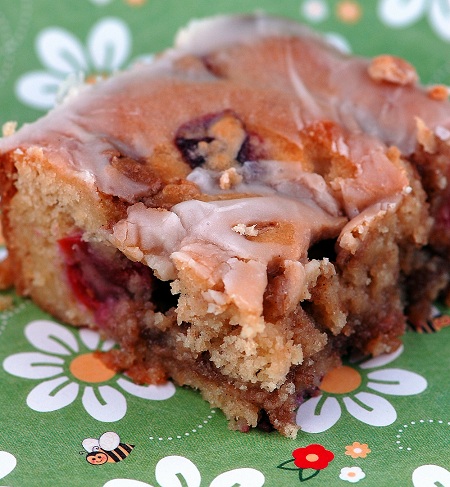 As some of you may know there has been recent war ragging among Paula Deen and Anthony Bourdain.
Let me be the first to tell you that I like them both equally.
I enjoy the show No Reservations, but will gladly say that I won't be willingly (you just never know what you get at those taco trucks sometimes) eat fish balls or guinea pig intestines.
And I enjoy his enthusiasm of the countries he visits and his sincere interest in both the food and culture.
But I also like me some Paula Deen.
People often call me the Paula Deen of food blogging because I can take something bad for you and make it worse. 😛
I will agree with Anthony on the fact that the majority of Paula's cooking isn't all that healthy.
But then again neither is spending most of your 20's and 30's doing cocaine and still drinking heavily and smoking heavily.
I've made many a thing by Paula Deen, mostly desserts I will admit, because I appreciate her love of butter.
And they have all turned out well so to say that she is the worst cook I can't really side with.
In a way this reminds me of where the food blogging world has gone.
We almost in some ways have gone divided.
Between those who do the organic, all in season, fair trade, $16 a pound chocolate and those of us who have to work with an extreme budget and feed 5 people (which yes, I sometimes do).
As much as I would love to make chocolate cupcakes with organic fair trade chocolate, 8 year olds don't give a crap and can rarely tell the difference.
If your kid can, then yay for them.
And boo for them as well as they will be sadly disappointed when going over to a friend's birthday party and get store bought cake.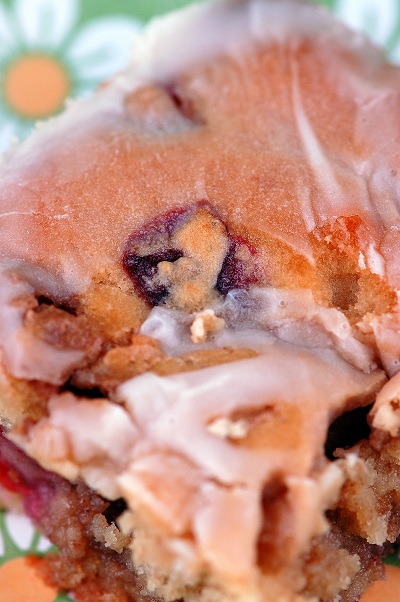 I shop at Winco because I can get things for a $1 that cost $4.29 at Whole Foods.
And I shop at Costco and Trader Joes and every now and then when I get a bonus Whole Foods.
That's just how life is.
Paula makes things with cream of crap soup because it's cheap.
And as much as I prefer to make my own cream of mushroom soup to go with my tuna noodle casserole it can really add up in price.
I find that most of the people who live this lifestyle often either don't have kids, or have a rather comfortable income to do so.
Neither side is wrong but I will say that it seems that some bloggers look down on those bloggers who throw in a boxed cake mix to their recipes.
Do I prefer mine from scratch?
You bet.
If I was making cupcakes for ten 5 year olds…mine would be coming from a box and I would save the scratch for the adults.
So no matter what side of the line you stand on this subject, just remember that you aren't in that person's shoes or living their life.
This Cherry Cinnamon Roll Cake is definitely more Paula than Anthony since three sticks of butter go into the recipe.
Yep, three.
I saw this on good old Pinterest (I swear people this is where it's at…and gee how I wish they were paying me to say that but they are not).
My friend E went and picked a bunch of cherries from her parent's tree but then decided she didn't really want to pit them or make anything with them so she offered them up to me.
Which I of course don't turn down free pie cherries.
I decided that this cake was probably pretty sweet so the cherries would help cut some of that and they do.
This cake is very moist and I found it best eaten the day I made it…or maybe that's just because it only really lasted that long.
It's a great day to order my cookbook.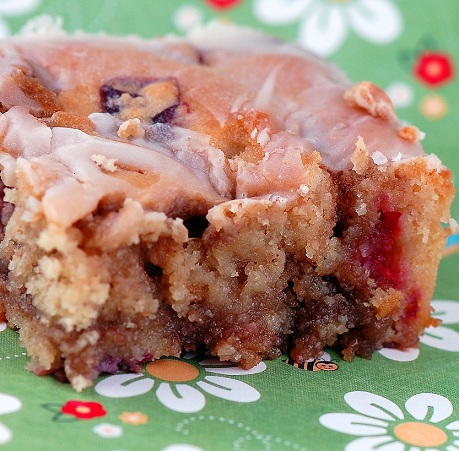 Want More Cake Recipes?
Chocolate Salted Caramel Popcorn Cake
Chocolate Peanut Butter Stout Layer Cake
Vanilla Cheesecake Funfetti Pink Ombre Layer Cake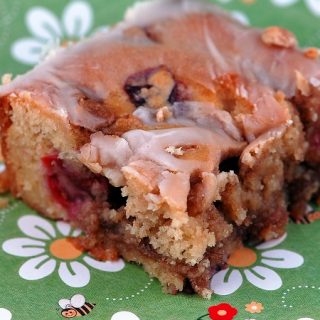 Cherry Cinnamon Roll Cake
Ingredients
Cake:
3 cups flour
For the Cake:
¼ tsp. salt
1 cup sugar
4 tsp. Baking powder (that is not a typo…4)
1½ cups milk
2 eggs
2 tsp. vanilla extract
1/2 cup (1 stick) unsalted butter, melted
1 cup tart pie cherries, pitted, and chopped (coated in 2 tsp. flour)
For the Topping:
1 cup (2 sticks) unsalted butter, at room temperature
1 cup brown sugar
2 TBSP flour
1 TBSP cinnamon
For the Glaze:
2 cups powdered sugar
5 TBSP milk
1 tsp vanilla
Instructions
Preheat oven to 350 F.
In an electric or stand mixer mix the flour, salt, sugar, baking powder, milk, eggs and vanilla.
Once combined well, slowly stir in the 1/2 cup melted butter.
Fold in the cherries.
Pour batter into a greased 9 x 13 inch baking pan.
In a large bowl, mix the 2 sticks of softened butter, brown sugar, flour, and cinnamon until well combined.
Drop evenly over cake batter by the tablespoonfuls and use a knife to marble/swirl through the cake.
Bake at 350F for 25-30 minutes or until toothpick comes out nearly clean from center. You want to make sure it's done.
Place powdered sugar, milk and vanilla in a large bowl.
Whisk until smooth.
Drizzle over warm cake.
Serve warm or at room temperature.