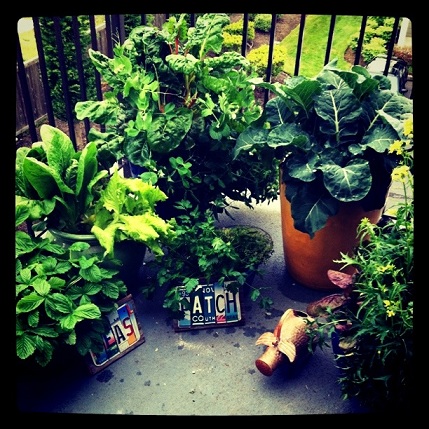 InApril the word I would have described how I felt before I started growing my Home Farm was apprehensive. I was after all the woman who killed a cactus and pretty much every other plant I have ever grown. But now here it is August and my word moved from apprehensive to amazed. I am seriously blown away by how well the majority of the plants did! It was certainly not the results I expected if I am being truthful.
I learned many a thing through all of this. Number one of course is that you really can grow your own food whether you live in a small apartment or on a spacious acre farm. Number two the kind of soil you use makes a huge difference. I think above all I feel this made a difference. My neighbors had given me a flower as a gift, it was a very pretty blue bell in a blue pot. That flower got the same treatment as my Home farm except that it was planted in different soil. Using the Gardner & Bloome BLUE RIBBON BLEND Premium Potting Soil: Natural & Organic Premium All-Purpose Indoor or Outdoor Container Mix and Dr. Earth Organic Vegetable Garden Fertilizer was the smartest decision I made (well, got talked into, the garden guys did that). For sadly my little blue bell plant did not survive. And I am starting to think that all these years it wasn't that I have such a black thumb but bad soil and being uneducated. Like I had no idea until this Triscuit Home Farm project that you had to fertilize to keep things growing…now I know. :)It's amazing what you can learn when you read. 😛
Next to soil I think the most important things about container farming is the size of the container. I found that the larger the container the better my plants did. As an example all the herbs that I grew in smaller pots died, but all the ones in the larger pots flourished. So much so that I really did run out of room on the patio for my farm. Next year I know to plant a little less and in larger pots.
I think of all the crops I grew, nothing got used more than the romaine lettuce. I used it for sandwiches and salads almost daily. I would cut it down and it would grow right back. The parsley and chives got used often as well. Though I must say that both the snap peas and the broccoli were my favorite of all the crops. See I had been able to grown herbs in the past so I knew I could do it, I just didn't know about the vegetables. Plus the broccoli plant started so small and each time I would go out I would be just so in awe and excited as to how much it had grown in a day. It was so fun to watch. And I loved the peas just because of my name…that and they are fun to watch from going to flower to veggie.
I regret that I never got my pallet garden up and going. I just didn't have the space so that is the number one thing I want to do for next year. I think I will try cauliflower as well now that I know I can get broccoli to grow.
This has been one of the more enjoyable learning experiences in my life. I had to do a lot of research since grown living things was never my thing. But there is something so amazingly satisfying about growing your own food. And it really does save you money!!! If you didn't start a home farm this year I highly encourage you to do one next year.
And now for the contest. Many of you have said over the past few months following my divorce how you wish you could support this blog financially to keep it running but didn't have the money yourself. Well, this is your chance to help me! I NEED your vote. I need your mom's vote. I need you mother's sisters cousin twice removed VOTE! If my farm wins 1st place I can win $1000 and I can keep this little blog you like to read so much running for quite some time off of that. So please VOTE!!! Please help me spread the word to vote. To vote go here. By the way, did I mention to vote!!! You have from August 15th through August 30th, 2011 to vote for me! And I believe you can vote once every day!!!!  The winner will be announced September 8th.
I'll leave you with a few recipes that can be used with the herbs I used in my Home Farm this summer. I can't emphasize enough what a rewarding experience it was to not only grown my own food but to do it in such a small space. If Peabody can grow it….so can you!!!!
As always, Triscuit compensated me for this post, but the ideas, words, bad grammar, and opinions are all mine.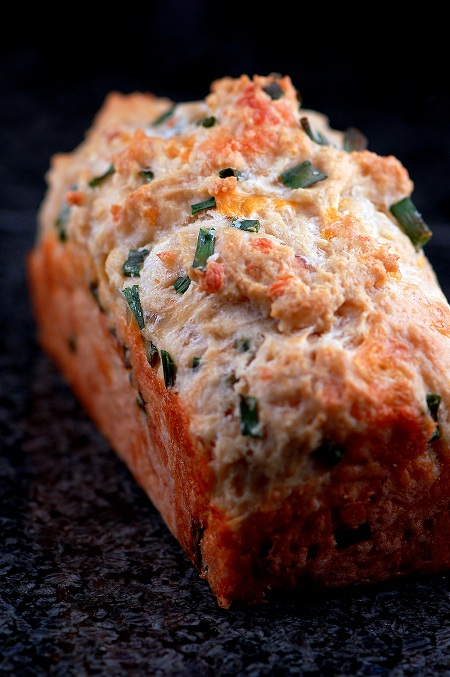 Cheesy Chive Bread
1 3/4 cups all-purpose flour
1 tablespoon baking powder
1/2 to 1 teaspoon salt (it depends on what cheese and add-ins you're using)
3 large eggs, at room temperature
1/3 cup whole milk, at room temperature
1/3 cup extra-virgin olive oil
2 ounces shredded smoked Gouda cheese
3 ounces shredded smoked Cheddar cheese
1/2 cup minced chives
Put the flour, baking powder, and in a large mixing bowl and whisk the ingredients together to combine.
Put the eggs in another mixing bowl; whisk for about 1 minute, until they're foamy and blended. Whisk in the milk and olive oil. Pour the wet ingredients over the dry ingredients and, using a sturdy rubber spatula or a wooden spoon, gently mix until the dough comes together. There's not need to be energetic beating the dough toughens it not do you need to be very thoroughly. Just stir until all the dry ingredients are moistened. Now, stir in the cheese and the chives. You'll have thick dough. Turn the dough into the buttered pan and even the top with the back of the spatula or spoon.
Slide the pan into the oven and bake at 350F for 35 to 45 minutes, or until the bread is golden and a slender knife inserted into the center of the loaf comes out clean. Transfer the pan to a cooling rack, wait about 3 minutes, then run a knife around the sides of the pan and turn the loaf over onto the rack; invert and cool to room temperature right-side up.
Adapted from Dorie Greenspan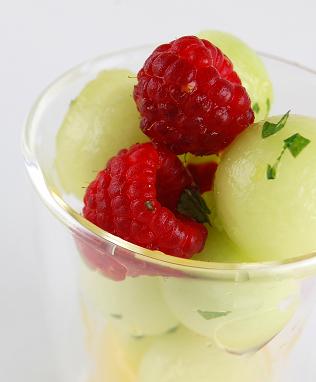 Drunken Melon and Raspberry Salad
½ cup orange flavored vodka
½ cup orange juice
1 TBSP sugar
1 small ripe honey dew melon, peeled, seeded and balled (if you don't own a melon baller just cut into bite size pieces)
1 TBSP finely minced fresh mint
½ cup fresh raspberries
In a large bowl, whisk together the vodka, orange juice, and sugar.
Add the melon and the mint and use a spatula to combine the ingredients.
Cover the bowl with plastic wrap and set aside at room temperature for 1 hour.
Fold berries in at last minute when ready to assemble.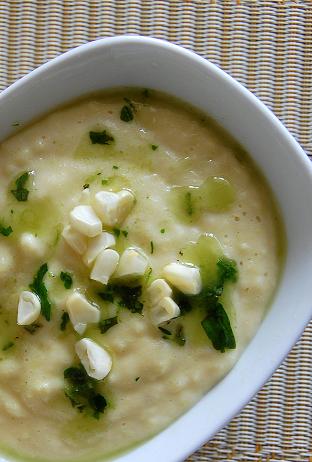 Fresh Corn Bisque
3 ears fresh white corn (yellow works too), kernels removed
1 TBSP unsalted butter for sauté
1/3 cup unsalted butter, melted
salt and pepper (white) to taste
Herb Oil:
1 TBSP chopped fresh basil
1 TBSP chopped fresh Italian parsley
¼ cup vegetable oil
To make the soup:
Melt 1 TBSP unsalted butter in a large skillet. Add corn kernels and saute for 2-3 minutes. Remove from heat.
Add corn to food processor and pulse 3 times. Slowly pour in butter while machine is running.
Add salt and pepper to taste. Pulse one last time to incorporate salt and pepper.
Pour into bowls and top with fresh corn and herb oil.
*If you would like your soup to be thinner, add water not chicken stock to thin it out. Using chicken stock or vegetable stock takes away from the corn flavor.
To make herb oil:
In a food processor, add all ingredients and blend until herbs are infused into oil.