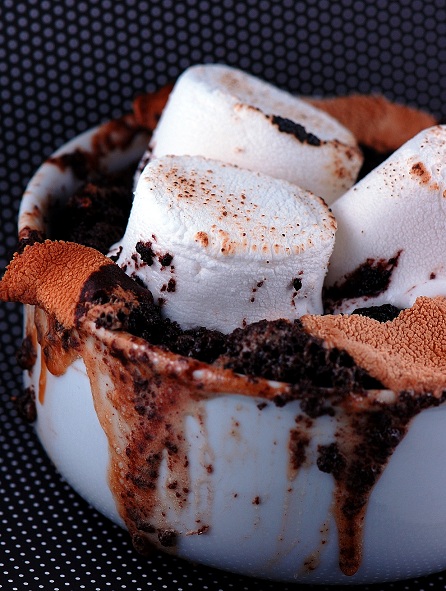 I spent my morning having brunch with a friend who moved to Portland. After brunch we swung by and said hi to our mutual friend who just had a baby less than two months ago (too adorable…nothing like a sweet sleeping baby in your arms). We were chatting along and just talking about things. We were talking about where I live now and I confessed that was not my original choice. I had actually planned on moving back to my old apartments before we moved to the house. Those apartments had gas appliances and were walking distance to a Town Center that had a great market and fun things to do. But for reasons we don't need to go into I moved to the city I live in now as a favor and must say that I love living in it. It's by the water (though my apartment is not) and though it doesn't have a cute town center things are close enough by that everything is there.
But while we were talking about my old apartments both my friends chimed in that I could move back and hang out with the matching girls by the pool. It took me a second and then remembered the girls who lived across from me. There were three of them. And everywhere they went, they matched, especially by the pool. They were not related but apparently thought they were triplets. One day when I was trying to beat the heat at the pool I saw them there in the same swimsuits, just different colors. Then noticed that their towels matched their swimsuits. The next day they were there again in different suits, but again, they matched just different colors…and again with the matching towels. They did this four days in a row, each time a different suit, but always matching. So the next day I decided I would bring my camera down. This was before I was cool and had a phone with a camera in it.
I was trying to get a picture without them noticing but that backfired in a horrible way. See there was this grandma and her grandson at the pool as well. The grandson must have been by the girls I was trying to get a photo of because all of a sudden she starts screaming at me. Something along the lines of I had no permission to take photos of her grandson and basically accusing me of being a pervert and went to tell management. I waited for management and I knew the girl. So she knew I wasn't a perv. I told her how I was trying to take a picture of the matching Barbie dolls, which had since left. It was all sorts of awesome. The grandmother left pissed off that I guess I wasn't arrested or something and annoyed when the office manager told her it was a public place.
Sadly the girls moved out before I ever got to go back to the pool to get pictures of matching Barbies. But their memory lives on. One day it will be pool weather but for now, I say dive into this cake instead. I have a friend who always asks me to make something with marshmallows, which is hard because they don't do well in baking. But I found HUGE and I mean HUGE marshmallows at the store and had to buy them. I decided to make a chocolate cake and stick some in the middle. Which I did and they melted (figured on that) so I added some more at the end and just torched them. Rich, gooey, marshmallow-chocolate goodness is what I ended up with. Good thing I don't need to be getting into a matching swimsuit any time soon. 🙂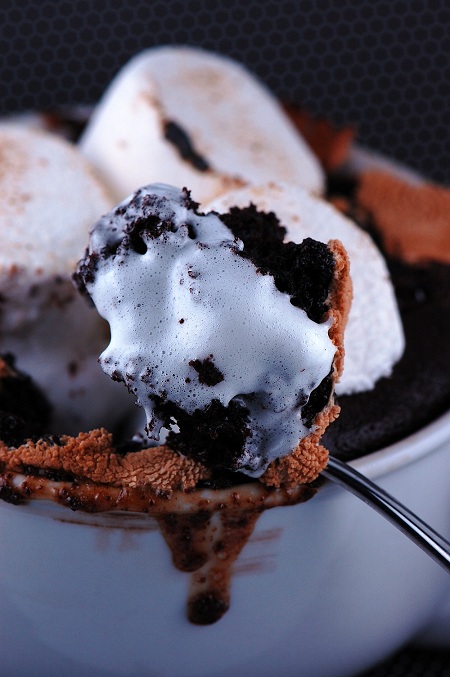 Chocolate Marshmallow Cake
2 cups boiling water
1 cup unsweetened cocoa powder, use high quality
2 3/4 cups all-purpose flour
2 tsp. baking soda
1/2 tsp. baking powder
1/2 tsp. salt
1 cup butter, at room temperature
2 1/4 cups granulated sugar
4 eggs
1 1/2 tsp. vanilla extract
18 HUGE marshmallows or twice as many large marshmallows
Preheat oven to 350 degrees F.
Grease large mugs that are oven safe. The ones I used are about 5-6 inches in diameter. You could use just regular cake pans if need be, but the mugs are more fun.
In medium bowl, pour boiling water over cocoa, and whisk until smooth. Let mixture cool. Sift together flour, baking soda, baking powder and salt; set aside.
Using a stand mixer, cream butter and sugar together until light and fluffy, about 3 minutes.
Beat in eggs one at time, scraping down after each addition.
Beat in vanilla.
Add the flour mixture alternately with the cocoa mixture. Spread batter evenly between the 3 prepared mugs (about ¾ of the way up…maybe less).
Place three marshmallows in the middle of the cake. Place the mugs on a baking sheet…the marshmallow will spill over…it's okay, makes for a nice effect. You will want to put tin foil over the cake as the marshmallow will brown too much otherwise…make sure you tent the foil as opposed to wrapping the cake pan in it. Loose is your friend (yes, that sounds bad :P)
The baking time is going to vary based on your mug or pan size. If you are just doing cake pans it will be about 30 minutes. My mugs were smaller, but much deeper and took about 50 minutes to bake. You just need to watch and see.
Remove from oven and push another three marshmallows into the cake. Either put under a broiler for a minute or two or use a culinary torch to melt them a little. Serve warm.