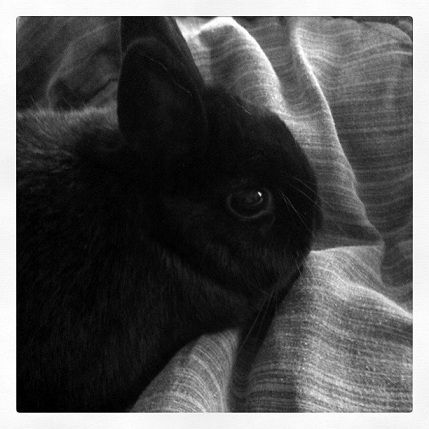 Now when people think pets, most people think automatically of cats or dogs. But there are plenty of other pets out there. I've owned quite a few. Being a teacher, a science one at that, lead to a lot of pets over the years. We always had hamsters and guinea pigs that parents generously dumped (I mean donated) on the classroom when they got tired of taking care of them. Which I would then recycle to another family at the end of the year. I've owned Chinchillas (super cute, but not very hardy). I've owned Sugar Gliders (mini flying squirrels for those who don't know). And many, many a bunny rabbit. I used to actually volunteer for rabbit rescue and seemed to collect all of the rabbits that no one would take…otherwise known as the problem children. 🙂
My current rabbit has quite the story; you can read about it here. But basically is the most expensive rabbit I have ever owned thanks to very expensive eye issues. But he is my pet and therefore my responsibility. For the first year he was kind of a pain, but has since mellowed out and turned into quite the lovable cuddle bunny. He is way too smart for his own good, and I will never get him another rabbit as I fear it will turn into the Pinky and the Brain show. As it stands now, I am pretty sure he spends every night trying to figure out how to take over the world.
He's a whopping 2 ½ pounds, and yet my cocker spaniel is afraid of him when he growls at her…or farts (yes, rabbits fart…loudly). Which causes my skittish cocker to go running, often slamming herself into the door. He's a pain at feeding time, eating his favorite pieces first and then dumping out the rest to pretend his bowl is empty. Doesn't work and I just refill it with the stuff he doesn't like as much. He walks on a leash which is always fun as people just never know what to think of that.
He may be small but he has the heart the size of a horse. What about you? Do you own a non-conventional furbaby? If so, what?
Bunny Treats
1 small carrot, pureed
1/2 banana, mashed until really creamy
1 tbsp honey
1/4 cup rabbit pellets, ground finely in a coffee grinder
1/4 cup ground oats, ground finely in a coffee grinder
Mix pureed carrot, banana and honey in a medium bowl. Add pellet powder and ground oats. Mix until blended. Knead in your hands for 1-2 minutes. Roll out the "dough" in 1/8- to 1/4-inch thick layers between sheets of plastic wrap. Cut into small cookies (about 3/4 inch across). Place cut shapes onto a parchment paper covered cookie sheet. Bake at 325 degrees for about 30 minutes (check to make sure they are not browning too much). Turn off the heat and let the cookies sit in the warm oven for an hour or so.