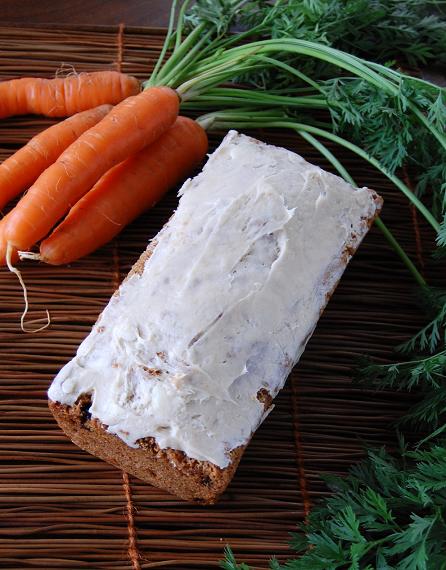 When I wanted a bunny (having owned many in my life) my husband asked me "what on Earth do bunnies do"? The thought of having a rabbit as a pet was something he had never thought about. I explained that just like a dog or a cat that the bunny would eat, sleep, poop, pee, play (not necessarily in that order though). Play? How does one play with a bunny is what he was thinking. Lots of ways, though her favorite is pretty much a game of hide and seek. She tries to play this with CCS as well, but CCS is a little too dense and just sits there staring at her.
My husband had to admit that our bunny has as much personality as our dog. She is a diva from time to time, especially if you move things around in her cage. For if you do, she takes them and drags them back to where she thinks they should be. She drags her bowl to the front of the cage in the morning and bangs it to let you know she wants her food. She squeals with delight when she sees she is getting apple juice (she gets a little after she gets the yucky medicine that tastes gross). She's learned to knock over the trash can in order to hop on top it to get to the toilet (lid on) so that she can hop up to the counter where her hay is kept. She knows when I am playing with her and I am laying on the ground that if I hum she comes over and puts her nose to mine. 😀 She's so much more than a little ball of fuzz.
Which is why the last week and a half have been sad for me. I can not tell you the number of people, (no comments on here, but a couple emails) mostly in real life, that have told me just to let my rabbit die and get a new one, that it is not worth it. I get comments like, "it's not like it's a dog" or "a $20 bunny is not worth any amount you have spent". Of course I beg to differ.
Economically owning a pet, any pet, never makes sense. CCS has bad teeth and has to get them cleaned yearly as well as have fatty cysts removed. All quite costly. Yet no one tells me to kill my dog. LFB has already cost me a pretty penny. She has had to go to the Veterinarian 3 times in a little over a week.  And we still might have to be having surgery anyway. LFB was having a good chance of keeping the eye on Monday but things took a turn for the worse on Wednesday and her eye became cloudy. So back we went to the Veterinarian. She has white blood cells dispersed thought out her cornea. If it is a reaction to the eye drops she started on Monday, she should be okay. If not, the eye will most likely have to go. And yes, that will be pricey. And yes, I will pay it. Because she is my pet, that I took responsibility for and love. So why would I let her die. ? 🙁
Because she is being poked and prodded several times a day she has been getting lots of little treats. She loves carrot tops and so I keep going down to the farm to get them. The only thing is, she doesn't really like the carrot part of the carrot. So here I have all these carrots. I needed to be doing something with them, so I did.
This loaf is probably half bread, half cake. I only gave a thin layer of frosting because this was suppose to be more of a bread than a cake. If you want more icing, by all means, make more. This is fairly versatile, you could add nuts, pineapple, currants. I stuck to just the basic carrot and raisin.
P.S. If you look at the picture of LFB down below you can see her little white dot that is causing so much trouble. Thanks to those of you giving good thoughts to her.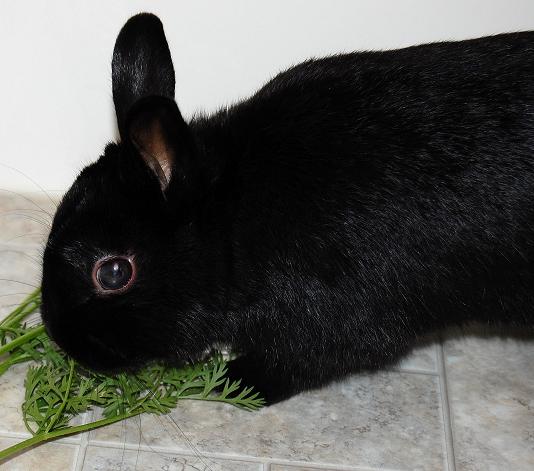 Little Fuzzy Bunny's Carrot Raisin Loaf
¾ cup flour
½  cup granulated sugar
1 tsp baking soda
¾  tsp baking powder
1 tsp ground cinnamon
¼ ground ginger
¼  tsp freshly grated nutmeg
zest of one medium orange
¼  teaspoon salt
1/3 cup Canola oil
2 eggs
1 cup finely grated carrot
½ cup raisins
Preheat the oven to 350°F.
Butter and flour a 9-by-5-inch or 4 1/2-by-8 1/2-inch loaf pan.
In a large bowl, sift together the flour, sugar, baking soda, baking powder, spices, zest and salt. Set aside.
In a small bowl, whisk together the oil and eggs until blended, and then stir the egg mixture into the flour with a rubber spatula.
Fold in the grated carrot and raisins.
Transfer the batter to the prepared pan and smooth the top with an offset spatula.
Bake for 50 minutes, or until a toothpick inserted in the center comes out clean. Let cool until easy to handle, and turn out onto a cake rack. Frost when completely cool.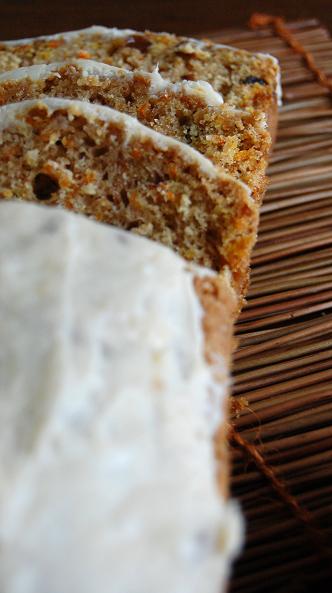 Maple Cream Cheese Frosting
4 ounces cream cheese, at room temperature
3 TBSP unsalted butter
1 teaspoon maple extract
1 cup powdered sugar
In a bowl of a stand mixer, fitted with a paddle attachment, combine all the ingredients and beat on medium speed for about 5 minutes.
Spread the frosting on the top of the loaf.