I'm sure you have them in your life, especially if you are on Facebook. I have more of them in my life than I would like. Attention seeking drama queens. These are the people in your lives who leave you messages on your phone that say "the most horrible thing has happened, call me". But then don't tell you. And you call them back and you can't get ahold of them (so you panic) and when you do get ahold of them it turns out to not really be anything. They are the people on Facebook who write," headed to hospital pray for me". Then all these people jump on and say OMG what's wrong…and half the time the person never comes back and tells. The ones who say they "had the worse day ever" and you ask why and they say "I can't tell". Really? And then there are the relationship drama queens. My least favorite of them all.
I don't know about you but several of the people who are my friends on Facebook I've never met in person or if I did it was briefly, and the next thing you know I'm friends with them. It's a great tool for networking, don't get me wrong. But I understand that it is just that. So most of my personal stuff doesn't go on there because number one and most importantly I graduated from 8th grade twenty one years ago and no longer feel the need to act like I am still in that grade. I had (I say had because I finally just gave up and unfriended her) who got divorced and they went back and forth publically on FB hashing it out. Then within weeks both of them deciding to get divorced they both had already found their new "soul mates". Then it became a series of the one woman putting that she found her soul mate and would list her status as in a relationship. Then three days later her "world had be torn apart". So people asked and she never responded. Later that day her relationship goes back to single. Two days later it's "Jesus has come through again" and the relationship goes back to being in a relationship. For three months this went back and forth, each time her never responding to anyone's comments. So finally I just wrote "Peabody and Her Name Here are no longer in a relationship" and unfriended her.
That's not sharing with people, that's wanting attention ladies and gentlemen. I had a friend find out he was adopted by a comment on FB. How messed up is that? Now you might be saying, gee Peabody, you sure do share a lot on here. And I do. But if you really go back and look, I don't. You do all know that I am divorced but none of you know the details other than the fact that my ex and I have chosen to stay friends, and that's all you will ever get. I never mentioned it on FB once. I didn't even mention moving on FB. People only caught on because of comments other people made so I changed my location. And as far as my relationship status, I just left it blank. I didn't need the world of acquaintances to know my business. If you go back and read my blog, I share…but I don't overshare. There is a difference, especially, if in the case of my friend who found out at age 23 he was adopted, your kids will see. At least have the courtesy to tell people who it will effect in real life. So people save the drama. If something is crap in your life…either tell what it is and let us comment or shut the hell up and keep it to yourself.
All that being said, I do love me some Facebook. It's a great time suck and more importantly, I have really got to interact with a lot of you…and it's been fun and informative and often makes me laugh at your responses. Some ask questions as well. The Cookies and Cream Cookies came from a reader asking about the drops. Today's treat comes from someone asking what to do with Robin's Eggs. Which if you don't know what those are they are malted milk balls that are pink, yellow, white, and blue that when you eat them stain your tongue. 😛 I like to eat the pink and blue together to make my tongue purple because I'm weird like that. These are just a redo of the Malted Milk Goodness Blondies that I made back in April of last year. As you can see by the photos, the blue shines through the most. They are a tasty way to use up your malted milk balls, or just a good excuse to buy them in the first place. 😉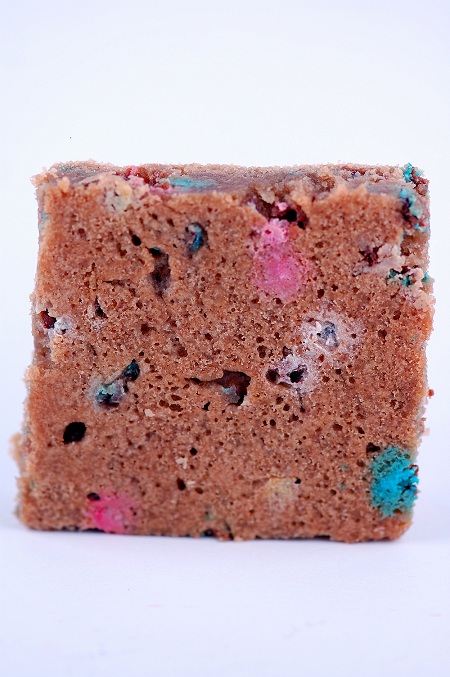 Robin's Eggs Malted Blondies
Makes 24 depending on how you cut…I got 4.
2 1/3 cups all-purpose flour
1 ½ tsp. baking powder
1 tsp. salt
3 TBSP Ovaltine (or malted milk powder plus 1 tsp. cocoa powder)
14 TBSP unsalted butter, softened, cut into 1-inch cubes
1 cup granulated sugar
1 cup brown sugar, lightly packed
2 large eggs
1 tsp. pure vanilla extract
2 ½ cups Robin's Eggs Malted Milk Balls, chopped up coarsely (I used the full size ones but you could use mini)
Preheat the oven to 350 degrees F. Butter the bottom and sides of a 9-by-13-inch baking pan.
In a medium bowl, whisk the flour, baking powder, salt and Ovaltine together.
In the bowl of an electric mixer fitted with the paddle attachment, beat the butter and sugars on medium speed until completely combined. Scrape down the bowl, add the eggs and vanilla, and beat until combined.
Add the flour mixture in two batches until just combined. Add the Robin's Eggs; beat until just combined, about 10 seconds. The mixture will be thick. Turn the mixture out into the prepared pan and use an offset spatula to spread it evenly.
Bake in the center of the oven for 25 to 30 minutes, or until a toothpick inserted into the center of the blondie comes out clean.
Transfer to a wire rack and let cool for 20 minutes. Once thoroughly cooled, cover tightly with plastic wrap and keep at room temperature for up to 3 days.
Adapted from Baked: New Frontiers in Baking by Matt Lewis and Renato Poliafito, (Stewart, Tabori & Chang, 2008).