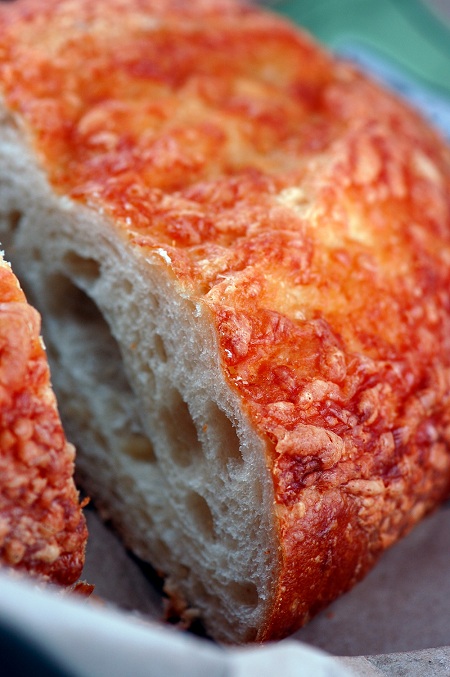 So you spoke and unlike a politician…I listened. 😛 When I asked what you loved at Panera Bread a ton of you said that you were all about the Panera Asiago Cheese Bread, which I had never tried. So last week I headed there for my bowl of French Onion like I always have and to buy some of that bread. I also deviated and got festive, going with the Easter egg shortbread cookie instead of my go to Cobblestone.
I had planned on just making it into bread pudding so I cut into it to help it get stale quicker. My bff  asked what was going on with the bread. I explained and he looked sad and asked why we didn't just get to eat it. He wanted to eat it. So I told him that we could try a piece. Well, 5 minutes later and I only had a half a loaf left to work with. 🙂 So that inspired a side dish for two. 😀 So I cut the remaining bread into cubes and hid them from a certain hockey player in hopes I would actually get to make the bread pudding.
For the record, I totally get where you guys are coming from. I am loving this bread. My bff is loving this bread. I am buying a loaf next time just to cut and make grilled cheese sandwiches with, I bet it's amazing. But my roasted chicken wanted a side dish and so a little savory bread pudding sounded good. I added mushrooms, sundried tomatoes, a little beer, and some extra Asiago for good measure. I say this is for two people, but more like 4…I just always assume I'm with child and automatically eat for two. 😛
As for the rest of what I got at Panera. Well, you all know I love the French Onion, it never disappoints. And that is something that I love about them…consistency. It tastes the same every time. I was loving the Easter cookie right up until I hit the chocolate pieces. See the shortbread has a bright lemon flavor which I loved. Again, until I hit the chocolate. Chocolate and lemon don't do it for me. So I picked them off and kept eating. 🙂 I'm like that.
I want to say a special thanks again to all of those who suggested the Panera AsiagoCheese Bread as you are all right…it's downright yummy!!!!
Panera Bread did compensate me to eat at their establishment as well as write about it…but as always, the opinions and bad grammar are all mine.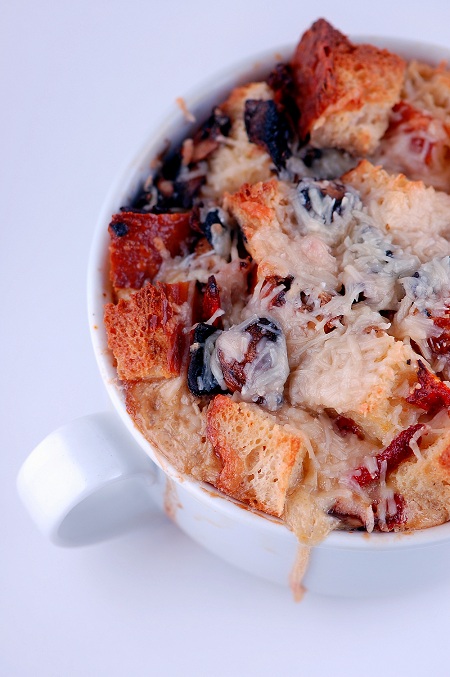 Panera Asiago Cheese Bread Pudding for Two
1 half loaf Asiago Cheese Bread, cut into cubes and left out for a day to get stale
2 eggs
1 egg yolk
1 ½ cups heavy cream
¼ cup beer
1 tsp. cayenne pepper
1 TBSP Worchester sauce
2 tsp. brown sugar
½ tsp. minced garlic
1 cup mushrooms, sautéed in butter or oil and cooled
1/3 cup sundried tomatoes, not oil packed, diced
½ cup Asiago cheese
Salt to taste
Preheat oven to 350F.
Butter a 1 quart baking dish with the butter.
In a large bowl, combine the eggs, egg yolk, cream, brown sugar, Worcestershire sauce, cayenne pepper, garlic, and beer and whisk well to blend.
Add the bread cubes and soak them into the egg mixture.
Layer half of the soaked bread cubes into the prepared dish.
Sprinkle half the mushrooms, cheese, and tomatoes on top of the bread cubes.
Add remaining bread cubes and put mushrooms and tomatoes but not the remaining cheese.
Bake for 45 minutes tented with foil . Remove foil and continue baking until the pudding rises and is firm in the center, and golden brown, 15-25 minutes longer. In the last 5 minutes add the remaining cheese and let melt.