These Homemade Strawberry-Cream Cheese Toaster Strudel are easy to make and far tastier than the store bought kind.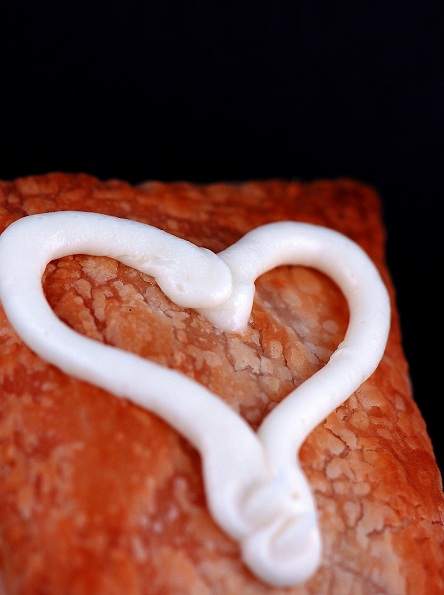 "I'm good enough, I'm smart enough, and doggone it, people like me."-Al Franken, Stuart Smalley in Saturday Night Live.
I was at a pub with my bff from Phoenix.
I hadn't actually seen him (yes, pretty much all my close friends are guys) in a little bit as for a while we had opposite schedules.
We were meeting some people that we had played hockey with, but we both arrived their first.
I was feeling a little extra cute that night as I had lost a bit of weight and was strutting myself around.
And I waited and waited and finally said to him…"did you not notice that I dropped a bunch of weight?"
He looked at me and said "oh yeah, I guess you are a little smaller."
I was about to be deflated when the rest of the table showed up, all guys, as it was the hockey team.
Apparently I looked bummed and they all asked me what the matter.
I said that no one seemed to notice that I lost weight.
And they all just sort of smiled and laughed.
I asked as to what the joke was.
They then informed me that weight or not, there was something about me.
That guys noticed when I walked into a room.
I was waiting to be showered with compliments about my eyes, my hair, my butt…etc.
Yeah, no.
They told me that when I walked into a room guys took notice because I was usually always smiling and I had confidence.
Not stuck up confidence, just confidence in the fact that I had something to offer.
I told them, of course I have something to offer.
And then they all smiled and said that's what makes you attractive.
Then I thought about it.
I've been able to have a boyfriend when I wanted no matter what size I was, perhaps they were on to something.
I probed more only to find out that they will take a girl with a little more cushion for the pushing over a girl they constantly have to reassure all the time that she is pretty or worthy of their time.
Men can smell desperation.
Men can smell low self-esteem. And ladies (and some gentlemen) a lot of you have it.
If you can't love yourself, you certainly aren't going to find someone to love you…well, maybe for a night or two. 😉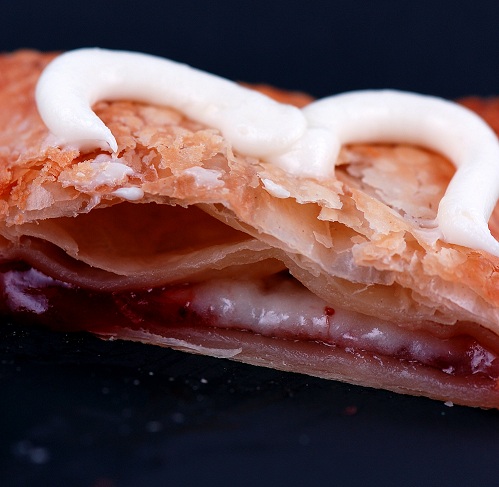 As Valentine's Day approaches the sadness creeps in to a lot of people's heart.
That they are alone.
Nobody loves me everybody hates me BS.
If you are the type of person saying that, it's because you don't like yourself all that much.
You can't go wishing you were somebody else because you are just wasting the person you are.
And my bet is that you are pretty awesome. And if you're not, come on over to Laid Back Land and we will teach you how to be. 😛
I mean you don't want to become the next Heidi Montag and attempt to turn yourself into the human Barbie…and no one wants to look like they could tip over at any moment due to the extreme boob to waist ratio.
If you do have yourself a Valentine or just want to make yourself a little breakfast treat, then why not make some Homemade Strawberry-Cream Cheese Toaster Strudel.
Minus the toaster.
I really wanted to try these in the toaster.
But my very pretty, fully functional toaster gave me the stink eye at that.
It gave me the you know that strawberry jam is going to leak out and then you will have a huge mess to clean, most likely set off the fire alarm, and most likely ruin the toaster look.
Fine toaster, where is your sense of adventure?
I had considered going to Goodwill and looking for a cheap toaster to mess with.
But alas, this was just supposed to be a simple recipe and that seemed way too complicated.
Not a whole lot to these.
Store bought puff pastry (feel free to spend hours making your own), jam, and cream cheese frosting.
Yum.
My favorite of the Toaster Strudel variety is the strawberry with cream cheese.
But feel free to stuff yours with whatever.
And for the record, and to save my reputation (well what's left of it)…I did add more icing to the top of the pastry after I took pictures.
I would hate to have you think that was all the icing I put on top of it. 😛
If Toaster Strudel isn't your thing, you can always make Pop Tarts. 🙂
P.S. It's a great day to buy my cookbook Holy Sweet!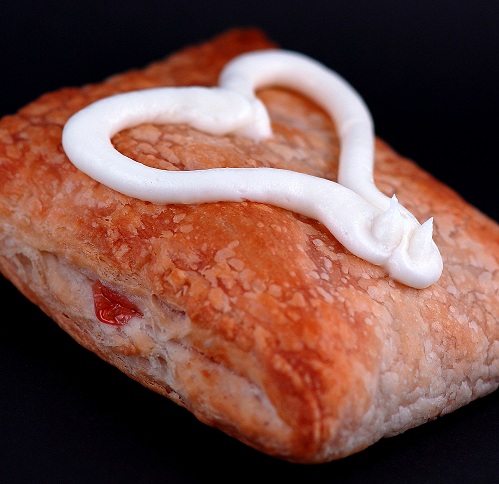 Want More Breakfast Treats?
Bourbon Brown Sugar Caramel Peach Sweet Rolls
Salted Caramel Apple Sweet Rolls
Cinnamon Sugar Apple Babka Buns
Coconut Cream Pie Breakfast Buns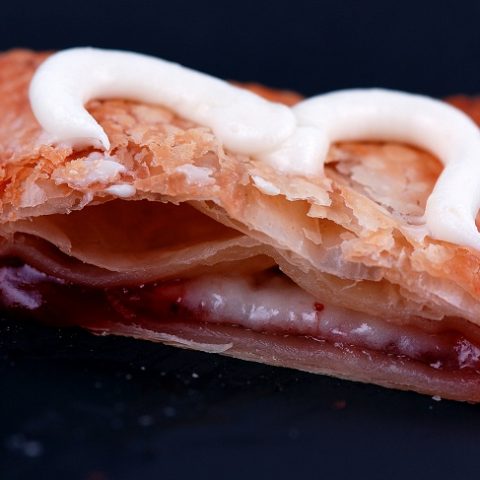 Homemade Strawberry-Cream Cheese Toaster Strudel
Ingredients
1 package (two sheets) puff pastry (you can find this in the frozen food section, usually near the Cool Whip)
2/3 cup (give or take) strawberry jam
4 ounces cream cheese, at room temperature
2 cups powdered sugar
Instructions
Preheat oven to 400F.
Spray a baking sheet with baking spray or butter.
The puff pastry should already be divided into three parts lengthwise. Go with this. You will end up with 6 strudels that way.
Using a stand mixer or beaters, beat together the cream cheese and powdered sugar. Set icing aside.
Lightly flour your work surface. Don't roll out the dough.
Draw an imaginary line in the middle of the dough using your brain.
Place some jam down the middle of the dough, but only up to the imaginary line.
Since you are going to be folding the other half over, you just need it on the one side.
Pipe or spoon a large TBSP of cream cheese icing into middle of jam area.
At the imaginary line, fold the pastry over so that you have rectangle on rectangle action. Using a fork, firmly press down around the sides to try to prevent jam and cream cheese from leaking out. Though they really do like to try and escape.
Place on baking sheet and bake for 12-15 minutes.
Remove for oven and let cool for 5 minutes.
Top with leftover cream cheese icing.