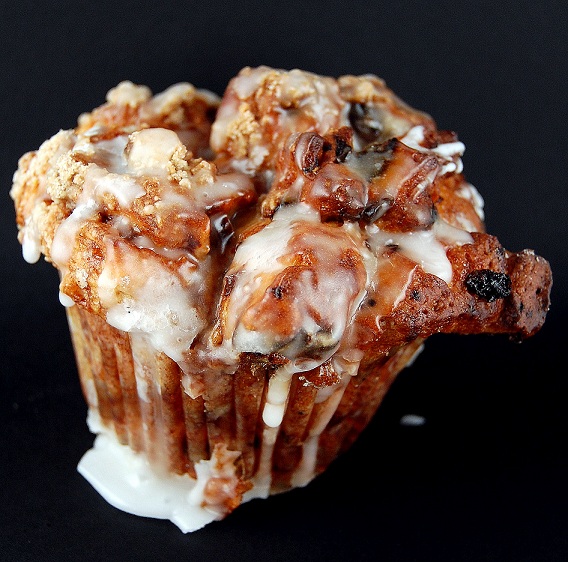 The first time I went to Panera Bread it was to meet my wedding invitation maker. She had suggested the place as a neutral place (location wise) to meet. I had just planned on getting an iced tea, as I had already eaten lunch. But when I got there the smell of bread (and the free samples) told me different. Over in the case sat this lumpy, raisin studded, glazed covered muffin like creation that they were calling a Cobblestone (see above). I asked what it was and they told me it was basically like a cinnamon roll, but with some apples chopped up in it, and of course, not in roll shape. Oh my, had to try that. Big, big mistake. As to this day, I cannot go to Panera without getting one. Usually to go, but there is one in a bag going home. Though I won't lie, I usually break into it before I make it home.
When I mentioned to my invitation designer how good the Cobblestone was, she replied, "oh yes, everything is good here, if you love soup, you will love their French Onion in a bread bowl." You know what. She's right. That is pretty much my go to item when I go there. I get the chips as the side and take those home. The bread bowl is the perfect bowl for French Onion as when you get to the bottom the bread is all gooey and soaked with the French onion soup. It's fantastic.


I have never had a bad thing at Panera. So when they contacted me and asked me if I had any interest in working with them in a blogger program, I of course yes. I mean, I already tell people I love it for free, why not for free Panera food and some compensation (in case you haven't guessed, I received a gift card to cover the cost of my meal as well as compensation for the post…but my love of Panera is all mine!). It's my favorite place to suggest going to people when we can't decide where to go as they have a range of menu items. Even back when I was lifestyle changing (cough, cough…dieting) I could easily eat there. My go to staple with that was their Low Fat Chicken Noodle Soup, which hardly taste low fat and an apple for a side. Throw in a diet soda or water and you are good to go.
They have yummy salads and sandwiches as well. I love me the BBQ chicken salad. They have a strawberry one that I believe is only out in the summer that was super yummy as well. Right now they are featuring a Thai Chopped Chicken Salad. If I am having a sandwich, you will find me eating the Turkey Artichoke Panini (no tomato). They take spinach artichoke dip and make that into a spread. Oh my. To see the menu and more info about Panera Bread, visit Panera Bread.com.
Since moving I now live considerable closer to Panera. Which is a good thing. What about you? Do you have a Panera near you? Is there something you that you love that you think I should trying?