These NY Style Crumb Cake Topped Cinnamon Rolls are loaded with crumb cake topping to combine two great breakfast treats into one.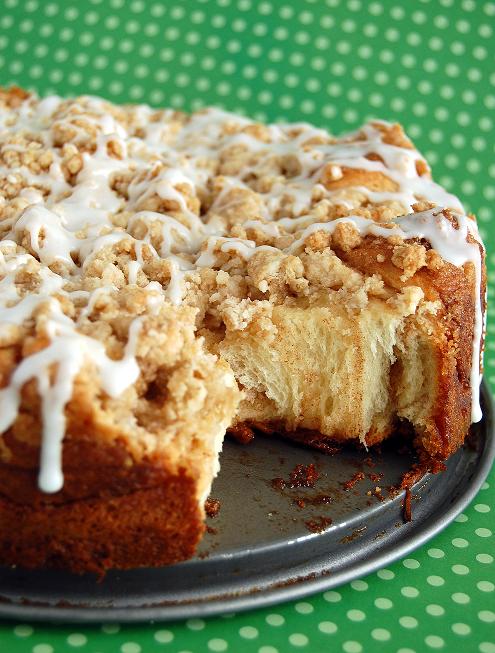 Well, I haven't gotten much hate mail in awhile so clearly I am being too politically correct as of late.
So to rectify that, I shall bring up a topic that my friends and I were discussing the other day.
We were watching Top Chef and they all had to make a pie.
The immense fear that was in the eyes of the contestants was too funny to me.
It's the fear that they all seem to get when they tell them they have to make a dessert.
Now don't get me started on the whole you know they do a dessert every season just memorize a recipe thing that I go off on every season, that was not the discussion my friends and I got into.
The discussion topic was this….is it better to be a great cook or a great baker?
So I think we can all figure out where I stand on this one, but here is why…most people who can bake  seem to be okay in the cooking department as well.
But I have met way too many a chef who is an awesome cook but can't bake or make desserts to save their life (there are always exceptions I know).
I am an excellent baker (though I have several sever disasters under my belt :D) and a decent cook.
I used to belong to a supper club in Arizona.
Every single member was  a chef except for me.
When it was time for the meals to be allocated (we did it from just pulling out of a hat) people would throw hissy fits when they got stuck with bread or desserts.
But the two bakers of the group always just took whatever we got and rolled with it.
And for the record, every single one of those chefs would just bring bread or dessert from their restaurants.
Then there is the convenience of being a baker.
It's so much easier to bring someone a loaf of bread then say a rack of lamb or crock of chili.
Doable yes, but awkward and usually needing refrigeration.
So what do you think?
Better to be a great cook or a great baker?
Speaking of great baking…I present my 3am idea….NY Style Crumb Cake Topped Cinnamon Rolls.
Not sure how this craving came about, but it did.
Oddly enough, I could not find a recipe for that idea 🙂 , so I had to make one of my own.
This was such a poor choice to make.
I seriously could not stop eating these.
Lucky for me there was hockey that night and I could give them away.
See, again, with the portable baked goods (plus one for the bakers).
This ends up being more like pull apart bread  or a cake than that of individual cinnamon rolls.
But the messier the better, eh?
P.S. It's a great day to buy my cookbook Holy Sweet!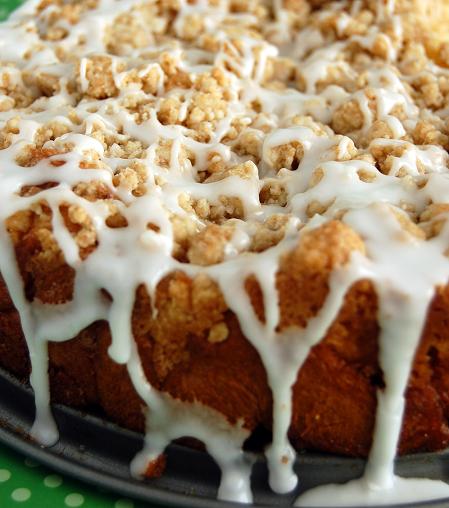 Want More Sweet Roll Recipes?
Peanut Butter and Jelly Sugared Buns
Creamsicle Crumb Topped Cinnamon Rolls
Bourbon Brown Sugar Caramel Peach Sweet Rolls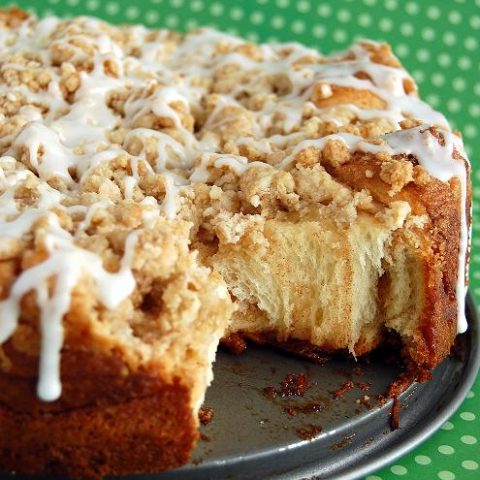 NY Style Crumb Cake Topped Cinnamon Rolls
Ingredients
For the brioche dough:
1/4 cup warm water (filtered preferably)
1/2 cup plus 2 tsp. granulated sugar, divided
1 1/2 tsp. dried yeast
1 tsp. vanilla extract
2 eggs
3/4 cup whole milk
3 1/2 cups all-purpose flour
1 tsp. salt
8 TBSP unsalted butter, at room temperature, cut into dime sized pieces
For the filling:
1/2 cup granulated sugar
1/2 cup brown sugar
2 tsp. cinnamon
3 TBSP butter, softened
For the NY Style Crumb Topping:
2/3 cup granulated sugar
2/3 cup brown sugar
1 1/2 tsp. ground cinnamon
16 TBSP (2 sticks) unsalted butter, melted and still warm
3 1/2 cups cake flour
Instructions
For the Dough:
Place warm water and 2 tsp. of the sugar in the bowl of your stand mixer.
Sprinkle yeast on top and mix with a whisk until yeast is dissolved.
Let stand for 5 minutes while yeast blooms.
Add remaining sugar, vanilla extract, milk, flour, and salt.
Using the hook attachment, mix on low speed for 3 minutes to start bringing dough together.
Switch to medium speed and slowly drop pieces of butter into dough. Mix for 10-12 minutes.
Dough will be wet and sticky and will have good elasticity when stretched.
Pull dough from bowl and onto a floured surface.
Using extra flour on your hands, form dough into a ball.
Place dough in an oiled, medium bowl and cover with plastic wrap.
Proof in a warm room, 70-75F, for about 2 1/2 hours. Dough will almost double in size.
In a small bowl, whisk together the sugars and cinnamon. Set aside.
On a flour dusted surface, roll the dough into a rectangle about 12 inches wide and 16 inches long, with a short end toward you.
Spread butter using your hands (messy but works best) across the dough leaving a1-inch strip bare on the side farthest from you.
Sprinkle cinnamon sugar mixture evenly across surface. Press down the sugar into the butter.
Starting with the side nearest you, roll the dough into a cylinder, keeping the roll as tight as you can.
With a bread knife(or chef knife), using a gentle sawing motion cut the log into rounds a scant 1/2 inch thick.
These are going to be smaller than your average buns because we are adding a crumb topping to them.
Spray baking spray into TWO 9-inch Springform pans (you can just use a cake pan, but it is MUCH easier to remove using the spring form).
Divide rolls between baking dishes, arranging cut side up (there will be almost no space between rolls).
Cover baking dishes with plastic wrap, then kitchen towel.
Let dough rise in warm draft-free area until almost doubled in volume, about 1 hour.
20 minutes before the dough is done rising, prepare the crumb topping.
For the Crumb Topping:
Whisk sugars, cinnamon, salt, and butter in a medium bowl to combine.
Add flour and stir with a spatula or spoon until the mixture resembles thick crumbles; set aside to cool to room temperature, 10-15 minutes.
Once cinnamon rolls have risen, split the crumble topping in half.
As best you can evenly crumble topping on top of the cinnamon roll dough. Do this for both pans.
Bake at 350F for 25-30 minutes.
Let cool for 10 minutes and top with icing.
For Icing:
Sift 4 cups of powdered sugar into a bowl.
Add 6 tablespoons to 1/2 cup of warm milk, briskly whisking until all the sugar is dissolved.
Add the milk slowly and only as much as is needed to make a thick, smooth paste.