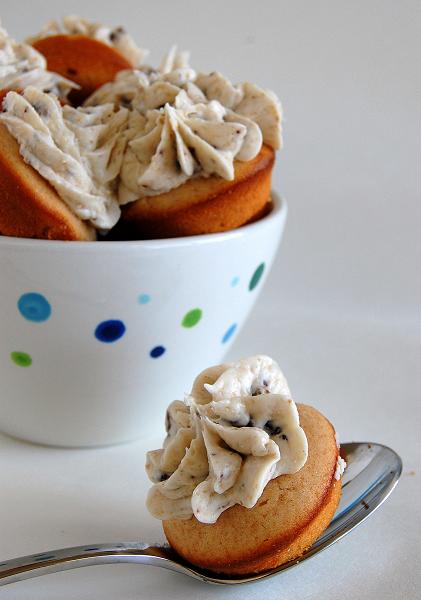 I will admit that I have always been one of those think outside of the box people. People have even accused me of not knowing where the box is some days. 😉 I see the world a little different at times, and I know I see food a little different.
My mother once said to me, "I add some cranberries to pumpkin bread and think I am being creative. But you take it to a whole other level". And I must, because people do ask me all the time how I come up with my ideas. Um, I just do. It's how my brain thinks. And it usually is thinking how to make something have more calories. 😉
When Lynn left my house on Friday I had 24 mini cinnamon cupcake staring at me unfrosted. The original cupcakes, the one in the book, had a sour cream chocolate frosting. That sounded good but for some reason oatmeal raisin popped into my head. Now most people would have made oatmeal raisin cupcakes and made cinnamon frosting. I did the other way around. I didn't want chunks of oatmeal in my frosting so I ran it through the old food processor to make it into oatmeal powder. Throw in some butter, powdered sugar, cinnamon and some chopped up raisins (mine were really big) and you've got some tasty, though all be it, unusual frosting. But then again, I wouldn't have it any other way. 😉
The whole reason I picked these to bake in the first place was because I was given the choice (by Kestrel Growth Brands, Inc) a couple weeks back to try either Singing Dog Vanilla or Red Ape Cinnamon. It was a tough choice, but I went with the cinnamon since we are in full Fall baking mode around these parts.
First off I just love the name. It makes me happy, as does singing dog. Second, and more importantly, it has a really good, strong cinnamon flavor. It's one of the strongest cinnamons I have tasted, which is great because a little goes a long way. It's organic. It's reddish because "only the pure inner cinnamon bark is ground and the extra outer bark that would normally dilute the final powder is disposed of". Can't wait to try using it in cinnamon buns! I only wish I could have gotten the vanilla as well. If it's anything like the cinnamon, it's probably really awesome.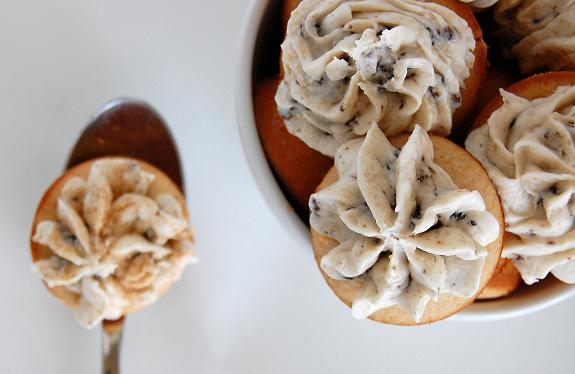 Cinnamon Sour Cream Cupcakes with Oatmeal Raisin Buttercream Frosting
Cinnamon Sour Cream Cupcakes
4 oz unsalted butter, at room temperature
¾ cup granulated sugar
2 eggs, at room temperature
½ tsp vanilla extract
1 cup plus 2 TBSP cake flour
1 ½ tsp ground cinnamon (I used Red Ape)
1 tsp baking powder
pinch of salt
½ cup sour cream
Position rack to center of the oven and preheat to 350F.
Spray a mini muffin tin(holds 24 or 2 that hold 12) with baking spray.
In the bowl of a stand mixer using the paddle attachment, beat together, on medium-high speed, the butter and sugar until light and fluffy, about 2 minutes.
In a small bowl, lightly beat the eggs and vanilla together. Add to butter mixture in two additions. Scraping down after each addition.
In a medium bowl add together the flour, baking powder, cinnamon, and salt. Add half this mixture to the mixer with the mixer on low speed. Add the sour cream. And then add the remaining flour mixture, blend until fully incorporated.
Using a small ice cream scoop, or a piping bag, fill the muffin tins ¾ of the way full. Bake for 15-18 minutes until golden brown and a cake tester inserted comes out clean.
Let cool for 5 minutes, then remove cupcakes and let cool on a wire rack. Frost when completely cool.
Adapted from Bite Sized Desserts by Carole Bloom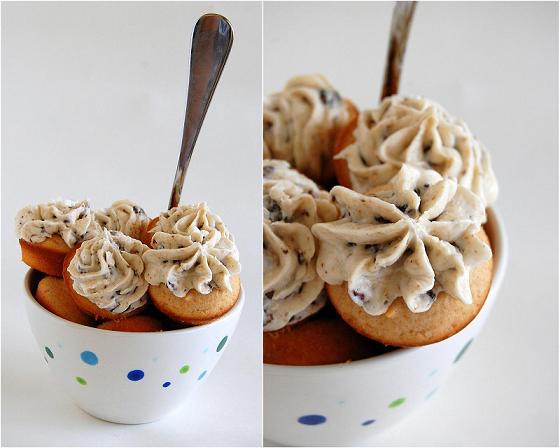 Oatmeal Raisin Buttercream Frosting
1 cup oatmeal, just not steel cut
4 oz unsalted butter, at room temperature
3 cups powdered sugar
1 tsp vanilla
¾ cup raisins (cut raisins in half if too large or use dried currants)
milk to thin
Using a blender or food processor, pulverize the oatmeal until it becomes powder form.
Using a stand mixer with the paddle attachment, cream the butter until it is soft, about 1 minutes. Add the oatmeal and 1 cup of powdered sugar and beat on medium speed.
Add the remaining 2 cups, 1 cup at a time. Add vanilla and beat until fully incorporated. If frosting is too thick, thin out with milk to get your desired consistency.
Beat in raisins, making sure that they are evenly dispersed…as best you can.
Since these are mini, I found it best to use a piping bag (I used one of the large star tips) to get the frosting on the cupcakes.