These Red Hot Cinnamon Cupcakes have a traditional red velvet cupcake recipe but topped with a boiled cinnamon frosting for a twist.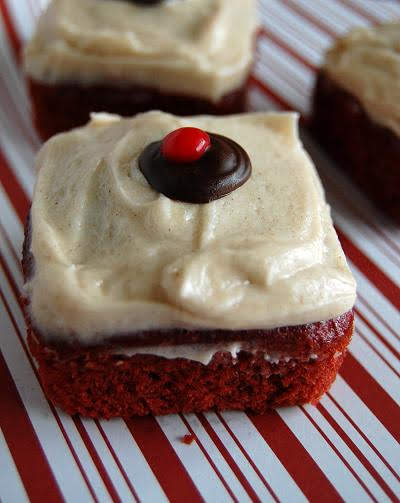 Sometimes we become a creature of habit, especially in the world of food.
So often I order the same thing, I am most guilty of this when it comes to Chinese food.
For even when I try to mix it up, I often find myself longingly looking over at someone who ordered one of my regulars.
Then end up ordering it and taking it home for lunch the next day.
When will I learn. 🙂
My husband often puts me into baking ruts.
Chocolate chip cookies and red velvet cake…with cream cheese frosting.
So when going through Baked I noticed that they have a version of red velvet cake that was called Red Hot.
At first I was afraid they did the whole chocolate and chili thing which I am not a fan of that movement at all (Bobby Flay can keep that one).
But it was just basic red velvet cake, but with a cinnamon frosting.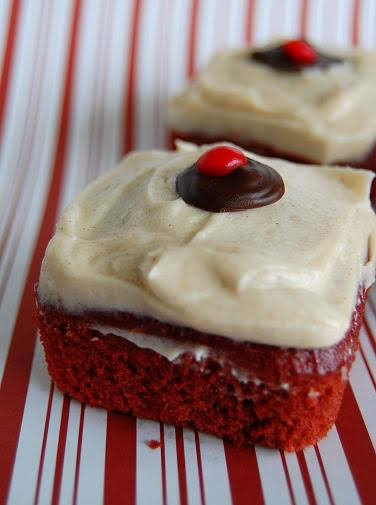 Hmm, cinnamon frosting, I felt the need to give that a try (not to worry I made my husband plain old cream cheese frosting).
I must admit I am not sure if I was up for the change.
I like the cinnamon flavor with the cake a lot but missed the tang of the cream cheese.
I think next time I will make a hybrid of sorts using a cream cheese frosting with cinnamon.
If you want to make the little Red Hot (where it got its name from) decoration you just simply melt some chocolate, pipe it through a bag, place a Red Hot on top, and stick in the fridge to set up.
And as always it's a great day to order my cookbook.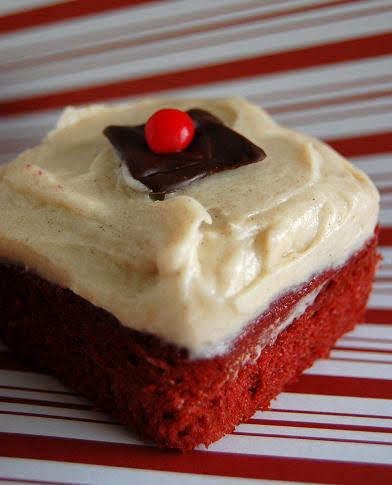 Want More Cupcake Recipes?
Strawberry Pretzel Cream Cheese Cupcakes
Dark Chocolate Butterfinger Cupcakes
Chocolate Root Beer Float Cupcakes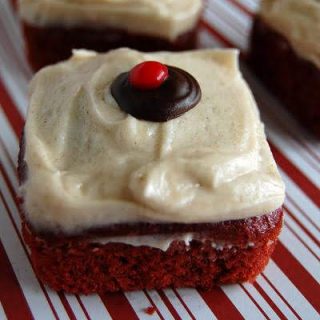 Red Velvet Cinnamon Cupcakes
Ingredients
For the Cupcakes:
For the cake:
2 eggs
1 1/2 cups sugar
1 1/2 cups vegetable oil
1 tsp white vinegar
2 1/2 cups cake flour
1 tsp baking soda
2 to 3 TBSP cocoa powder
1 cup buttermilk
1 tsp vanilla
5/8 ounce bottle red food coloring
For the Cinnamon Frosting:
1 ½ cups granulated sugar
¼ cup all-purpose flour
1 ½ cups whole milk
¼ cup heavy cream
1 ½ cups unsalted butter, soft but cool, cut into small pieces
1 tsp vanilla extract
2 tsp cinnamon
Instructions
For the Cupcakes:
Line two muffin tins with cupcake liners. I used a square pan and therefore did not use liners.
Preheat the oven to 350F.
Cream the eggs, sugar, oil and vinegar.
Sift the cake flour, baking soda, and cocoa together.
Add the flour mixture to the creamed ingredients while beating.
Slowly add the buttermilk.
While still beating, add the vanilla and the food coloring.
Divide evenly into prepared muffin pans and bake for about 20 minutes.
Let cool before frosting.
For the Frosting:
In a medium heavy-bottomed saucepan, whisk the sugar and flour together.
Add the milk and cream and cook over medium heat, whisking occasionally, until the mixture comes to a boil and has thickened, about 20 minutes.
Transfer the mixture to the bowl of an electric mixer fitted with the paddle attachment.
Beat on high speed until cool.
Reduce the speed to low and add the butter; beat until thoroughly incorporated. Increase the speed to medium-high and beat until the frosting is light and fluffy.
Add the vanilla and cinnamon and continue mixing until combined.
If the frosting is too soft, transfer the bowl to the refrigerator to chill slight, then beat again until tit is the propers consistency.
If the frosting is too fir,, place the bowl over a pot of simmering water and beat with a wooden spoon until it is proper consistency.
Frost the cupcakes and top with a candy red hot if desired.