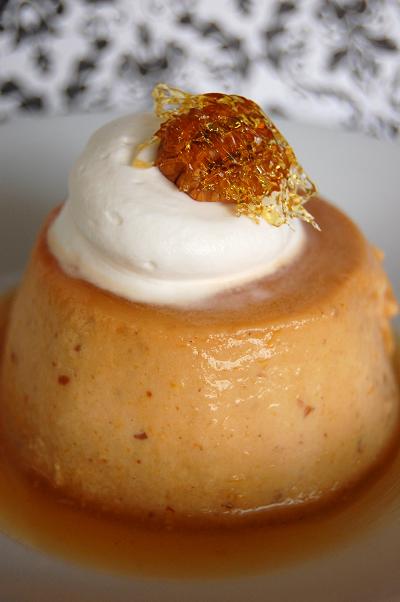 I bet you were thinking I was going to miss this weeks Tuesday with Dorie. Almost did. Though it had nothing to do with procrastination. See, I bought the wrong kind of pumpkin. I went to grab the pumpkin puree, but instead I got the pumpkin pie puree. Ever have that happen to you? And I didn't want to throw it away, I just didn't know what I wanted to make with it.
This weeks, Tuesday with Dorie choice was Crème Brulee (chosen by Mari of Mevrouw Cupcake), I figured that this would be my chance to use up that pumpkin. I of course did an inspired by so that I could give you a recipe, so I made crème caramel, which is in the same family as crème brulee. This is where the almost missing TWD came in. See I have to make this recipe 3 times to get it right. I am just not used to working with the canned pumpkin pie, it is runnier than just pumpkin puree, and already has some sugar in it. So the first batch was super runny. The second batch I didn't add sugar because I thought the pumpkin pie puree would have enough, wrong. And finally the third batch came out how I wanted it.
I will try and be more careful next time when I am picking out my pumpkin puree, but it is nice to know that I can still come up with something when I screw up and grab the wrong can.
*LFB Update: Monday was her big check up. She is doing well and it is looking like she will get to keep the eye. We truly wont know for about another 2 months, but things are moving in the right direction. Thanks for all the good thoughts.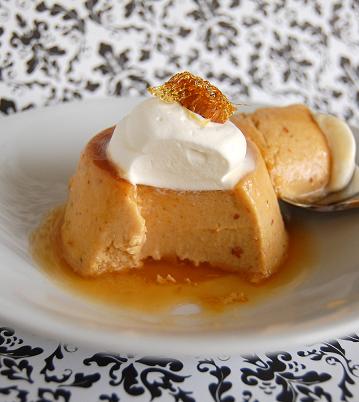 Pumpkin Ginger Crème Caramel
2 TBSP  fresh ginger root, chopped
½  cup whole milk
1 cup heavy cream
¾  cup granulated sugar, divided
2½ TBSP water
2 large eggs
¾ cup canned pumpkin pie mix
1/8 tsp salt
Preheat the oven to 325F.
Place the ginger root, milk and cream in a medium saucepan and bring to a boil over medium-high heat. Set aside to steep for 1 hour. Pour through a strainer and discard the ginger root solids.
While the ginger is steeping, prepare the ramekins. Place ½ cup of the sugar and the water in a small saucepan and cook until the sugar is caramelized, about 8 minutes. Pour into 8 clean, dry 5-ounce ramekins. Tilt the cups so that the bottoms are evenly covered. Set aside.
Place the eggs, pumpkin pie mix, the remaining ¼ cup sugar, and salt in a large bowl and mix to combine. Add the cooled, strained milk and mix to combine. Pour the custard into the prepared molds. Place in a hot water bath and transfer to the oven.
Bake until the custards jiggle but do not ripple, about 30 to 40 minutes. Cool to room temperature and place plastic wrap directly on the surface. Refrigerate at least 12 hours and up to 2 days. Top with Ginger Whipped Cream ans serve.
Makes about 4-5 servings depending on the size of your ramekin.
Ginger Whipped Cream
1 cup heavy whipping cream
2 TBSP granulated sugar
3 TBSP Ginger Simple Syrup
With standing mixer with whisk attachment or electric hand mixer, beat cream. Start slowly, as cream thickens, turn the speed up. As it gets foamier, start checking for a soft peak. In a slow stream, add the ginger syrup and sugar.
Whip the mixture together until you get stiff peaks.
Ginger Simple Syrup
12 ounces fresh ginger, thinly sliced
1 ½  cups sugar
1 ½  cups water
Directions
In a small saucepan, bring ginger, sugar, and water to a boil over medium heat. Cook 2 minutes. Strain the mixture through a sieve, discarding ginger. Store in an airtight container in the refrigerator up to 1 week.
This makes far more than you need for this recipe, but can be used in a variety of ways…especially great in cocktails. 😉