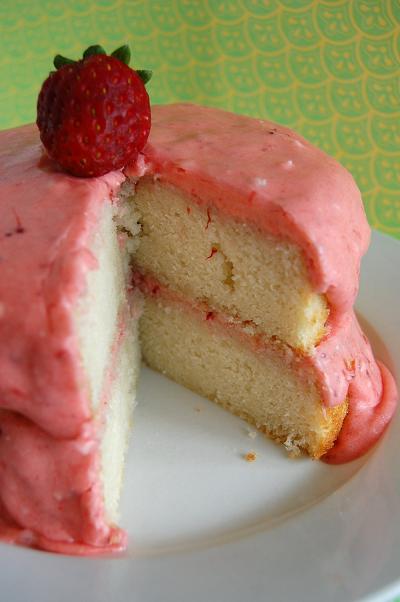 About a month ago, I went to a birthday party for Jessie (for both her and her blog) of Cakespy. If you don't visit Cakespy, you should. Jessie makes the cutest illustrations of cupcakes that you ever did see. And speaking of cute, Jessie is about as adorable as a person can possibly be! Seriously. She also is the size of my leg. Apparently every time she eats a cupcake the calories get sent to my thighs, not hers. 😛
It was of course held at a cupcake shop (Cupcake Royale). While we were there we were served 3 mini cupcakes. One of those cupcakes was a white cupcake with fresh strawberry buttercream frosting. Wow that was good.  So good I needed to take the larger version home. Since I only bought one it was gone before I knew it. And darn it, I wanted more! The drive down to Seattle seemed a bit much just to get a cupcake (though it was contemplated) so I decided to do the next best thing, make my own. My muffin pan was dirty, so I made a layer cake (gosh I am lazy, just wash the stupid pan Peabody).
I did not go for fancy with this cake. I wanted a real homemade feel to it, so I made my frosting on the thin side so it could drip down the sides. The frosting at the cupcake place was thicker. If you want thicker you can just add more powdered sugar.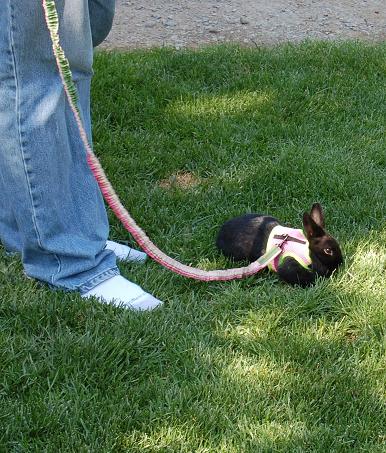 Little Fuzzy Bunny was born in Snohomish, WA. Mostly consisting of farmland but with new construction moving in, LFB can be considered a small town rabbit. With small town values.
At only 5 months old, LFB provides youth to the ticket. Even at this young age, she has already faced adversity, currently dealing with the possible loss of her eye. Last week as many of you know LFB was told she had a 50/50 chance of losing her eye and would most likely be blind in the eye if it could be saved. This past Monday at her check up we are please to announce that she now has a greater chance of keeping the eye than losing it. She also has regained some eyesight in it which they are very excited about. She is not out of the woods just yet, so your thoughts and prayers would still be appreciated.
Since LFB is on the mend be sure to look for the Fluff ticket to be covering the issues in the coming blog posts.
P.S. Our campaign manager (my dad) says we might be up to $5 in contributions…go us. 🙂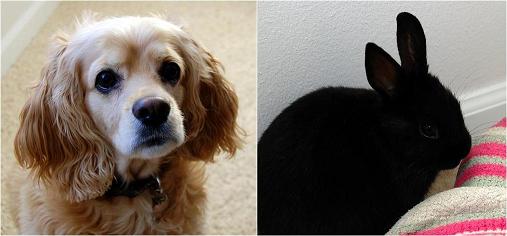 (We are CCS and LFB, and we support this blog post)
Classic White Cake with Fresh Strawberry Buttercream Frosting
White Cake
1 cup whole milk, room temperature
6 egg whites
2 tsp vanilla extract
2 1/4 cups cake flour
1 3/4 cups granulated sugar
4 tsp baking powder
1 tsp salt
3/4 cup unsalted butter (6 oz), softened
Preheat oven to 350 F.
Grease two 9 inch cake pans with vegetable shortening, line the bottom with parchment paper, grease the parchment paper and flour the pans.
Combine milk, eggs whites and extract in a small bowl with a fork. Set aside.
Combine flour, sugar, baking powder and salt in an electric mixer and mix at slow speed with a paddle attachment. Add butter. Continue beating at slow speed until mixture looks like wet sand (If you're doing this by hand, sift the dry ingredients together and rub in butter).
Add all but 1/2 cup of milk mixture and beat at medium speed for 1 1/2 minutes. Add remaining milk mixture and beat for an additional 30 seconds, scraping the sides of the bowl if necessary. Do not overmix.
Divide batter evenly between prepared pans and gently shake to smooth batter. Bake 30-35 minutes, until toothpick inserted into the center comes out clean.
Let cakes cool in the pans for 15 minutes then invert onto racks to cool completely before frosting. Unfrosted cakes can be frozen for 1-2 weeks.
Serves 12-16.
Adapted from Baking Bites.com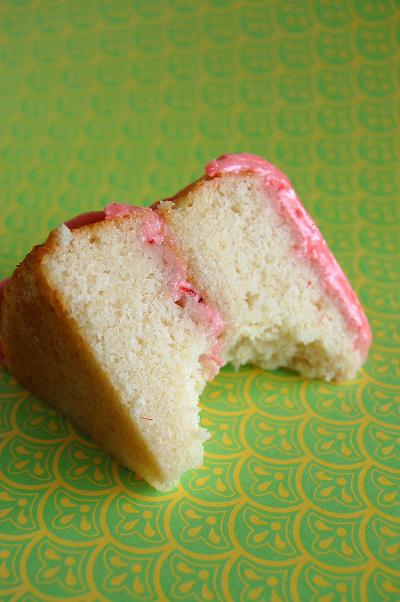 Fresh Strawberry Buttercream Frosting
1 cup unsalted butter, at room temperature
4 cups (may need more or less) powdered sugar, sifted
1 cup finely chopped fresh strawberries
1 tsp vanilla extract
Beat butter and 1 cup powdered sugar on medium speed for 1 minute.
Add vanilla and strawberries and beat for 1 minute.
Adding 1 cup at a time, add the remaining powdered sugar. You may find that you need less than 4 cups or more than 4 cups depending on the consistancy of the frosting you are going for. I wanted mine to drip down the sides so I went with less sugar.