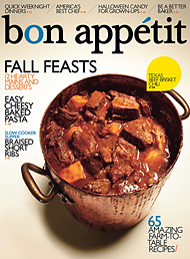 Photo from Bon Appetit.com
You've heard it before and I will say it to you now, just because you can, doesn't mean you should. Case in point, the muffin top. The once delicious part of an actual muffin, the term has now come to (according to Wikipedia) "describe the phenomenon of overhanging flesh when it spills over the waistline of trousers or skirt in a manner that resembles the top of a muffin spilling over its paper casing. This generally occurs when an individual wears low-rise, hip-hugger pants, or midriff-baring tops that are too small." Meaning just because you can squeeze yourself into a size 8 pair of jeans, if your ass is a size 12, it ain't going to look pretty.
Bon Appetit has made their own muffin top as of late. Whoever they have chosen as their photographer is going in a direction that, though he/she can, they really shouldn't. Let us use this month's cover as our first example. When I took that out of the mailbox I just stared at it. My first thought was, why is there poorly lit dog food on the cover. Yes, that was my real thought. For my dog, yes, CCS, has food that comes in a can that looks better than that. Why make shit brown stew, put it in copper pot, with harsh lighting and harsh shadows? What was even worse were the photos that went along with that segment. A close up of the stew (which probably is tasty but I wont be trying it) that made it look worse than the cover, and the most craptastic picture of macaroni and cheese I had ever seen. I love macaroni and cheese and this picture made me want to not eat it ever again, I find that sad. I am sure it serves some sort of great photographic purpose, I just don't get that purpose, and more importantly I don't want to eat that purpose.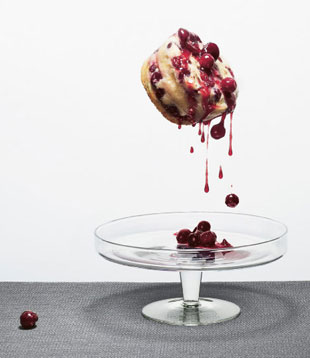 Photo from Bon Appetit.com
And then there is the suspending of food. Though I think the idea of food being able to fly up to my mouth appealing as it saves me energy from lifting utensils, I don't really find it appealing in any other sense. I think the photograph as a photograph is neat. However, I am suppose to want to eat this? And showcasing it how you are doesn't say eat me. It says how the fuck am I going to eat that when it is in the air like that?
I have had a subscription to Bon Appetit since I was a sophomore in college. I used to look forward to getting the magazine in the mail. Now to be honest, it hardly gets read. I skim through it when it first comes in. But since nothing good seems to grab my attention, I seldom go back to actually read it. And I used to read it cover to cover. But now that cover to cover is mostly thin. Filled with ads, though the ads have better pictures than most of the stuff in the magazine now a days, I don't want a magazine full of ads. My subscription is coming up for renewal and for the first time in 16 years, I will not be renewing my subscription. Maybe I am becoming old and this does really appeal to a younger generation, who knows, all I know is that it doesn't appeal to me.
So Bon Appetit, I encourage you to find some new talent, there is a lot out there. Just check out the numerous food bloggers who take pictures, Bea and Aran alone should be in your magazine, along with many, many others. Please go back to taking pictures of food that looks like food people eat.
Peabody (your former subscriber)