This fall favorite Pumpkin Spice Bread with Maple Cheesecake Layer is a great way to change up your normal pumpkin quick bread.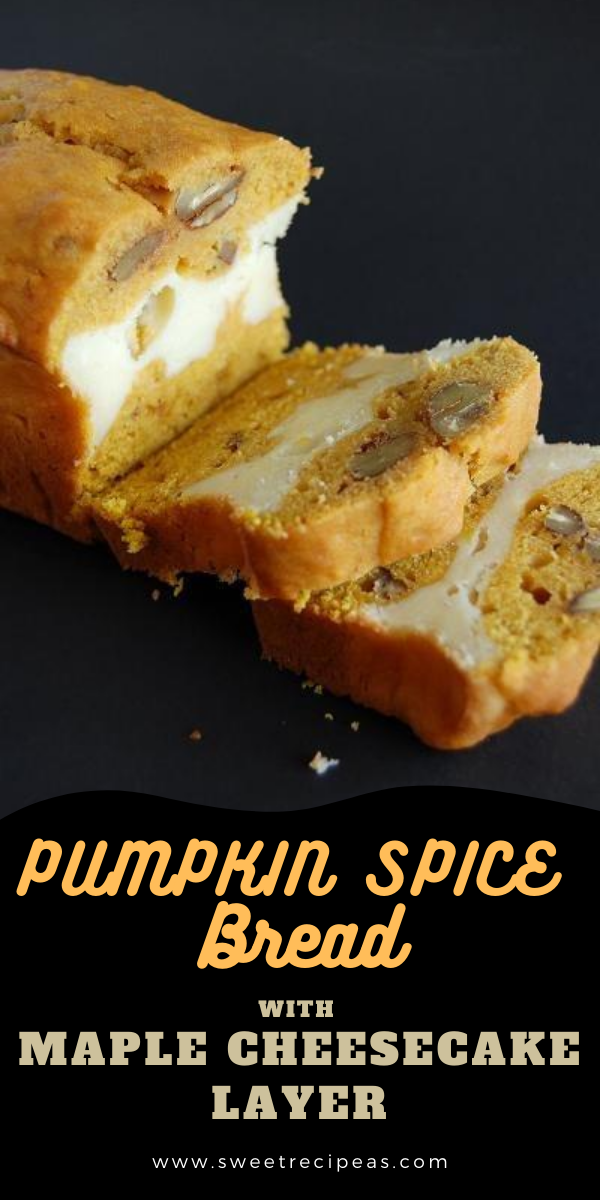 So right after everyone seemed to be doing the Omnivore 100 meme, another one came out.
This time about things that you had done in your life.
Number 3…."Been apart of a hockey fight".
Several people when filling that out commented that they were interested in knowing how I would answer that question.
So here ya go.
First off that question is vague.
Hockey fight at a game where I was a fan or one in a game I played?
For today's story we shall focus on the latter.
Yes, I have been in a hockey fight, two for that matter, and both with boys.
I,of course, can not say a man, because no man would hit a woman, but onward with the story.
Fight number one I lost.
I am playing.
A miracle happened and I score a goal.
The next thing you know I was tackled by a very large man.
He started pounding my head into the ice.
I kept waiting for the referees to step in but they didn't seem to (wimps).
So, I threw off my one glove (since my other arm was pinned down beneath me) and I started punching.
He wasn't wearing a cage or shield so everything on his face was fair game.
Meanwhile he kept beating me down.
The refs finally came over and broke it up.
I broke his nose, but he gave me a mild concussion and had me pinned the whole time so I consider him the victor of the fight.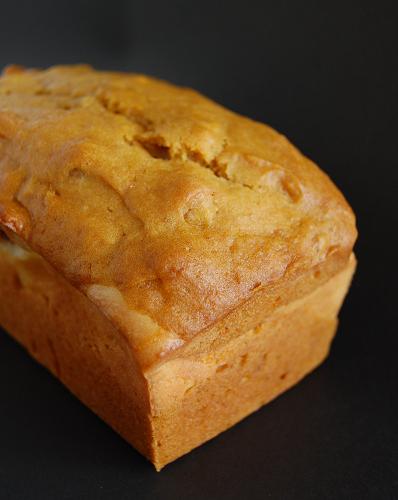 Fight number two I won.
All night this guy was insulting me and so in return I paid the favor.
After two periods of being jerks to each other.
He was pushing on me and said, "ya wanna go"?
I got rather cocky (I was taking Kenpo Jujutsu at the time) and asked him "do you really want to get your ass kicked in front of God and every one by a girl?"
That threw him off a bit.
He shouted let's go and threw down his gloves.
I took off my helmet and gloves as well.
Then I threw up my left arm as if to punch him.
Noticed he was staring at that and so I gave him an uppercut to the jaw with my right hand.
And down he went.
In front of God and every one, he got his ass kicked by a girl.
He laid there for quite some time.
Eventually getting up.
He said nothing to me.
Never said one thing to me the next time we played them as well.
In fact, never again.
It's a good time to bring this up since preseason hockey is just around the corner, in about two weeks to be exact.
Then before you know it, October 4th will be here and regular season play will be on it's way.
Yes, everyone, the greatest time of year is approaching….Fall.
Fall when I get to bake whenever I want without sweating.
When my days can be occupied with watching hockey (and swearing at the TV screen).
Watching the trees undergo a metamorphosis from lush greens to a rustic reds and glowing golds.
And I get to eat all the foods I love…pumpkin being at the top of the list.
Now, you can get canned pumpkin year round.
But there is something about Fall that makes pumpkin just taste better.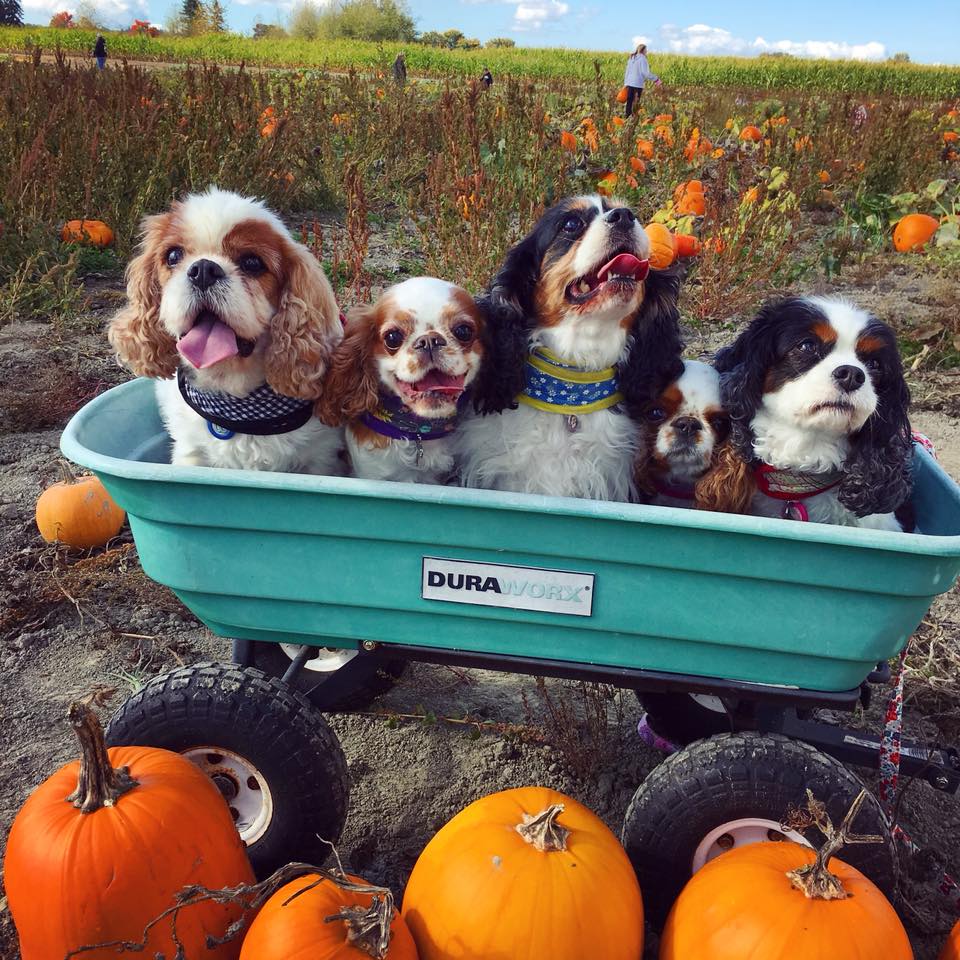 I had been working on this idea for this Pumpkin Spice Bread with Maple Cheesecake Layer in my head for awhile.
And after a week of experimenting I finally got it where I wanted it. So you reap the benefits of my labor.
If you are allergic to nuts you can very easily leave them out.
Also, if you are not a fan of maple (shudder) you can leave out the maple syrup and extract and just add vanilla.
So what have we learned here today boys and girls?
Best not to mess with Peabody, as she may hit you. 😛
Have you bought my cookbook. yet? 😀 I'd hate to hit you with a hockey stick for not owning it.
I kid.
Sort of.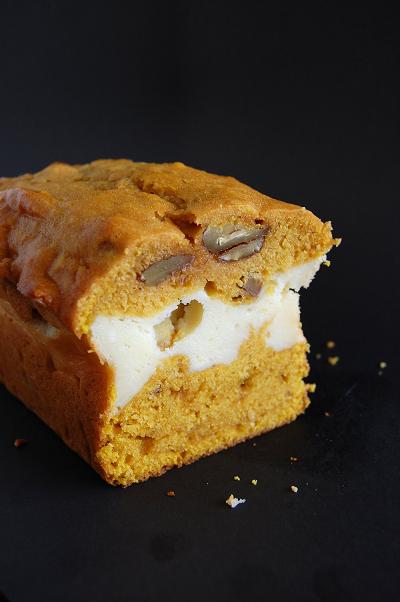 Want More Pumpkin Recipes?
Toffee White Chocolate Pumpkin Muffins
Butter Toffee Pecan Crumb Pumpkin Pie
White Chocolate-Pumpkin Topped Blondies
Brown Butter Pumpkin Pie Layer Cake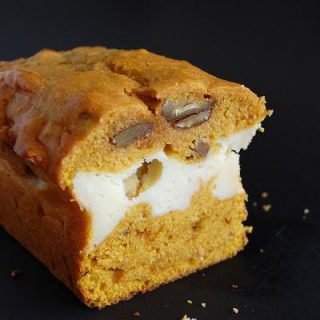 Pumpkin Spice Bread with Maple Cheesecake Layer
Ingredients
Maple Cheesecake Layer:
9 ounces cream cheese, at room temperature
¼ cup granulated sugar
¼ cup brown sugar
6 tsp real maple syrup (I use grade B)
1 tsp maple extract
1 TBSP all-purpose flour
1 large egg
Pumpkin Spice Bread:
2 cups all-purpose flour
1 tsp baking soda
½ tsp salt
½ tsp ground cinnamon
¼ tsp ground ginger
¼ tsp fresh ground nutmeg
1 cup pumpkin puree(plain, not the already made pumpkin pie kind)
½ cup canola oil
2 large eggs
1 ½ cups granulated sugar
1 cup chopped pecans
Instructions
Preheat oven to 325F.
Lightly grease and flour three mini loaf pans. In a medium mixing bowl, combine all the maple cheesecake ingredients; beat until smooth and creamy, about 2 minutes. Set aside.
In another bowl, sift together flour, baking soda, salt, and spices; set aside.
Place pumpkin puree, vegetable oil, eggs and sugar in a mixing bowl of an electric stand mixer. Using the paddle attachment, beat for about 1 minute, until fully combined
Add flour mixture into the pumpkin mixture and mix just until combined.
Fold in the pecans.
Pour half of the pumpkin bread batter evenly into the three prepared loaf pans. Spoon cream cheese mixture on top of pumpkin batter layer and then pour on the remaining pumpkin batter.
Bake in preheated 325° oven for 50 to 60 minutes, or until a wooden skewer inserted into center of the loaf comes out clean.
Cool bread in pans for 10 minutes.
Remove bread from pans and place on a wire rack to cool completely.
Serve at room temperature or cool.