Perfect for BBQ and picnics, these vanilla flavored Corn on the Cob Cupcakes are made to look like corn on the cob using jelly beans.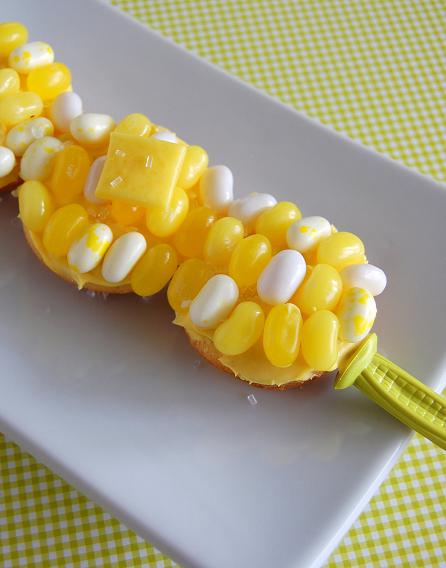 Now I am not usually one to go for look over taste, but when I saw these Corn on the Cob Cupcakes on Martha Stewart.com I soooo wanted to make them.
These are definitely a case of more cute than tasty.
For a mix of pina colada, coconut, buttered popcorn, and lemon jelly beans just don't taste all that great on a cupcake.
But if you scrape off the jelly beans you are left with a basic vanilla cupcake, and that tastes good.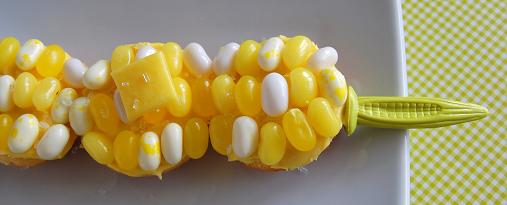 Having just completed my backyard I have been in the BBQ mood.
Ironically we do not own a barbecue yet.
I thought that these would be the most adorable dessert to present to your guest!
They are about as tedious to make as real corn is to shuck.
Placing the little pieces of "corn" takes up a lot of time, as does rolling out Starburst.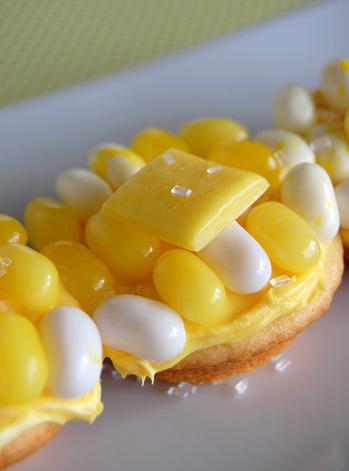 BTW, it doesn't say so, but I found it useful to microwave the Starburst for about 15 seconds to get it to be more pliable.
So the next time you fire up the grill, and there are kids around (because you know they would eat the cupcake with the jelly beans on top, no problem), you should totally make these.
And if you think these are cute, you should see all of the different cupcakes that are in Hello Cupcake.
One day I plan on making the TV dinner one(when I have lots of time on my hands!)
And as always it's a great day to order my cookbook. 😀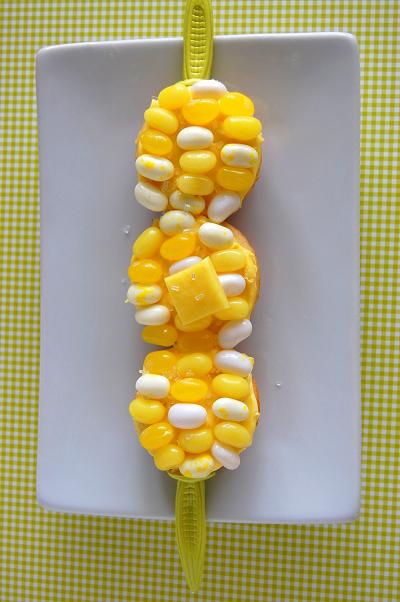 Want More Cupcake Recipes?
Chocolate Root Beer Float Cupcakes
Strawberry Pretzel Cream Cheese Cupcakes
Dark Chocolate Butterfinger Cupcakes
Strawberry Buttercream Neapolitan Cupcakes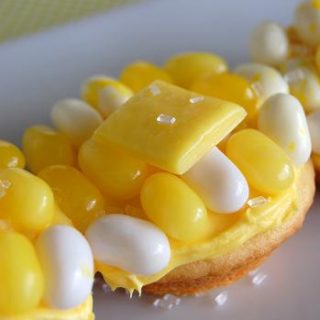 Corn on the Cob Cupcakes
Ingredients
Makes 24 cupcakes or 8 "ears of corn"
Vanilla Frosting
Yellow liquid food coloring
24 Vanilla Cupcakes, baked in white paper liners
3 ½  cups small yellow, cream, or white jelly beans, such as Jelly Belly
4 pieces yellow fruit chews, such as Laffy Taffys or Starbursts
1 tablespoon white decorating sugar
8 sets of corn holders (optional)
Instructions
Color the frosting pale yellow with food coloring.
Working with 3 cupcakes at a time, frost cupcakes with yellow frosting.
Arrange 5 rows of jelly beans, close together, on each cupcake.
Place the 3 cupcakes side by side on a corn dish or serving platter to resemble an ear of corn.
Repeat process with remaining cupcakes, frosting, and jelly beans.
Cut the fruit chews into eight 1-inch squares.
Soften the edges slightly by hand so that they look like melted butter.
Place 1 square on top of each ear of corn.
Sprinkle with sugar.
Insert a corn holder in the end of each ear of corn, if using.
Serve.
*Please note that I made mini cupcakes. They take 15 minutes to bake at 325F.