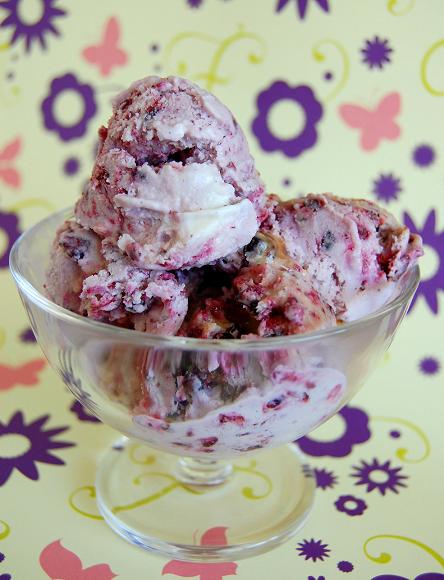 Well this weeks TWD pick was by my food blogging friend Dolores of Chronicles in Culinary Curiosity. I think Dolores makes more of my baked goods for her office mates than any other reader of mine. She chose Blueberry Sour Cream Ice Cream. Which would be great minus the whole I am allergic to blueberries thing.
So I looked at the recipe. I decided I would do my own this week. Another inspired recipe like I was doing there for awhile. A Vanilla Bean Marionberry Caramel Swirl Ice Cream to be exact. It's a vanilla bean base(still using some sour cream like the original recipe) with crushed marionberries added and then ribbons of caramel folded it. It was darn tasty. I ate it for breakfast. Afternoon treat. And some after dinner. 😛
There really isn't much to say about this ice cream other then damn it was good. End of story.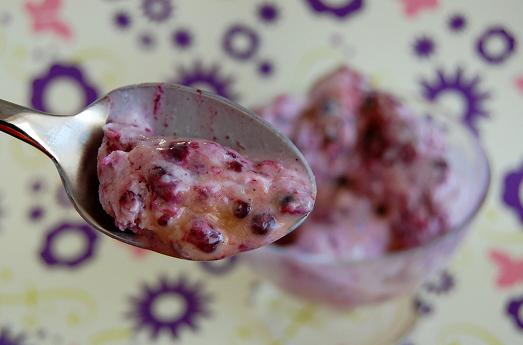 Vanilla Bean Marionberry Caramel Swirl Ice Cream
Vanilla Bean Base
2 ½ cups heavy whipping cream
½ cup organic sour cream(I use Nancy's)
1 cup granulated sugar
pinch of salt
2 vanilla beans, split and beans scraped out, reserve pods
Place 1 cup cream into a medium saucepan.
Add the vanilla beans and pods. Bring to a boil.
Remove from heat and let vanilla beans steep for about 30 minutes.
Place back on medium heat and add sugar and salt. Whisk until sugar has dissolved.
Add sour cream and whisk until incorporated. Add remaining cream and heat for another 2 minutes over medium heat.
Pour mixture into bowl and let chill mixture for at least 3 hours.
Transfer mixture to the frozen ice cream maker bowl using a strainer to discard the vanilla pod.
Churn ice cream according to your ice cream makers manufacturer's instructions.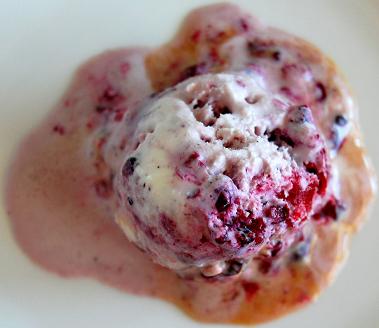 Marionberry and Caramel Swirl
1 cup marionberries(or blackberries), crushed with a fork
½ cup caramel sauce(I use Fran's), warmed so that it is fluid
After the ice cream has churned. Remove from ice cream maker bowl and place in a large bowl. Stir in marionberries so that they are fully incorporated and the majority of the ice cream has turned a purple color. Using a spatula, gently fold in the caramel.
Pour into a freezer container and freeze until hard, about 2 hours.