This Key Lime Mousse Parfait with Strawberries is a tart, light, and refreshing dessert perfect for warmer weather.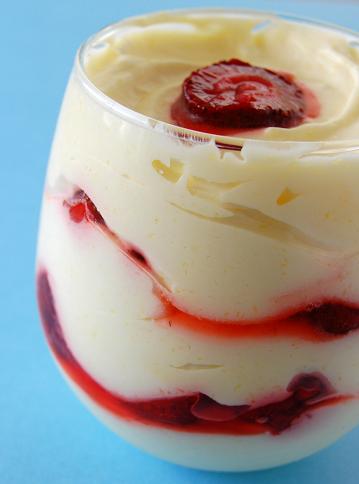 I bet you have been saying to yourself, isn't it playoff hockey?
Why haven't we heard Peabody talk about it then?
Well, it is your lucky day!
First an update on my own teams. Calgary…out.
Sigh.
Flyers…surprisingly in and up 3-1 in the series so things are looking good to make it to the Eastern Conference finals.
Sadly I predict that the Penguins and the Red Wings will make it to the Stanley Cup Playoffs this year, with, and I hate to even type it…the Red Wings winning.
Ugh.
I could be wrong.
I have only been wrong once in the last 8 years now…and that is when Calgary lost to Tampa Bay.
Anyway, I will now go on my rant.
Other than food blogs, I read hockey blogs.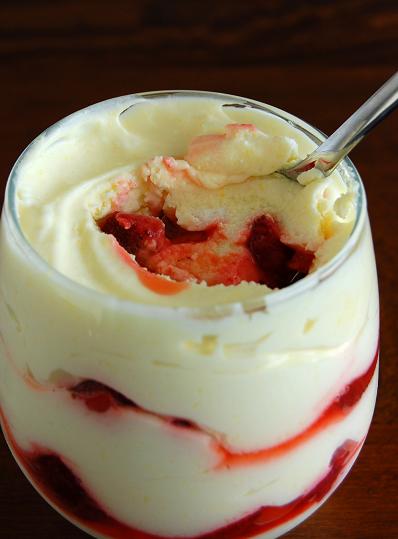 There is nothing I hate more than when I read people saying that their team DESERVES to win the cup this year.
No one deserves to win the cup except the team that actually does.
It does not matter if you had the best season in franchise history.
If you did, that is why they give out the President's Trophy…to say good job.
But when playoffs roll around, it's anyone's game…and that is what makes it special.
Your team has 7 games to get it done.
If they don't get it done in that time they don't deserve to move on.
Don't bitch about the call the referee made in the 3rd period that made you lose the game.
Your team lost the game. They get paid to win games, no matter what the circumstance.
That is their job….their million(s) dollar job.
I was crushed beyond all belief when Tampa Bay won game 7 against Calgary.
You can ask my husband, I cried for hours and moped for days.
I really thought it was their year.
But they didn't get it done, and they had more than ample opportunity to do so.
And so, sadly, they did not deserve to win that year….Tampa Bay did.
So the nice girl you know here in food blogging world is actually less than nice in the hockey world to those stupid enough to write on their blog that their team deserved to win. 😛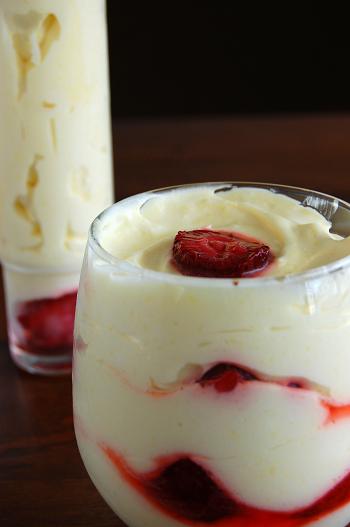 And speaking of deserving things.
After a long day of super Spring cleaning the house I decided I deserved a little treat of my own.
Not a giant silver cup to hoist over my head, but a Key Lime Mousse Parfait.
I still had leftover key limes from my pie making day and so decided to do something with that.
Combine that with my giant flat of strawberries that needed to be dealt with.
What you get is a tart, silky mousse that meets a sweet ribbon of fresh strawberries that took a little bath in some sugar and lime juice.
Followed by the tart and silky mousse again….and so on.
I'll be sure and keep you posted about the Flyers as I know you will be on the edge of your seat waiting to hear all about it. 🙂
P.S. It's a great day to buy my cookbook Holy Sweet!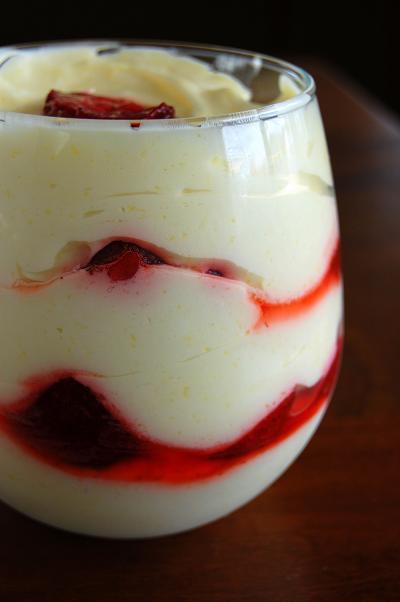 Want More Key Lime Desserts?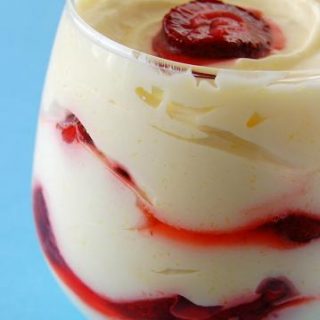 Key Lime Mousse Parfait
Ingredients
For the Key Lime Mousse:
2 TBSP water
1 tsp unflavored gelatin
½ cup unsalted butter
¾ cup sugar
3 TBSP grated key lime zest
½ cup fresh key lime juice
pinch of salt
6 large egg yolks
¾ cup heavy whipping cream
For the Macerated Strawberries
2 cups sliced strawberries
¼ cup sugar
1 TBSP key lime juice
Instructions
For the Mousse:
Pour water into a small bowl and sprinkle the gelatin over the water.
Let stand for about 10 minutes, until softened.
Place bowl in a large bowl of hot water, and stir until gelatin has dissolved and the liquid is clear.
Meanwhile, melt the butter in a large heavy saucepan over medium-low heat.
Remove the pan from the heat and whisk in the sugar, zest, lime juice, and salt.
Whisk in the yolks until smooth.
Cook the mixture, stirring constantly, until it thickens and leaves a path on th back of a wooden spoon when a finger is drawn across it, don not allow this mixture to boil.
Remove the pan from the heat, stir in the gelatin mixture, and immediately pour through a strainer into a bowl.
Let cool to room temperature, whisking occasionally.
Beat the cream with an electric mixer on high speed in a large bowl just until the cream forms stiff peaks.
Add the cream to the lime mixture in 3 batches, gently folding it in with a whisk or rubber spatula.
For the Strawberries:
To assemble:
Place in alternating layers, mousse then strawberries, mousse than strawberries and then mousse.
Or really however you would like to layer them.
Makes about 3 servings in stemmed glasses.
Refrigerate, loosely covered, for at least 2 hours or up to 2 days, until set and thoroughly chilled.