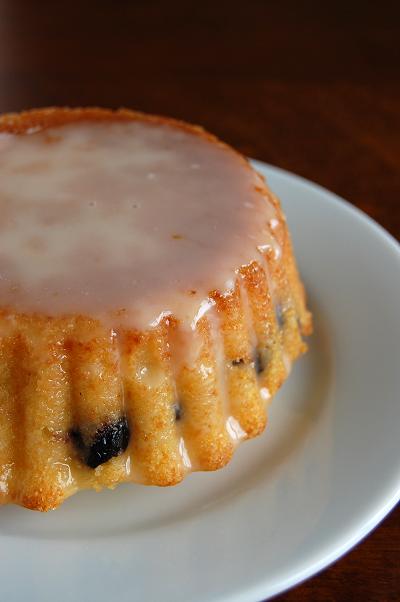 I often pick on my husband because he has a "texture" thing. As in he doesn't eat certain foods because he doesn't like the texture…ie, he doesn't eat soup or beans of any kind. I used to think it was odd(I still do a little) until I made this weeks Tuesday's With Dorie pick….Fluted Polenta and Ricotta Cake. And I realized, I don't like the texture of polenta in cake. Cornmeal doesn't bother me in cornbread, so I find it weird that I don't like it in cake. But I don't…it's a texture thing. 🙂
Since I am not a fan of polenta cakes I knew I would be giving it away, I decided to use dried blueberries instead of figs, as the person they were going to is not a fig fan. It didn't call for it, but I made a lemon glaze to go over the top of it. I made 4 mini ones that were well received by people who did not have texture issues.
Make sure to go and see Caitlin of Engineer Baker, for she picked this recipe so I bet she has a good one. And if you have even more time you can see all of the different ones through the Tuesday's With Dorie website.
So is there anything you have a texture issue with?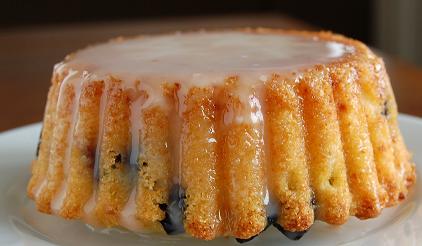 Fluted Polenta and Ricotta Cake
 
1/2 cup dried blueberries
1 c. medium-grain polenta or yellow cornmeal
½ c. all-purpose flour
1 tsp baking powder
1 c. ricotta
1/3 c. tepid water
¾ c. sugar
½ c. unsalted butter
¾ c. honey (if you¢â¬â"¢re a real honey lover, use a full-flavored honey such as chestnut, pine, or buckwheat)
Grated zest of 1 lemon
2 large eggs
 
Getting Ready: Center a rack in the oven and preheat the oven to 325 degrees F. Butter a 10 ½-inch fluted tart pan with a removable bottom and put it on a baking sheet lined with parchment or a silicone mat.
Toss blueberries into a small pan of boiling water and steep for a minute, then drain and pat dry.
Whisk the polenta, flour, baking powder, and salt together.
Working with a stand mixer fitted with the whisk attachment or with a hand mixer in a large bowl, beat the ricotta and water together on low speed until very smooth. With the mixer at medium speed, add the sugar, honey, and lemon zest and beat until light. Beat in the melted butter, then add the eggs one at a time, beating until the mixture is smooth. Reduce the mixer speed to low and add the dry ingredients, mixing only until they are fully incorporated. You¢â¬â"¢ll have a sleek, smooth, pourable batter.
Pour about one third of the batter into the pan and scatter over the blueberries. Pour in the rest of the batter, smooth the top with a rubber spatula, if necessary, and dot the batter evenly with the chilled bits of butter.
Bake for 35 to 40 minutes, or until a thin knife inserted into the center of the cake comes out clean. The cake should be honey brown and pulling away just a little from the sides of the pan, and the butter will have left light-colored circles in the top. Transfer the cake to a rack and remove the sides of the pan after about 5 minutes. Cool to warm, or cool completely.
Source: Baking From My Home to Yours by Dorie Greenspan