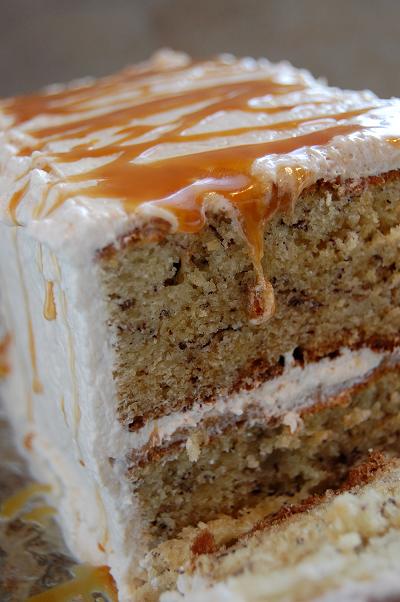 From time to time someone will ask me to review a product. Oddly enough, most of the time it is not food related(wtf?) But when I saw a jar of Blake Makes Peanut Butter Dulce De Leche, it was I who was the one wanting to get a jar and review it. Peanut Butter Dulce De Leche! Are you kidding me? YUM. I signed up on his blog to receive a free sample in the mail. A few days later, two cute little jars arrived at my mailbox.
I knew right away when I heard about the PBDDL that I wanted to do something with bananas. I love banana and peanut butter(it's the Elvis in me) and I love Caramel and bananas. So Peanut Butter Dulce De Leche sounded like a winner combo to go with bananas…and it was.
This is an very moist cake that I usually make with cream cheese frosting but decided to mix it up a bit. I did have problems with my frosting. I had beautiful Italian Meringue Buttercream, right up until the point that I added the PBDDL. Apparently the frosting was not in favor of that. It still worked out nicely and the taste was spot on so I overlooked my temperamental frosting.
Sadly right now this is not available to the public but I am hoping that it will be one day.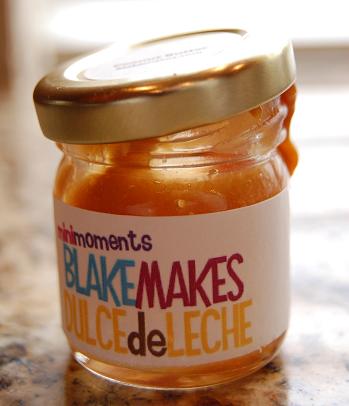 Banana Cake
Ingredients:
2 cups flour
1 teaspoon baking powder
1 teaspoon baking soda
1/2 teaspoon salt
1-1/2 cup sugar
1 teaspoon vanilla extract
½ cup shortening
8 ounce Mascarpone cheese
2 eggs
1/4 cup buttermilk
1 cup mashed bananas
Cream together the sugar, shortening and Mascarpone cheese. Add eggs one at a time, scraping down after each addition. Add vanilla extract and mix for another 30 seconds. Add banana and buttermilk. Mix together all dry ingredients, then combine sugar mixture with dry ingredients. Pour into 9 x 13 inch pan and bake at 350 degrees for 30 to 35 minutes.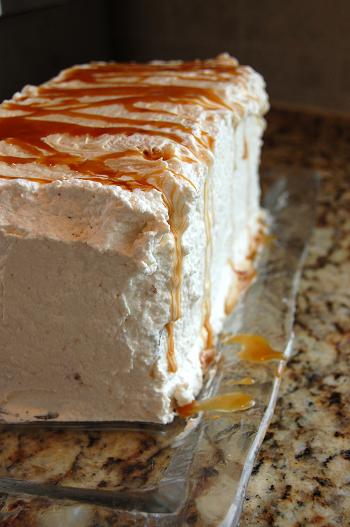 Peaut Butter Dulce De Leche Italian Buttercream Frosting

1 cup sugar
1/4 cup water
5 egg whites
1/4 cup sugar
2 cups unsalted butter , room temperature, cut into tablespoons
4 TBSP Peanut Butter Dulce De Leche(or regular Dulce de Leche)
Boil 1 cup sugar and 1/4 cup water over medium heat until it reaches 245F. As it cooks begin meringue so it's ready when syrup is done.
Whip egg whites with a wire whisk in a stand up mixer on high until soft peaks form. About 1-2 minutes. Sprinkle in 1/4 cup sugar. Beat.
Slowly pour the hot syrup into the meringue steadily with the mixer still on high.
Beat the frosting for 7-10 minutes until the outside of the bowl has cooled down to room temperature.
Beat in butter by the tablespoon. The butter will deflate the frosting a bit.
When all butter is incorporated add PBDDL. Mix for about a minute.
Assembly:
Cut cake into two equal rectangles. Spread 3 TBSP peanut butter on top of bottom layer. Add a layer of buttercream on top of the peanut butter. Place second layer on top. Frost cake with remaining frosting. If you like, drizzle caramel over top of cake.