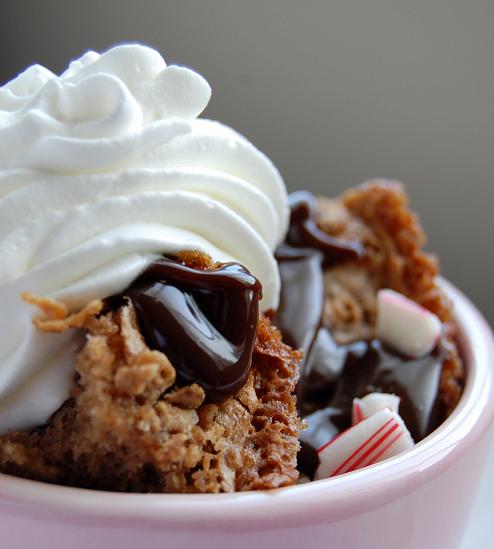 My mother is one of those mind over matter people, I'm sure you know the type. Whenever we were sick(the knocked out ratty hair, snotty red nosed, swollen eyes sick) my mother would make me do my hair, put on make up and get dressed in one of my best outfits…"if you look good, you'll feel good." No, I just feel like crap and now I have make up on to run down my face when my eyes and nose run, fabulous. But genetically it must have rubbed off a little, for I am baking with hot chocolate in order to "will" Fall into showing up early. I am sooo not a Summer girl as many long time reader know. And this Summer is really making me hate it just a bit more. We are breaking heat records, my allergies are insane from always having to have the windows open, I'm injured and can't even enjoy the outdoors, and I am allergic to half the stuff at the Farmers Market. Boo.
Bring to me my crisp mornings. Bring to me my cool, rainy afternoons that are perfect for a blanket, good book and some hot chocolate. Bring to me the need to bundle up when I go outside. Bring to me the Fall foliage and more importantly the food.
I have made this cake before, using egg nog at Christmas time. I enjoyed that so much that I thought I would use hot chocolate instead. It is after all, just a hot milk cake recipe that I messed with. Hot chocolate is pretty much hot milk(just with a kick). The cake turned out perfectly fine. I point this out because usually only when disaster strikes do I chop up a cake. But I wanted something a little different. I wanted to feel like I was curling up with a cup of comforting cocoa. So I dragged out my trusted pig mugs, chopped up some cake. Put in a layer of whipped cream(spiked with peppermint schnapps), then crushed candy canes(yes, I have them year round…love those after Christmas sales) and then hot fudge. Then more cake, candy canes, and so on…you get the picture(if you don't just look at the picture 🙂 ). I will say that I cheated and did not make my own hot fudge, it was a gift for my birthday(a box of chocolate, caramel and raspberry sauce) all from our local chocolate shop, Fran's, and it is as good as anything I could make(I actually just eat the caramel sauce straight from the jar…just me and a spoon).
This cake truly did hit the spot, and more importantly, today it was 67F and rainy. I know it wont last(I watched the news) but it was nice to have a Fall preview.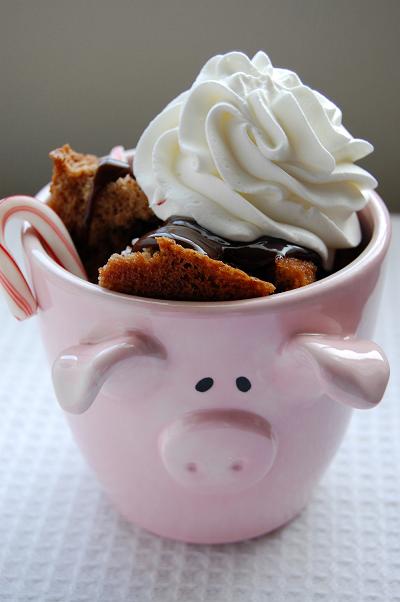 Hot Chocolate Cake
3 large eggs
1 1/2 cups sugar
1 tsp vanilla extract
3/4 cup prepared hot chocolate(your favorite kind)
1 TBSP butter
1 1/2 cups unbleached all-purpose flour
1 1/2 tsp baking powder
1/2 tsp salt
Preheat oven to 325F.
In a large bowl, beat together the eggs and sugar until very thick; the batter should fall from the beaters in a thick ribbon. Beat in the vanilla.
While you¢â¬â"¢re beating the eggs and sugar, heat the hot chocolate and butter in a small saucepan to just simmering. Add the hot chocolate mixture to the egg mixture in a slow, steady stream as you continue beating.
In a seperate bowl, whisk together the flour, baking powder, and salt. Fold the dry ingredients into the wet ingredients, stirring utnil they¢â¬â"¢re just combined.
Pour the batter into a lighty greased 9 inch cake round. Bake for 50 minutes, or until the cake is a deep golden brown and starting to pull away from the sides of the pan. Remove the cake from the oven and cool it in the pan for 10-15 minutes. Run a knife around the sides of the pan.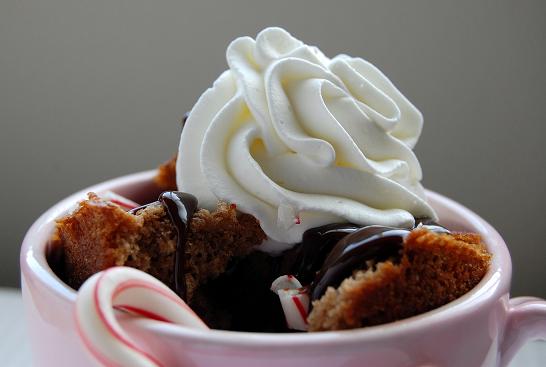 Source: Inspired by Hot Milk Cake in the King Arthur¢â¬â"¢s Flour Baker¢â¬â"¢s Companion All Purpose Baking Cookibook