These Lemon Meringue Pie Tartlets are a mini version of tart and sweet lemon meringue pie but in bite size form.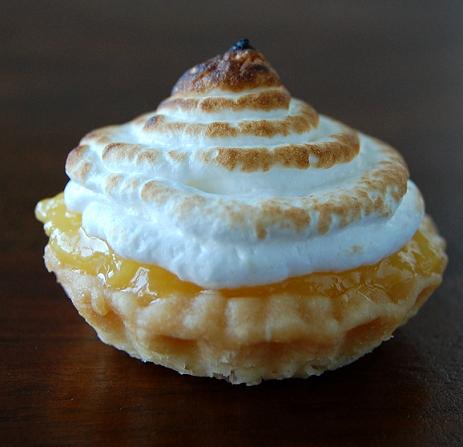 If you were to scour my site you would have a pretty hard time finding a pie recipe.
I'm just not a pie girl.
I'm not sure if it is because I didn't really eat them growing up or what.
We were more crisp or betty or grunt people.
I much prefer the crumbly top of a crisp to that of pie dough.
So I will admit some disappointment in the choice of Lemon Meringue Pie for the Daring Bakers Challenge this time around.
Jen (The Canadian Baker) chose this pie, and for good reason, most people actually like Lemon Meringue Pie.
I'm just not most people.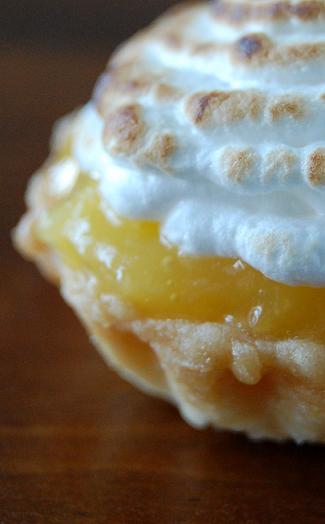 I chose to make  mini tarts.
Which probably was not the best idea.
They would have worked much better if they were just a tad larger than what I made them.
Not much room for the filling. 
Many a Daring Baker complained about running lemon curd.
I didn't have that problem, I think because of the size of my tarts, they were easier to set up.
The problem I did have was the meringue.
For some bizarre reason mine would not get brown and so I had to bust out the blow torch to make them have color on top.
Know that I halved the recipe and had no problems with that.
I took one bite and it tasted like lemon meringue pie.
Gave the rest to a friend and she liked them very much.
Of course, she is one of the people who likes lemon meringue pie….so that worked out nicely. 🙂
To see many other Lemon Meringue Pies, head on over to the Daring Baker Blogroll.
And as always it's a great day to buy my cookbook.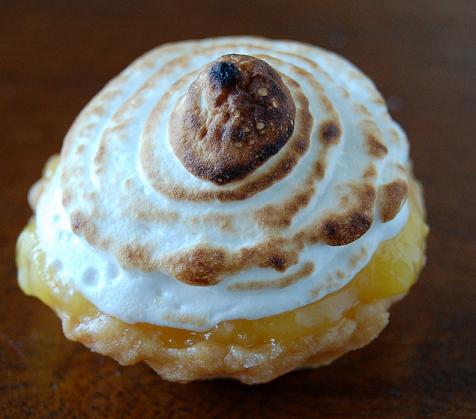 Want More Pie Recipes?
Cinnamon Toast Crunch Apple Slice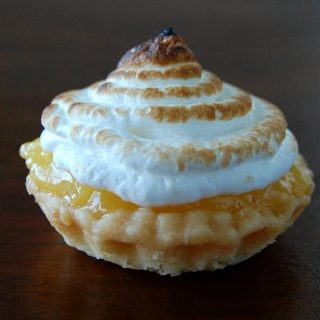 Lemon Meringue Pie Tartlets
Yield:
Makes one 10-inch pie or about 30 tartlets
Ingredients
For the Crust:
3/4 cup (180 mL) cold butter; cut into ½-inch (1.2 cm) pieces
2 cups (475 mL) all-purpose flour
1/4 cup (60 mL) granulated sugar
1/4 tsp (1.2 mL) salt
1/3 cup (80 mL) ice water
For the Filling:
2 cups (475 mL) water
1 cup (240 mL) granulated sugar
1/2 cup (120 mL) cornstarch
5 egg yolks, beaten
1/4 cup (60 mL) butter
3/4 cup (180 mL) fresh lemon juice
1 tbsp (15 mL) lemon zest
1 tsp (5 mL) vanilla extract
For the Meringue:
5 egg whites, room temperature
1/2 tsp (2.5 mL) cream of tartar
1/4 tsp (1.2 mL) salt
1/2 tsp (2.5 mL) vanilla extract
3/4 cup (180 mL) granulated sugar
Instructions
To Make the Crust:

Make sure all ingredients are as cold as possible.

Using a food processor or pastry cutter and a large bowl, combine the butter, flour, sugar and salt.

Process or cut in until the mixture resembles coarse meal and begins to clump together.

Sprinkle with water, let rest 30 seconds and then either process very briefly or cut in with about 15 strokes of the pastry cutter, just until the dough begins to stick together and come away from the sides of the bowl.

Turn onto a lightly floured work surface and press together to form a disk.

Wrap in plastic and chill for at least 20 minutes.

Allow the dough to warm slightly to room temperature if it is too hard to roll.

On a lightly floured board (or countertop) roll the disk to a thickness of 1/8 inch (.3 cm). Cut a circle about 2 inches (5 cm) larger than the pie plate and transfer the pastry into the plate by folding it in half or by rolling it onto the rolling pin. This is for a full size pie.

Turn the pastry under, leaving an edge that hangs over the plate about 1/2 inch (1.2 cm).

Flute decoratively.

Chill for 30 minutes.

Preheat oven to 350ºF (180ºC). Line the crust with foil and fill with metal pie weights or dried beans.

Bake for 20 to 25 minutes.

Carefully remove the foil and continue baking for 10 to 15 minutes, until golden.

Cool completely before filling.

For the tartlet crusts:

Using a round or fluted Cookie Cutter that is about 2 cm wider than the muffin pan openings, cut out disks of pastry.

Gently slide each circle of pastry in the mini muffin pan.

Carefully press on the edge between the bottom and the sides to make sure there are no air bubbles stuck between the pastry and the pan.

Dock the pastry (prick the bottom of each shell with a fork) then place back in the fridge to chill and rest for at least 2 hour, preferably overnight or up to 24 hours in advance.

Preheat your oven on 325'F and place the muffin pan in the freezer while the oven is preheating so that the pastry are very cold.

Line each tartlet shell with a small piece of baking paper (scrunch it up first so that they fit in the shell more easily) and fill them with baking beads or dried beans.

Bake for 10 minutes, remove the baking weights then bake for an additional 5-10 minutes, or until the tartlet shells are fully baked.

Leave to cool down completely before filling.

To Make the Filling:

Bring the water to a boil in a large, heavy saucepan.

Remove from the heat and let rest 5 minutes.

Whisk the sugar and cornstarch together.

Add the mixture gradually to the hot water, whisking until completely incorporated.

Return to the heat and cook over medium heat, whisking constantly until the mixture comes to a boil.

The mixture will be very thick.

Add about 1 cup (240 mL) of the hot mixture to the beaten egg yolks, whisking until smooth.

Whisking vigorously, add the warmed yolks to the pot and continue cooking, stirring constantly, until mixture comes to a boil.

Remove from the heat and stir in butter until incorporated.

Add the lemon juice, zest and vanilla, stirring until combined.

Pour into the prepared crust.

Cover with plastic wrap to prevent a skin from forming on the surface, and cool to room temperature.

To Make the Meringue:

Preheat the oven to 375ºF (190ºC). Using an electric mixer beat the egg whites with the cream of tartar, salt and vanilla extract until soft peaks form.

Add the sugar gradually, beating until it forms stiff, glossy peaks.

Pile onto the cooled pie, bringing the meringue all the way over to the edge of the crust to seal it completely.

Bake for 7-12 minutes, or until golden.

Cool on a rack.

Serve within 6 hours to avoid a soggy crust.
Notes
rom "Wanda's Pie in the Sky" by Wanda Beaver