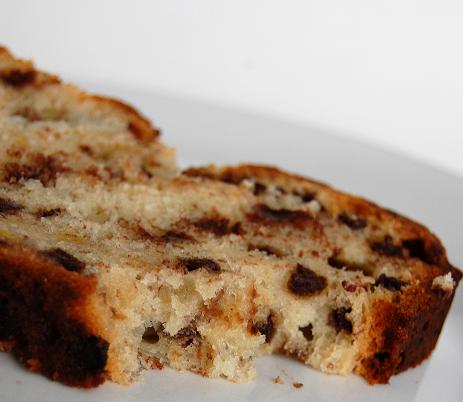 Apparently I am living life, well my food blogging life, through rose colored glasses. Or so I was told by one of my now ex-readers(they let me know they were un-bookmarking me). I pissed them off by deleting their negative comment. Why bother commenting if you can't say something nice? If you don't like it, move on. Sadly they have not moved on as I have learned they have gone around to other sites to bash me. Lovely. I think this world is filled with enough people bashing people that a little niceness in the world is a good thing. I have actually had a rash of negative comments in my moderated comment section in the last couple weeks. Sad really.
I find the food blogging community to be a positive one usually. If it had not been for people like Ivonne(Cream Puffs in Venice), Lis(La Mia Cucina) and Tanna(My Kitchen in Half Cups) leaving me nice little comments I probably would have stopped blogging by now. And they didn't just encourage me, I see them spreading their food blogging love where ever they can….and I try to also as much I can(the food blogging world has expanded so much).
So, I am sorry that it will bother some people that I will be living my food blogging life through rose colored glasses, but food blogging is my happy time. I will keep them on as I head over to look at great food porn from Bea(La Tartine Gourmande), Jen(Use Real Butter) or Meeta(What's for Lunch, Honey?) and many, many others. I will leave keep them on as I head over to Kristen's(Kristen's Home Cooking) and Veronica's(Veronica's Test Kitchen) to look at what I would love to make for dinner instead of the sloppy Joe I will no doubt make for my husband(per his request). And I will keep them I visit fellow pastry lovers Helen(Tartelette), Anita(Dessert First) and Lynn(Cookie Baker Lynn).
No worries, I will get my dose of reality when I turn on the news or get emails from friends in Iraq and Afghanistan. Which is why I'm being a bad person by only accepting nice comments.
And now enough rambling and on to the food….
Sure it is a humble looking pound cake. Nothing that says wow factor by any means and yet this little pound cake caused a phenomenon that had never happened. I have cooked/baked for my hubby now for well over four years now and for the first time my hubby came in and said, "what are you cooking? That smells wonderful!" Now, he compliments me after he has tasted the food, but never has he commented about it beforehand. "Banana Chocolate Chip Pound Cake," was my reply. And with that he walked out of the room.
I must say it did smell particularly wonderful, permeating the whole house. Perhaps it was because my bananas were about as ripe as you can get before crossing over into rotten. Perhaps it was the addition of Mascarpone cheese, which is what drew me to the recipe. Who knows. I do know what we got was an amazingly moist, fragrant pound cake that my husband and I  have had several pieces of…and will probably  have several pieces more. I did nothing else to the pound cake. No glaze, no sugar, no drizzle of chocolate. All of these things you could surely do, but I liked it all by itself…and so did my husband.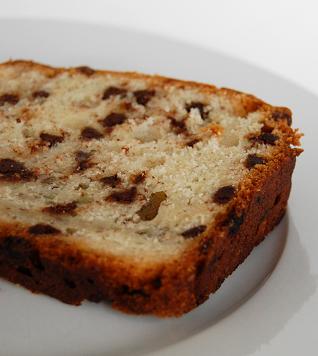 Banana Pound Cake
2 ¼ cups all-purpose flour
1 TBSP baking powder
1 tsp baking soda
¼ tsp salt
½ cup sour cream
½ cup mascarpone cheese
6 ounce unsalted butter, at room temperature
½ tsp ground cinnamon
1 cup sugar
2 large eggs
2 fully ripe bananas, pureed
¾ cup mini chocolate chips
Preheat oven to 350F. Grease and flour a 9-x-5-3-inch loaf pan.
Sift flour, baking powder, baking soda and salt into a medium bowl and set aside. Combine the sour cream and mascarpone cheese in a small bowl and set aside.
Using a standing mixer fitted with a paddle attachment beat the butter with the cinnamon on high speed until soft and creamy, about 1 minute. Slowly add the sugar, 1 TBSP at a time, beating continuously on high speed. It should take 5 to 10 minutes to add the sugar. The mixture should be light, fluffy and creamy white in color. Stop the mixer and scrape down the sides of the bowl with a rubber spatula.
Add the eggs, one at a time. Be sure each egg is completely incorporated and scrape down the sides of the bowl before adding the next.
Add one third of the flour mixture to the batter and beat until it is just incorporated. Add one third of the mascarpone cheese mixture and mix until just incorporated. Add the flour and mascarpone mixture in two more additions, mixing until addition is incorporated before adding the next. Fold in the bananas and chocolate chips.
Pour the batter into prepared pan. Bake for 1 hour and 15 minutes. Cool in the pan on a rack for 5-10 minutes, then remove from pan and set on rack to cool. Serve warm or at room temperature. Will keep for one week in fridge or 3 weeks in freezer.
Source: Adapted from The Secrets of Baking by Sherry Yard