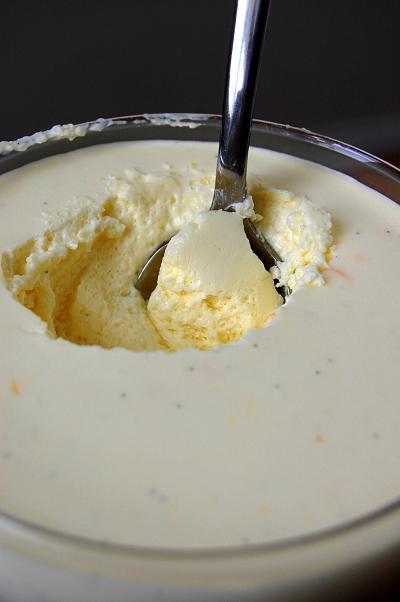 I talk about my mother on here from time to time, but my Dad has been lucky enough(until now that is) to avoid being featured on the blog. I get my love of baking, being in the kitchen and entertaining from my mom. However, it was my dad who really introduced me to a variety of foods. He still claims to this day the worst thing he ever did was introduce me to avocados because now when I am home we fight over them(we even arm wrestled once for the last one in the house).
One time on one of our many "life lessons", my father made my brother and I pile into the car and we went and saw a horrible movie, I want to say it was called King of the City. I remember very little about it except for the hooker who had a razor blade under her fingernail and killed her "John" in the car with it. A truly uplifting movie as you can see. We then drove around the slums.
Next week we got all dressed up and went to a fancy restaurant where I got to have my own lobster(up to that point it was only bites of people's plates). We then drove around the really nice neighborhoods with the million dollar homes. When we were done my father said to us, "You have seen two extremes of how you life could turn out. What you do with your life is up to you and how you want to live it. Just know that your actions have consequences good or bad." I decided getting to eat lobster was a much better option than being a hooker who killed people with razor blades.
He sat there and lived through my mixed drink phase. I wasn't drinking them, I was obsessed with making them. Truly bad cocktails. Things with cantaloupe and whiskey and what not. He was always nice and drank them…cringing only slightly. I got introduced to the exciting world of Slow Gin Fizz, which just so you know does not go well with peanut butter no matter how long you run the blender for. Though I must say my Bloody Mary Avocado was a hit.
One of the more memorable foods that he introduced me to was that of the Creamsicle. I, up until that point, chased the ice cream man down to get a Bomb Pop(I miss those). One day when I had done the dirty work of running down the street after the ice cream man my dad came strolling along behind me to pay. He decided to treat himself too. He got a Creamsicle. He of course seeing me eye it, gave me a bite. And then he was pretty much screwed. I knew I wanted that way more than my red, white and blue popsicle. And so my 7 year old doe eyes won out and I got to eat the Creamsicle. Orange sherbet being my favorite at the time, this treat was unbelievable to me. All the flavor of the sherbet but with a amazing creamy flavor.
My parents will be coming out for a visit in a few months to see the new house. Usually either my mom cooks my favorite meals or we go out to eat. This time though since we are in the house I am going to make them a meal. I have been trying to come up with desserts to make. I found a recipe for a Lime Bavarian that looked good but immediately it got me thinking if I could make it into Creamsicle form…and I can…and did. It is really more vanilla flavored with just a scent of the orange but it was heaven to my tongue. It has an amazing mousse-like texture that just sings in your mouth. It's most definitely what I am making for my dad when he comes.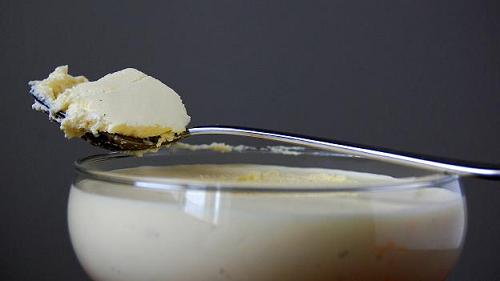 Creamsicle Bavarian
2 medium oranges
one packet powder gelatin minus ¼ of a tsp
zest of one orange
2 large eggs
1 vanilla bean
1 TBSP confectioner's sugar
¾ cup whole milk
1 ½ cups heavy cream
¼ cup plus 2 tsp granulated sugar
¼ tsp pure vanilla extract
pinch of salt
Overnight: Slice open vanilla bean and scrape out seeds. Throw seeds and the leftover bean pod into a medium saucepan. Add whole milk and ½ cup heavy cream. Whisk to distribute vanilla. Simmer on low for 10 minutes. Place vanilla milk into an air tight container and refrigerate overnight.
Grate the zest from one of the oranges. Squeeze the juice from both oranges into a small bowl along with the zest. Sprinkle powder gelatin over the orange juice. Do not stir.
Separate the eggs, placing the yolks in a medium bowl and reserving 1 of the egg whites in another medium bowl. Whisk the egg yolks with the 1 TBSP confectioner's sugar until thoroughly blended.
Take the vanilla milk from the refrigerator and remove the bean pod. Add ¼ cup granulated sugar to the mixture. Place back into a medium saucepan and bring to a boil over medium heat. Remove pan from heat ans whisk a splash of the mixture into the egg yolks. Gradually whisk in the remaining hot liquid, then return custard to the pan ans whisk over medium heat for 1-2 minutes.
Strain the custard through a chinois or fine-meshed sieve to remove any lumps of egg. Whisk in vanilla extract, then transfer the custard to a clean bowl to cool. Set the bowl in a larger bowl half willed with ice water. Whisk the custard every minute for 3 minutes. Whisk in orange gelatin mixture until fully incorporated. Continue to cool in bowl for another 2 minutes. Remove bowl from ice bath.
In an electric mixer fitted with a whisk attachment, beat the remaining 1 cup heavy cream until stiff peaks form. Remove from the mixer and replace with the bowl containing the egg white. Beat the egg white with the salt until it is white and foamy, then whisk in the remaining 2 tsp granulated sugar, one at a time. When all of the sugar has been added, increase the speed to high and beat the white until stiff, glossy peaks form.
Fold the egg white into the custard, followed by the whipped cream. You will want to whisk in 1/3 of the whipped cream in order for it to fold more easily. Pour mixture into 6 chilled ramekins or tea cups. Chill the Bavarians in the refrigerator until firm, 3 to 4 hours.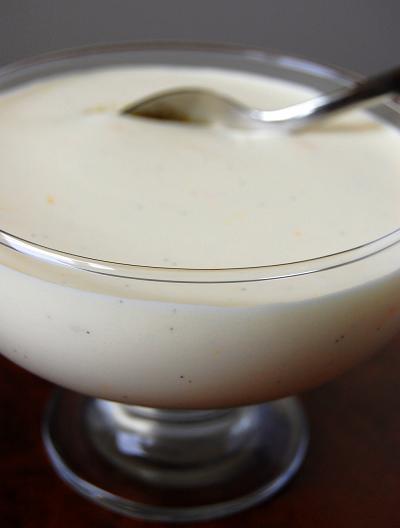 Adapted from Dolce Italiano: Desserts from the Babbo Kitchen by Gina De Palma