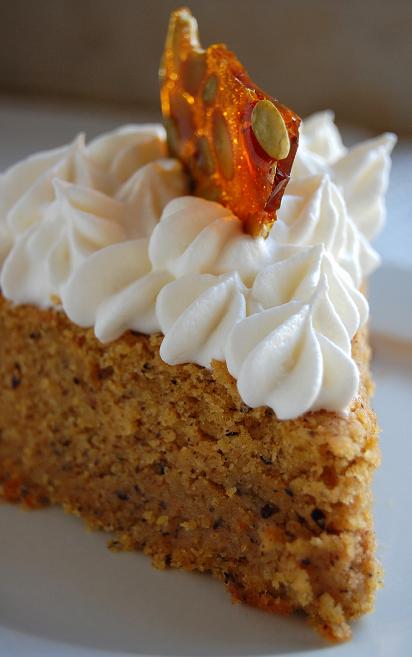 I've said it before, and I will say it again….the food blogging community never ceases to amaze me with their generosity. I have two case in points. Almost two months ago, when Tanna, of My Kitchen in Half Cups, came into town I was lucky enough to meet up with both her and Lynn, from Cookie Baker Lynn, for lunch. Lynn was a sweetheart and had made us each aprons(plus homemade cookies of course). Mine had little pea pods all over it(see below). She did such a good job on them(I am always fascinated by people who can sew) that my husband accused me of buying it. I assured him it was a gift…not sure if he believed me though.
Second case in point was most recently. Veronica of Veronica's Test Kitchen had asked me for my new home address. I thought I might be seeing a new home card in the mail, but instead was a giant box of goodies, from spatulas to a pastry brush to dish towels(and more!) What a housewarming gift for me. Far better than all the bills that usually pile up in the mail! So a special thanks to both Veronica and Lynn for making me feel so very special.
Now onto the food.
I've always walked to the beat of a different drummer, as my dad(the drum major of a pipe band), has told me on several occasions. He is right. I do tend to go against the "norm" on most things. Dessert is no exception. When I go home for Thanksgiving(which is not that often anymore) my mom is in charge of making all of our "regular" desserts and I get to be in charge of the "alternative." If I was going home this year, which sadly I am not, I would be making this dessert as my alternative. The original recipe called for almond meal(flour), but I like hazelnuts with pumpkin much, much better, so I used hazelnut flour. It's dense, yet surprisingly light… and very, very moist. Nothing more is needed than a nice dollop of whipped cream to make this alternative treat complete. You might want to add it to your list of desserts this year as your alternative.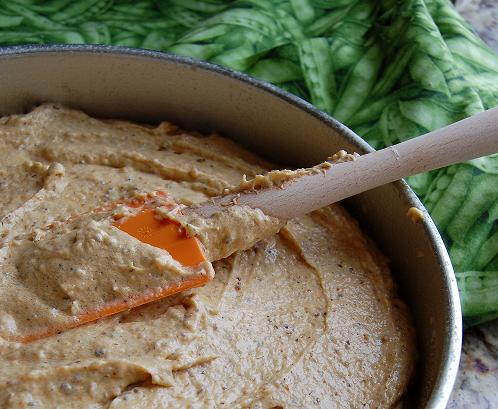 Pumpkin Financier
½ pound unsalted butter
1 ¼ cups hazelnut flour
1 ¼ cups all-purpose flour
1 ½ cups powder sugar
1 tsp baking powder
½ tsp baking soda
¼ tsp salt
½ tsp ground cinnamon
¼ tsp freshly ground nutmeg
2 TBSP tightly packed brown sugar
8 large egg whites, at room temperature
½ cup canned pumpkin puree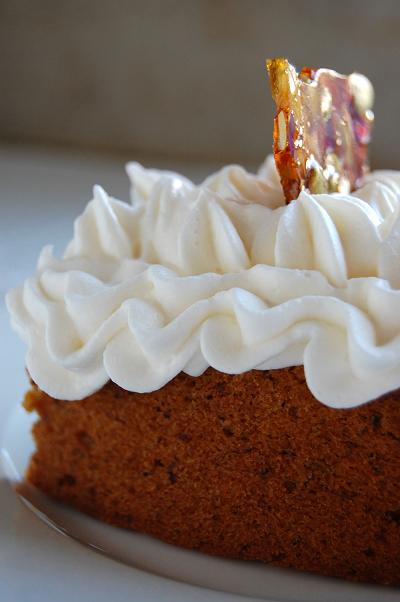 Melt butter in a medium saucepan over medium heat. Cook until the solids separate and begin to brown to a dark golden color, 7-10 minutes. Removed from the heat and let cool at room temperature until it reaches 70F. Don't chill it. It needs to remain in liquid form. Set aside.
Preheat oven to 350F. Spray a 10-x-2 inch round cake pan with pan spray, line with parchment paper, then coat the paper lightly with pan spray.
Sift together the hazelnut flour, flour, powder sugar, baking powder, baking soda and salt into the bowl of a standing mixer fitted with a paddle attachment. Add the spices and brown sugar. Turn the machine on low and mix the dry ingredients for 30 seconds. Add the eggs whites all at once and mix on medium speed for 3 minutes. Add the pumpkin puree and mix for 30 seconds.
Add the melted butter all at once. Be sure to scrape in all of the browned bits from the bottom of the pan. Mix for 30 seconds on medium speed, then turn the mixer to high speed and mix for 3 minutes more, scraping down the sides of the bowl.
Pour the batter into the prepared pan. Bake for 15 minutes. Rotate the cake for even browning and bake for 20-25 minutes, or until a toothpick inserted in the center comes out clean. Let cool in the pan for 5 minutes, then invert it onto the rack, remove the cake pan and parchment, and cool completely before serving.
Adapted From: The Secrets of Baking by Sherry Yard, Houghton Mifflin 2003