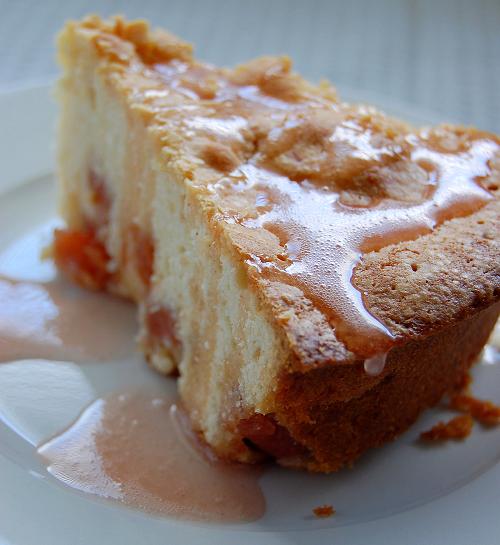 I am constantly amazed at how wonderful the food blogging community is. When I started my little blog a few years ago I had no idea it would open me up to "meeting" such phenomenal people. I use meeting in quotes because I have on really met a few of my fellow bloggers in person(though I am working on that!). One of those bloggers that I was lucky enough to encounter in real life was Elle, over at Feeding My Enthusiasms. We had a wonderful lunch together while she was in town visiting her daughter. It was around the time of my birthday and she spoiled me with gifts galore, everything from sea salt to chocolate to sourdough starter…a truly generous person. Well, her generosity did not stop there. A few weeks ago on her blog she had made some gorgeous quince jelly. I had made a comment on there how much I adored quince and how underrated a fruit it really was. I find that most people don't even know what a quince is, which is such a shame. If you are one of those people go here, to learn all about the fruit of love.
Anyway, back to her generosity. Elle had asked me in an email if I would like some of those quinces from her back yard and I immediately jumped at the chance! So just a few days later there at the mailbox was my box of quinces. My husband was the one to get the box and when I caught up with him he told me, "I think your perfume spilled inside the box." I just laughed and said, "that's not perfume, that's fruit." You see the quince is a very fragrant fruit, in fact, my whole apartment smelled like quince for quite a few days. It smells even better when it is being cooked down.
What to do with them was another story. As much as I adore quince, I only have it out…usually in the form of quince paste along side my cheese platter. I knew I wanted to make a small batch of the jelly that Elle made but also wanted to do a baked good. I found a recipe for quince pound cake on Epicurious.com. It got 4 stars and so I decided to go for it. It is a two parter. The first being boiling down the fruit and the second being the making of the cake and then later on folding the quinces in. The recipe has you discard the juices that are left after you boil down the quinces but I could bring myself to throw it out. So I just added a little bit of powdered sugar to it to make a sauce to drizzle over it.
The one thing I did learn about the quince is that it is a sticky little sucker. It has so much natural pectin in it(so much you don't add any to make the jam) that it seemed to stick everywhere. Even after washing my hands 5 times, I still had a little stick. I thought for awhile that I might just keep it on my hands and see if I could climb the walls like Spiderman….but something told me that would spell disaster. 😛
Quinces are just coming into season. If you are lucky your grocery store might carry them(just don't bother to ask the clerk where they are). I highly recommend getting to know this fruit if you do not.
Thanks again to you Elle for my great gift of quinces! You truly are such a lovely and generous woman!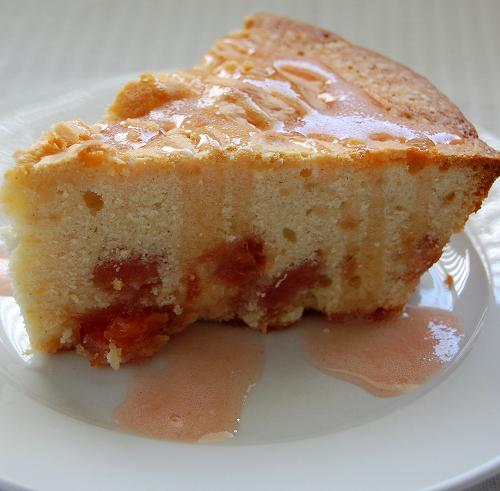 Quince Pound Cake
2 medium quinces (about 1 pound total)
2 cups water
3/4 cup sugar
1/2 cup honey
2 teaspoons fresh lemon juice
1/2 teaspoon cinnamon
Peel, quarter, and core quinces. Cut quarters crosswise into 1/8-inch-thick slices. In a 3-quart heavy saucepan bring quince, water, sugar, honey, lemon juice, and cinnamon to a boil. Reduce heat and simmer mixture, stirring occasionally, 2 1/2 hours (quince will be deep pinkish orange). Drain quince in a large sieve and transfer to paper towels. Pat quince dry and cool. Chill quince, covered, at least 1 hour and up to 3 days.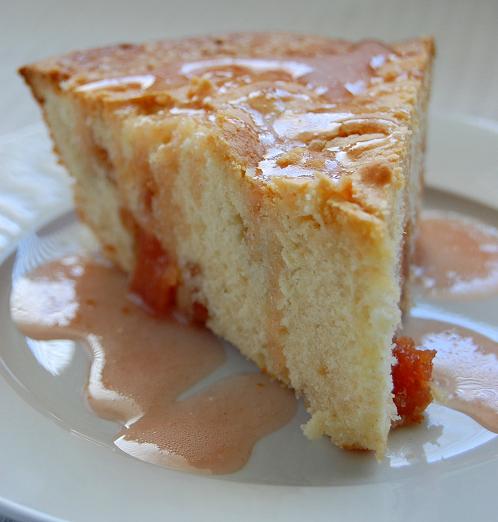 1 3/4 cups cake flour (not self-rising)
1/4 teaspoon cinnamon
1/4 teaspoon salt
1 stick (1/2 cup) unsalted butter, softened
1 1/2 cups sugar
1 large egg yolk
3 whole large eggs
1/2 cup heavy cream
1 teaspoon vanilla
Preheat oven to 350°F. Butter and flour a 9- by 2-inch round cake pan, knocking out excess flour.
Into a bowl sift together twice flour, cinnamon, and salt. In another bowl with an electric mixer beat together butter and sugar until combined well. Add yolk and whole eggs, 1 at a time, to butter mixture, beating well after each addition. Beat in half of flour mixture and all of cream until just combined. Add remaining flour mixture and vanilla, beating until just combined. Fold quince slices into batter until combined well and spread batter evenly in pan.
Bake cake in middle of oven 1 1/4 hours, or until a tester comes out clean, and cool in pan on a rack 20 minutes. Turn cake out onto rack and cool completely. (Cake keeps, in an airtight container at room temperature, 4 days.)
Serves 10 to 12.
Source: Gourmet Magazine, January 1998