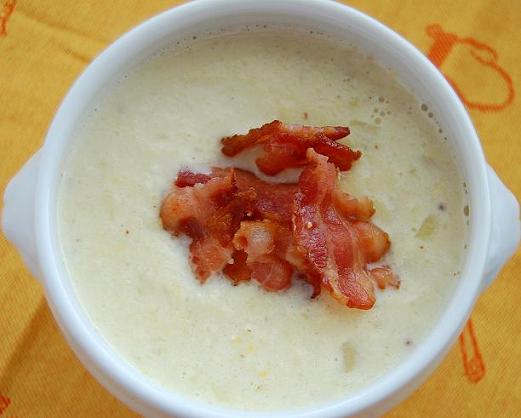 Oh the pressure, oh the pressure, oh the pressure.
You see the Super Soup Challenge is under way again(this is year two) over at the newly remodeled(looks fantastic) Running with Tweezers.
Why the pressure? Well, you see, my roasted onion and Gorgonzola soup won last year. I was "souper" surprised when I won and even better was the prize( a lovely soup cookbook). So now, I had to figure out what to make for this year. I decided that just like last year, I would stick with simple flavors, I find that best with soup. I wanted something comforting(as this contest is a tribute to Tami's mother), yet this time I wanted to use some ingredients that were in season.
Corn. Corn is one of the few Summer ingredients I am not allergic to and more importantly I love! But what to do to make it special? I have sauted, roasted, boiled and baked corn but I had never smoked corn. I had tasted smoked corn before so I knew it was tasty, so I decided to give it a shot. Other than my neighbors hating me for making the whole apartment complex smell like smoked corn and setting off the smoke alarm once, my experiment turned out beautifully.
Pureeing half of the soup gives it a velvety touch but still holds some heartiness. You could puree all of the soup or none of the soup and still have a delicious end result. I chose some maple smoked bacon to compliment the smokiness of the corn, they go very well together.
And there you have it, my entry for this years soup challenge. Hopefully I have lived up to the pressure. I'm not sure if it is a winner, but it is definitely a keeper!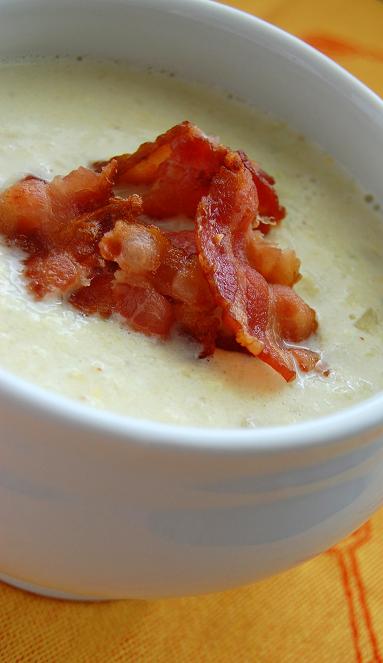 Smoked Corn Soup
sprig of rosemary
sprig of sage
4 ears corn on the cob
3 TBSP unsalted butter
¼ cup sweet onion, small dice
¼ cup celery, small dice
32 ounces of chicken stock(or veggie stock is you are a vegetarian)
salt and pepper to taste
1 TBSP Dijon mustard
1 cup heavy cream
bacon(for garnish) again, if you are vegetarian, leave that out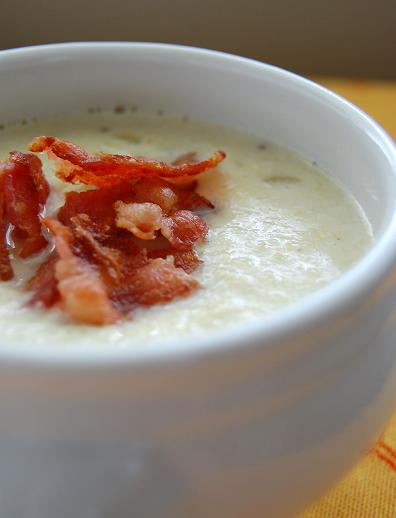 Take sprigs and place them in cheesecloth, making a bouquet garni.
Shuck the husks and smoke corn over hickory chips(I used a blend that someone gave me that has hickory and maple) in a stove top smoker for 8-10 minutes. Set aside.
Melt butter in a large pot. Add onions and celery, cook(over medium heat) until onions are translucent, about 5 minutes.
After corn has been smoked, cut kernels from the cob and throw into pan. Saute for 1 minute.
Add the stock and bouquet garni. Bring to a boil. Simmer for 30 minutes. When 30 minutes are up, taste soup. Add salt and pepper to taste. I like to do this after the soup has cooked awhile, in case the chicken stock became salty while it reduced. Remove bouquet garni and discard.
Take half of the batch of soup and place into a blender. Blend on puree. Puree until it is smooth with very little kernels left showing.
Add pureed portion of soup back into the pot. Add mustard and heavy cream and bring heat up to medium for 3 minutes.
Serve in bowls and add as much bacon to the top if you would like. If you are doing the vegetarian version of this you might want to add some fresh chopped chives.
Make about 4-6 servings depending on how big of a bowl of soup you like.